Beat the Heat of the Kitchen with Bonefish Grill Summer Specials
Thank you to Bonefish Grill for sponsoring our visit so we could share our experience with our readers.
We're knee deep in summer, and I have to admit, when it gets hot like this, I literally get out of the kitchen.  Who wants to cook when it's 90 degrees outside, right?  Also, my birthday recently passed; between that and the heat, it seemed like the perfect time to head over to Bonefish Grill to try out their Summer Duos menu.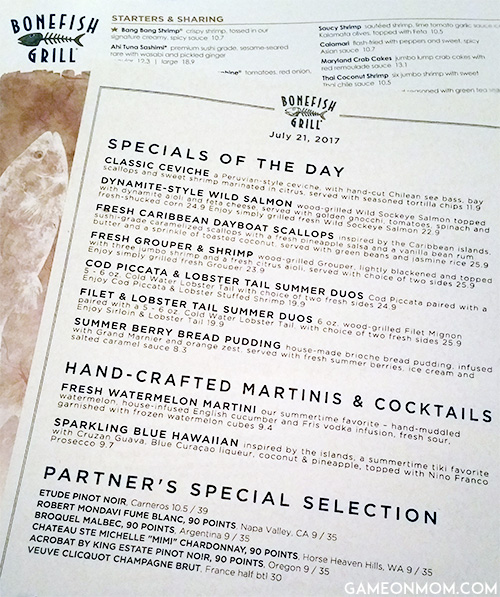 They say two is better than one, and when you take a look at Bonefish's summer menu, it's hard to argue:
Cod Piccata & Lobster Stuffed Shrimp – $19.90
Wood Grilled Center-Cut 8 oz. Sirloin & Cold Water Lobster Tail – $19.90
Cod Piccata & Cold Water Lobster Tail – $24.90
Filet Mignon & Cold Water Lobster Tail – $25.90
If you're a lobster lover, this is clearly the menu for you, plus you get a second option along with two sides.  I'm partial to their tender and delectable filet mignon, so that one was a no brainer for me.
There are other mouth-watering specials as well, like the Caribbean Style Dayboat Scallops, which are sushi-grade caramelized scallops served with fresh pineapple salsa and vanilla bean rum butter, accompanied by green beans and jasmine rice.
Let's talk about these scallops.  These were my husband's pick, and he's still gushing over how fantastic they were.  To quote him, "They are the best scallops I've ever had in my life, and I'm from New England."  For nearly 17 years now, I've been watching him order scallops whenever they're on a menu, and I've never seen him react like that before.  Needless to say, he was impressed and highly recommends them.
Since it was my birthday, I decided to splurge and try one of their fancy cocktails.  Their Sparkling Blue Hawaiian is a delicious as it is pretty.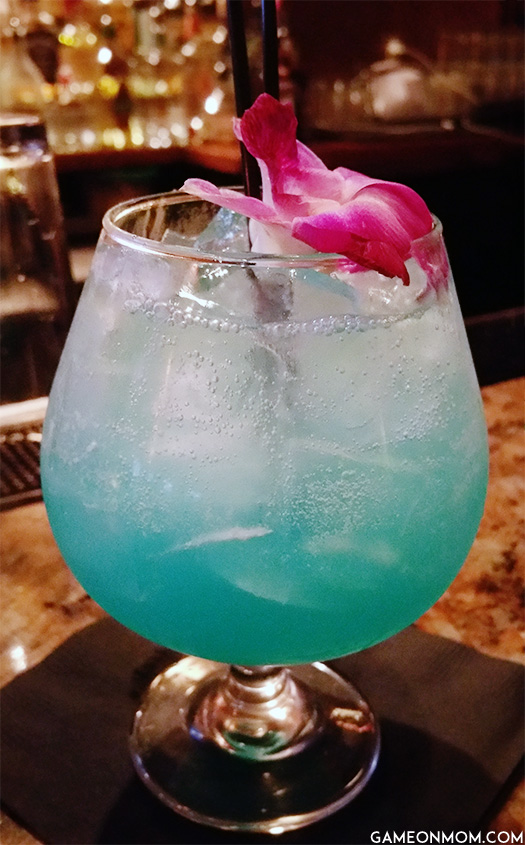 This is as close as I'm going to get to a tropical paradise this summer, and I savored every sip.  Made with rum, Blue Curacao liqueur, Coco Lopez, fresh pineapple juice, and topped with prosecco, this drink is a refreshing respite from the chaos of life.  Close your eyes, and you can almost hear the waves crashing.
Okay, I splurged twice.  Bread pudding is one of my favorite desserts, so I couldn't pass up an opportunity to try their Summer Berry Bread Pudding.
This one did not disappoint!  Bonefish Grill's house-made brioche bread pudding is infused with Grand Marnier and orange zest, served with ice cream and the freshest summer berries, and then topped with whipped cream and salted caramel sauce.  It's sweet and rich in the very best way, and the portion is more than large enough for sharing.
I hope it's obvious to you that we were very pleased with the food and drinks on this trip, but I'd also like to mention that the service was exceptional too.  My family and I have actually stopped eating out as often as we used to, partly because of the expense, but it's just as much because we are tired of being expected to pay money for the mediocre food and horrible service that seems to have become the standard at most restaurants.  Our experience at Bonefish Grill was excellent, and that's not an exaggeration.  The food could not have been better, but the service was absolutely perfect.  Our server was friendly (lots of eye contact and smiling) and attentive, but it was more than that:  she seemed genuinely interested in making our visit the best it could be.  Now if they'd just bring back the Roasted Red Pepper and Tomato Soup, I'd eat here every week.
When you need a break from the heat of the kitchen, consider Bonefish Grill.  Their regular menu is a dependable winner, and there is always something new and delicious to try with their changing specials menu!