This is a sponsored post for SheSpeaks/Mr. Clean.
I have two enemies, and I suspect you've met them.  If they bother you the way they bother me, then they're constantly causing problems around your house, and they're always trying to sneak back in after having been kicked out repeatedly. Do you know them?
I'm talking about notorious bad guys Dirt and Grime.
While I was on crutches and unable to do a lot of housework on my own, Dirt and Grime just decided to move in and take up residence, particularly in my bathtub.  Talk about kicking you when you're down!
Luckily the Clean Police got in touch with me and gave me a new weapon in my battle against these two ugly problems.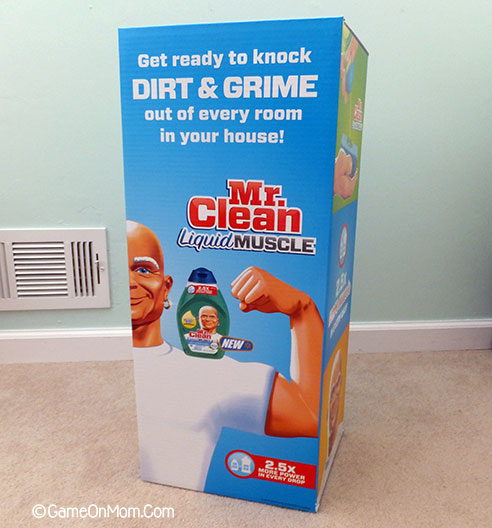 Meet Mr. Clean Liquid Muscle.
Liquid Muscle isn't your regular Mr. Clean.  It's an innovative gel cleaner with a new formula 2.5 times more powerful than the original. And it's versatile: you can dilute it with water and use it in a bucket if you'd like to mop or clean larger surfaces with it, or you can apply the gel directly to a sponge or surface to scrub.  Because Liquid Muscle is more concentrated and over twice as powerful, a little goes a long way and the bottle lasts much longer. And if you're clumsy like me, you'll appreciate the fact that the bottle comes with an auto-stop cap, so you always get just the right amount and don't have to worry about accidental spills.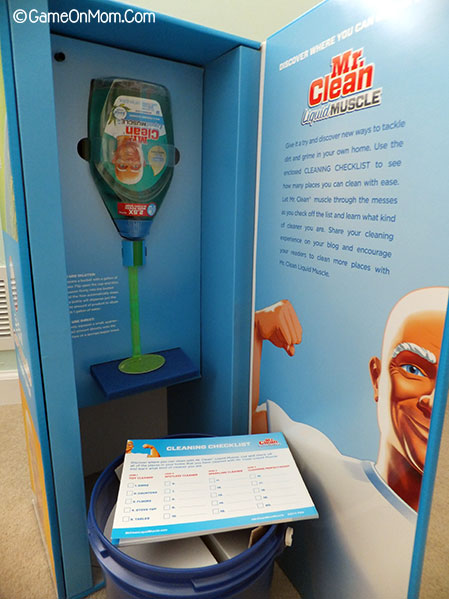 My Liquid Muscle kit came with both a bucket and a sponge.  I really dislike mopping, but Mr. Clean Liquid Muscle made it so much easier and faster.  And when I finally tackled my bathtub with some undiluted Liquid Muscle and the sponge, I was thrilled with the results.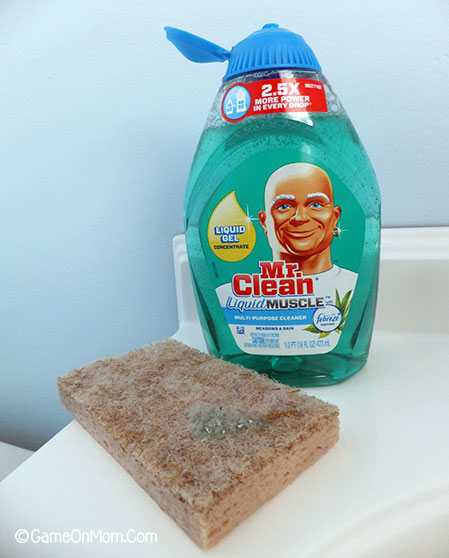 This stuff is great.  Mr. Clean takes his job very seriously!  Scrubbing my tub was much faster than before and required far less "elbow grease" than other products I've recently used.  It cut through soap residue like lightning, and lifted stains in a flash.  Dirt and Grime didn't stand a chance!
Mr. Clean Liquid Muscle comes in several different formulas.  I used the one infused with Febreeze's Meadows & Rain scent, which smelled awesome.  You can also get Liquid Muscle in Crisp Lemon, Gain Original Fresh Scent, and with the Grease Fighting Power of Dawn.
When you're ready to take a hard stance on Dirt and Grime, you can get your own bottle of Liquid Muscle online at Walmart or in person at most major retailers.  To learn more about the Liquid Muscle line and keep up-to-date with Mr. Clean, check out the Mr. Clean website or follow them on Facebook.
Where do dirt and grime live in your home?  Do you have any interesting techniques to prevent these messes?