NeoCell supplied complimentary samples for review.  All opinions are 100% my own.
How many of you have had trouble with hair loss or thinning hair, brittle nails, and problem skin?  Me, me, me.  I know that these problems come up as we age, and even if you've not experienced them yet, you probably will at some point in your life.  But let me tell you a story:
This past fall I suffered a serious health event that required me to stop taking birth control pills, which resulted in hair loss.  Serious, extreme hair loss.
I'm talking falling out in clumps.  It was horrifying, and I would literally lie down on the bathroom floor and cry every time I washed my hair because I was losing so much.  After my hair fell out for three months without slowing down, I started shopping for wigs because I was certain it would not stop.  I can't even begin to tell you how stressful and scary that was.  (Please note: I'm not saying every woman experiences this when they stop taking birth control pills, only that it happened to me).  You can probably guess that I was desperate to find any kind of "cure" I could, anything at all that might curb the hair loss or help thicken what hair I did have.
There are a lot of products on the market that promise to help with hair loss, and I tried several.  So far, my favorite supplement s are the Biotin Bursts and Keratin Hair Volumizer from NeoCell.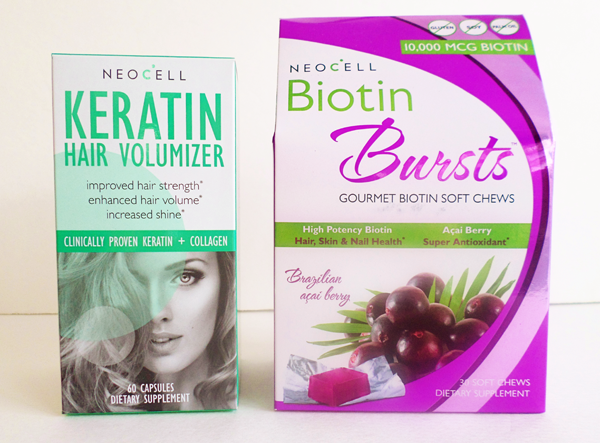 The super chewy Biotin Bursts are, well, bursting with Biotin, which is an important B vitamin that supports hair and skin health.  You'll find 10,000 MCG of Biotin per chew, which is scientifically formulated to support metabolism of proteins in the body that promote natural energy, luxurious hair, and vibrant skin.  Also, these things are delicious.  They taste like candy.
The Keratin Hair Volumizer is a supplement in pill form that brings an all-natural solution for strong, lustrous, and thick hair that starts from within.  This formula includes Cynatine HNS Solubilized Keratin, which is proven to reduce hair loss from washing, as well as improve hair strength and luster.  It also contains Hydrolyzed Super Collagen, which is a structural component of hair, nail, and skin health.  You'll also find Amla Extract (used for centuries for anti-aging properties), and Vitamin C, which is an important part of collagen formation.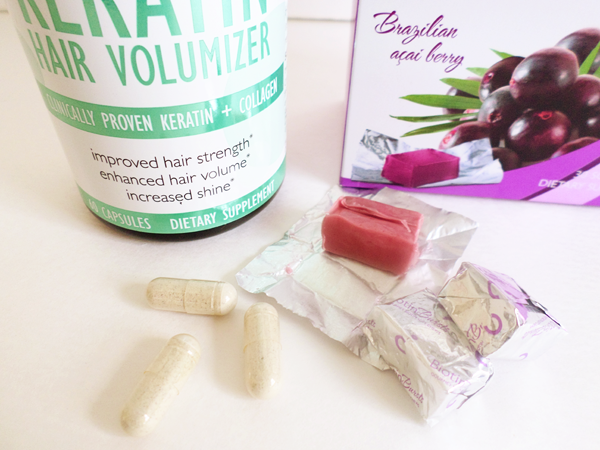 If you've been experiencing any issues with your hair, skin, or nails, I definitely recommend taking a look at these products.  You can learn all about NeoCell and their entire line of supplements at NeoCell.com, and make sure to follow them on Facebook and Twitter.
Enter now to win a $50 credit to NeoCell.com!  Giveaway is open to US residents who are 18 and older.  Ends 7/14/15.  Good luck! [Read more…]