There is an exciting new movie in theaters, and I'm excited to tell you about it! Kubo and the Two Strings is a new stop-motion film by the companies behind Coraline, ParaNorman, and The Boxtrolls. It features voices from a cast including Matthew McConaughey, Charlize Theron, Rooney Mara, Ralph Fiennes, and more. Kubo has been getting rave reviews, and it deserves them.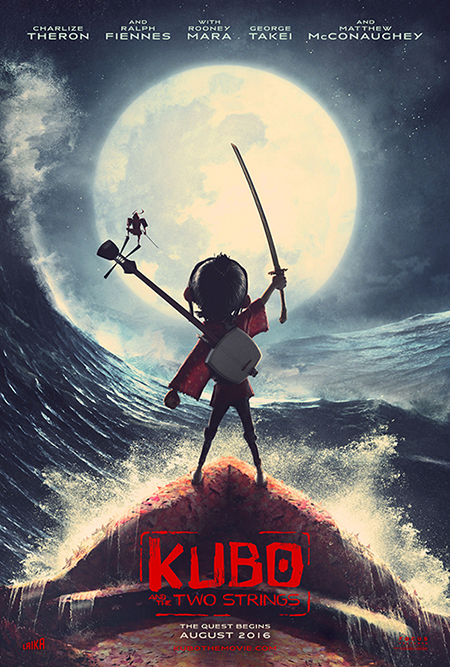 Kubo and the Two Strings tells the story of a young, kind-hearted boy named Kubo, who lives by meager means while caring for his mother. When a spirit from the past comes around to enact an ancient vendetta, Kubo has to go on the run and fight for survival. Guided and protected by a monkey transformed from his wooden monkey charm, Kubo embarks on an epic journey. Along the way they meet a new friend, and the three of them go forward to track down three important pieces of magical armor once owned by Kubo's father. Without the armor, Kubo cannot defeat his enemies and win the battles that will end the vendetta.

My family and I really liked Kubo and the Two Strings. The movie takes place in Japan and gives kids a chance to peek inside a culture they may not know well.  It's an intriguing and engrossing story, full of fantasy and action, and I love that.  Kubo is a real hero, and I personally adore the character, as do my children.  It makes me so happy to see my kids excited about the story itself, not just flashy animation or crude jokes.
The animation does, however, deserve some serious praise too.  I've always been impressed by stop-motion animation, but this one blows everything else way out of the water.  The creators of Kubo and the Two Strings have resurrected the nearly lost art of stop-motion by combining it with newer technology to bring us some of the most beautiful and detailed work I've ever seen.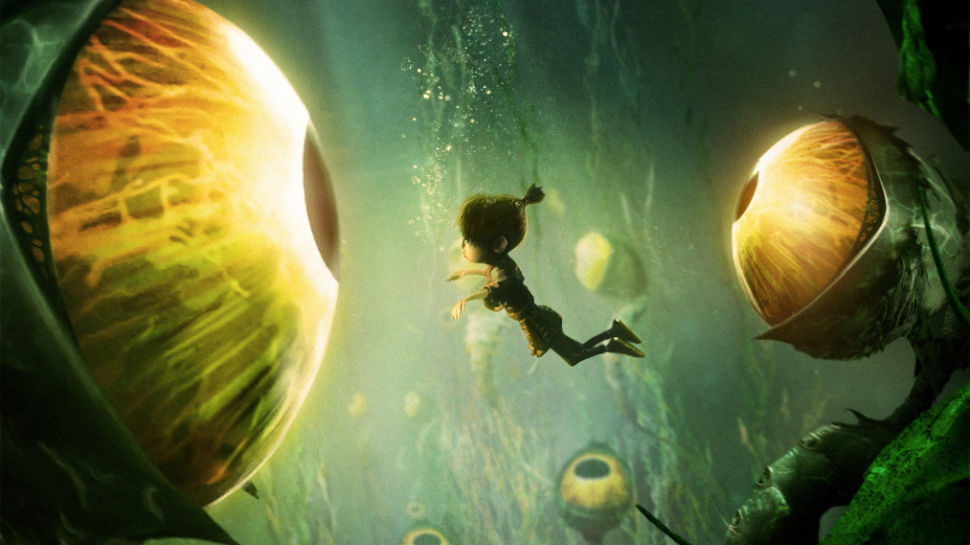 Another strong focus in the film is the music, which really adds another layer of depth and gives the movie a unique touch. In fact, one of my favorite things was the music, including a beautiful song performed by Regina Spektor. For Kubo and the Two Strings, she covered While My Guitar Gently Weeps, which you probably know was originally written by George Harrison and performed by The Beatles. Since The Beatles are one of my all-time favorite bands, I'm incredibly picky about other musicians covering their music, but I think Spektor did a beautiful job and made the song a perfect fit for the movie.  Make sure you stay through the credits to hear the full song and see some fascinating behind-the-scenes footage.
I'll make note of my one hesitation regarding Kubo and the Two Strings: this movie did have a bit more violence than I expected, and certain aspects may be a little creepy for younger children. My kids liked it, but if your children are especially sensitive to darker material, it's something to keep in mind.  Also, without giving anything away, I'll just say that I would have preferred a happier ending.  Aside from that, I highly suggest seeing Kubo and the Two Strings on the big screen.  I also suggest you take me with you, because I'd love to see it again.
If you'd like to learn more about Kubo and the Two Strings, you can watch the trailer:
For even more fun, check out the special Inside the Film features over at KuboTheMovie.com.  When you're ready to buy tickets, you can easily purchase them from Fandango and skip the line! If you've never used Fandango, now is the time to start. I haven't purchased a movie ticket at the kiosk in probably 2 years, and I love it. I never have to worry about being late because of long lines and I can choose my seats ahead of time, which really takes the pressure off when you're attending with children! To get tickets for Kubo and the Two Strings, you can easily grab them at Fandango.com.