Essential oils can be used for so many different things, and there are so many to choose from.  I know it can get overwhelming to figure out which oils you should try, and what you can do with them.  (It's overwhelming for me, anyway).  I decided that a great way to tackle essential oils was to pick one great multi-purpose oil, and start by exploring all its possibilities – in this case, tea tree oil.
Apothecary Extracts 100% Pure Australian Tea Tree Oil, to be exact.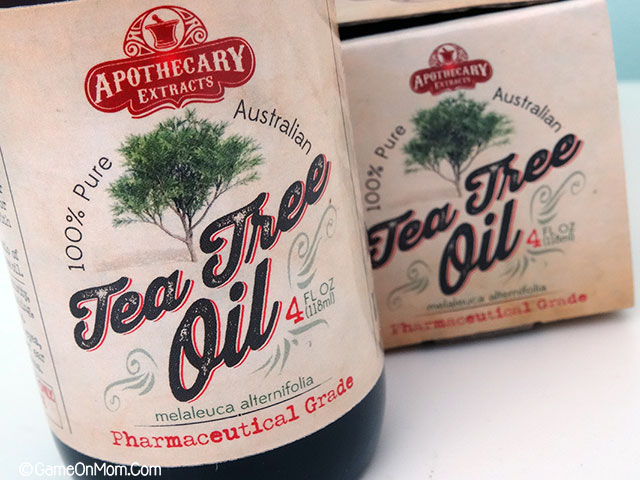 Apothecary Extracts only carries essential oils they're 100% confident represent the best quality and potency available – no dilution, no unsafe extraction processes that contaminate the oils.
And as for their 100% Pure Australian Tea Tree Oil, you can count on a pure product that smells great and has a wealth of uses for every member of the family.  (The scent is strong, but it's what pure tea tree oil should smell like.)  You can use it to naturally fight acne, lice, toenail fungus, yeast infections, skin tags, cold sores….well, you get the idea, and the list goes on and on.  It really is an amazingly versatile oil.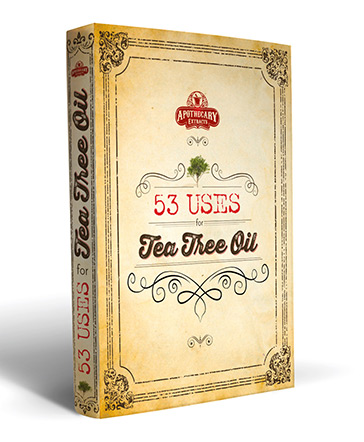 To get an even more detailed list of uses and recipes, Apothecary Extracts offers a free e-book with every purchase of their oil, providing over 50 pages of uses for tea tree oil.  Just to give you a sneak peek of the recipes you can find in the book, these are my Top 10 Favorites:
Minty Tea Tree Oil Lip Balm
Use tea tree oil, shaved beeswax, coconut oil, vitamin E oil, and mint leaves to make your very own healing, protective, and soothing lip balm. (And it tastes good, too!)
Cleansing Tea Tree Oil & Clay Mask


All you need for this weekly cleansing mask are green or red clay powder, tea tree oil, and water.

Creamy Tea Tree Oil Shampoo


To fight dry hair, itchy scalps, and lice, just whip up this creamy shampoo. You'll need tea tree oil, rose oil, coconut milk, almond oil, vitamin E oil capsules, and liquid Castile soap.

Detangling Tea Tree Oil Conditioner


For tangle-prone hair, create a detangler from tea tree oil, apple cider vinegar, and distilled water.

Tea Tree Oil Steam Inhalant


Colds and sinus infections can lead to major congestion, but a steam inhalant can help clear things up. Just use hot water, tea tree oil, and eucalyptus oil.

Tea Tree Oil Soak for Sore Muscles


Tired and achy muscles are no match for this soak made from tea tree oil, Epsom salts, and hot water.

Sleepy Time Diffuser


If you or the kids have trouble falling asleep, try this simple diffuser for an aromatherapy cure. You'll need tea tree oil, bergamot essential oil, Roman chamomile essential oil, and water.

Relaxing Bath Oil


After a long, stressful day, you'll love relaxing in this bath oil made from tea tree oil, rose essential oil, lavender essential oil, mandarin essential oil, and coconut oil.

Tea Tree Oil Toilet Cleaner


Yep! Tea tree oil is great for household use, too.  To make this cleaner, you'll want liquid Castile soap, baking soda, tea tree oil, water, white vinegar, and lemon essential oil.

Cleaning & Whitening Tea Tree Oil Detergent


To wash and whiten your clothes, just use bar-form pure Castile soap, borax, washing soda, and tea tree oil.
(Remember, that's just a peek of what you can do.  Make sure to use the book to learn how to safely and properly create, use, and store the recipes).
As you can see, it's good for almost everything!  And in this case, you have the added bonus of knowing that Apothecary Extracts is not only good for you, it's also good to the environment.  They have an Australian tea tree plantation that has received awards for its industry-leading conservation farming practices and have the smallest carbon footprint of any producer of pure and natural Tea Tree Oil.  The Australian Parliament has even invited them to represent farming operators at a Carbon Farming Incentive forum.  In other words, they're kind of a big deal!
To get your own bottle of 100% Pure Australian Tea Tree Oil from Apothecary Extracts, you can find it on Amazon.  Don't forget, the oil comes with a totally FREE book with over 50 pages of great ways to use tea tree oil for both family and home!
You also have a chance to win a bottle right here!  Apothecary Extracts is offering one of our readers an Amazon coupon code for one free bottle of 100% Pure Australian Tea Tree Oil.  Winner must have an Amazon.com account in order to claim this prize.  Giveaway is open to US residents who are 18 and older.  Ends 3/16/15.  Good luck!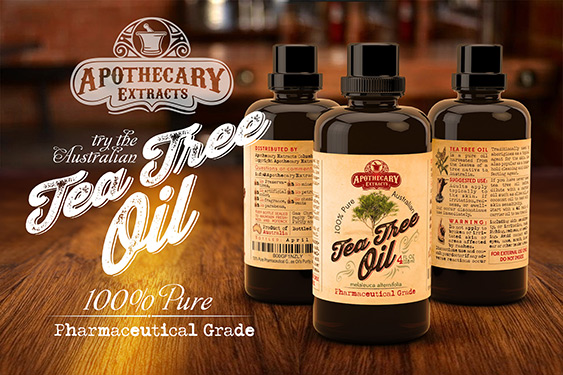 [Read more…]