Snoopy has always been known for his unique sense of style (think Joe Cool, the World War I Flying Ace, and the Easter Beagle), but even Snoopy can learn a thing or two from his fashionista sister, Belle! That's why the new fashion line, Snoopy and Belle in Fashion, has proved to be such an international phenomenon. Young fashion trendsetters from Paris to Milan to Tokyo are going crazy for the tees, dresses, leggings, and accessories that capture the wit, style, and magic of the world's most beloved beagles.
Snoopy and Belle in Fashion is currently on an international tour and features high-end Snoopy and Belle vinyl dolls outfitted by some of the world's most talented designers, including Anna Sui, Betsey Johnson, Calvin Klein, Christian Siriano, DKNY, Diane Von Furstenberg, Isaac Mizrahi, Isabel Marant, J.Mendel, Kenneth Cole, Lisa Perry, Zac Posen, and more.  Take a look at some of the designs they came up with: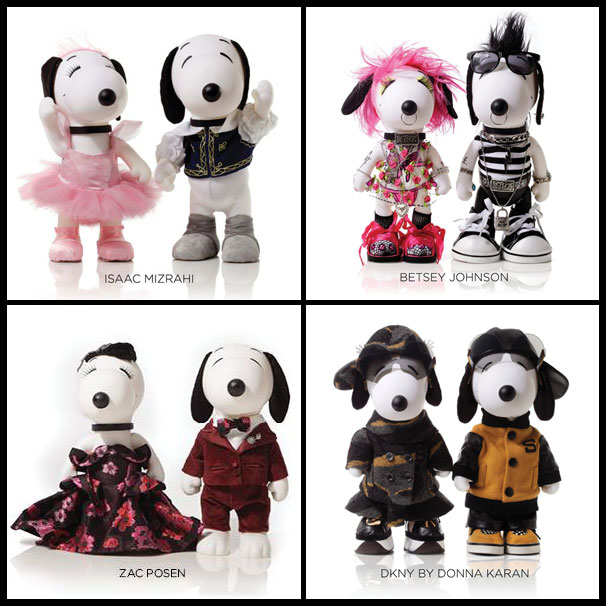 How did Snoopy and Belle get to be so fancy?  Learn all about it from excerpts from a recent interview with three of the creative geniuses behind Snoopy and Belle in Fashion:
Matt Murphy, designer of the SBIF exhibition
Cannon, acclaimed celebrity stylist who was the liaison with the designers
Asa Thornton, Izquierdo Studios, who produced the costumes from the designers' sketches
Tell us about the project and the history behind it.
Matt: The project originated in the '80s with [the late] Connie Boucher, who was the first person to reach out to the fashion community and engage them with Snoopy and Belle. That resulted in amazing designs from designers including Chanel, Hermès, Karl Lagerfeld, Issey Miyake. That exhibition started in Italy and included a wonderful host of products—everything from furniture to lamps to household products to cars. But the core was the Snoopy and Belle in Fashion exhibition, featuring plush dolls that were 14 to 18 inches tall. For this exhibition, we're using high-end vinyl dolls that are 9 inches tall, and we engaged contemporary designers to reimagine Snoopy and Belle. That's the exhibit that's currently traveling the world.
Which designers from the first time around signed on for the second time?
Cannon: I think one of the most exciting for us was to have Betsey Johnson sign on again. She is such an icon of American fashion, and it warms everyone's hearts when you talk about her. She said yes immediately, and her love for Snoopy kind of shows through. She's a very hands-on person—when she came to the show, she was fluffing the doll to make sure it was perfect.
Regarding the designers for this latest project, what were some of their inspirations behind their designs? Can you pick a few and talk about them specifically?
Cannon: With Rodarte, they were directly inspired from their runway looks—they wanted to translate their runways to Snoopy and Belle. Betsey Johnson went for a rock 'n' roll feel, which is very true to Betsey: She gave them tattoos and piercings, and made them extremely modern and very, very cool.
Will we be seeing any of these designs in shops for Peanuts fans to buy themselves? Or apparel inspired by these designs?
Matt: That's something we're working out—possibly something for 2016, but not immediately.
Which designs were the most challenging to construct and why?
Asa: They all had their own challenges, but I particularly remember Rodarte's Snoopy outfit, a leather and denim biker jacket—multiple zippers, asymmetrical openings, studs, little pieces with topstitching. It's quite a challenge when you're dealing with little leather epaulets ¼-inch wide! Zac Posen's designs for both Snoopy and Belle featured velvet and brocade, very heavy fabrics. We had to reduce the bulk and cut away some of the pleats on the dress to make it fit like a ballgown.
They're all impressive, so I'm not sure if I can narrow it down to just one favorite, but there's no denying that Betsey Johnson came up with a really amazing, modern look for Snoopy & Belle.  All of this exciting Snoopy fashion inspired me to get a makeover of my own–Peanuts style.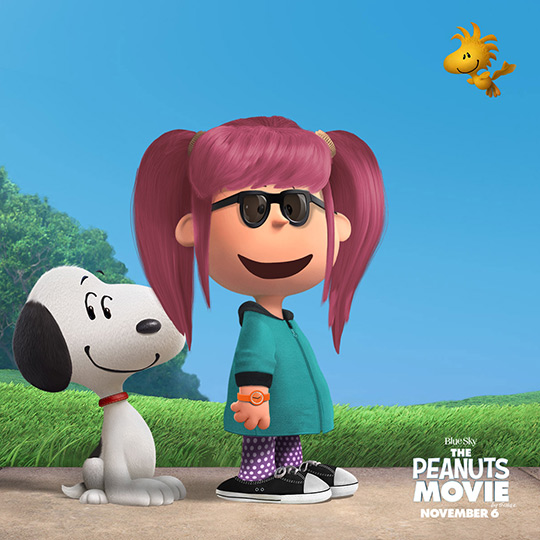 And that's me "Peanutized"!  It's not quite as bold as nose piercings and tattoos, but I like it.  You can join in the fun over at PeanutizeMe.com.  I'd love to see what you come up with!
For even more Peanuts fashion fun, enter now to win a Snoopy & Belle in Fashion Prize Package!  one Snoopy & Belle Tote Bag, one Snoopy & Belle Make-Up Bag, and one Snoopy & Belle T-Shirt in size medium. (ARV $65.)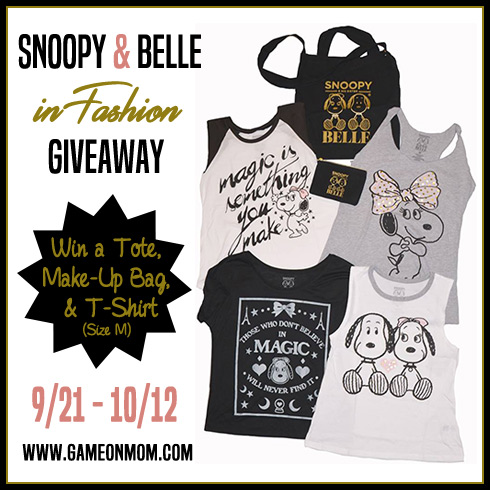 This giveaway is open to US residents who are 18 and older.  Ends 10/12/15 at 11:59 PM EST.  Good luck! [Read more…]