I am a Peanuts Ambassador, and any opinions expressed are 100% my own and entirely a result of my great love for Charlie Brown and all of his friends.

I know you've all been anxiously awaiting the next post in our A Charlie Brown Christmas series, and here it is.  Sorry I kept you waiting so long!  The Peanuts are worth waiting for though, don't you think?
So far, we've learned a little about the Schulz family, the voices behind the characters, and the Peanuts music.  This month we have an interview with Ron Smith, who is bringing us some fascinating insights into the cutting-edge 4K technology that is making our favorite holiday TV classic looking bright and shiny.  Ron has worked on the Peanuts specials in three different jobs: first at CBS, which was airing the Peanuts series at the time; then at Paramount, which was distributing the show at the time; and now at Technicolor, where he and his team work to restore and update the original films.
What does 4K really mean to your favorite Peanuts specials?  The picture quality will be better than you've ever seen it on any television screen with a richer image that is closer to the original film than any previous digital version of the special.  Peanuts is at the forefront of this technology, which "future-proofs"A Charlie Brown Christmas and the other Peanuts specials for the day when ultra-high-definition TVs are the standard in every household.  The soundtrack has also been cleaned and restored, so it will sound fabulous on your home theaters.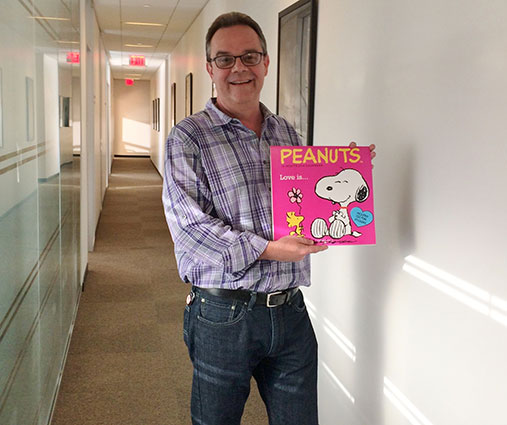 From the viewer's point of view, what's the first thing we'll notice now that the special is in 4K?
That it actually fits on your widescreen television! The picture is now designed for that screen. All the other presentations are designed for the old 4×3 screens.
You'll also notice the soundtrack and music have been upgraded for modern viewing: it's in stereo surround 5.1 We're lucky that the original negative exists for these shows, and all the original soundtracks and magnetic tracks. We were able to go in, separate those tracks, and clean them up, along with the sound effects. You'll get that nice stereo music in your surround speakers. So the special not only looks better, but sounds more current, too.
Is there any scene in particular where we'll notice the difference?

When I watch one of the shows at home, everything looks kind of small. Particularly any of the group scenes, the skating in the beginning, the rehearsal scenes for the Christmas play, they all look kind of distant. Now you'll be able to see it much more clearly.
Where do you start when you're doing this work? 
Like any good project, you have to start with research. There's a lot of information to be had out there. I was amazed to find how many websites there are devoted to the show. I found everything from show listings, descriptions, and some downright fanatical—meaning, created by big fans—analyses of each episode.
Some of it was just cataloguing all the shows. Of the 80 or 90 shows that have been done, 55 of the titles contain "Charlie Brown," and 14 of them start with the word "It's." When you're working on 10 or 20 at the same time—and when the first two you're working on are Christmas shows—it gets really confusing! So we knew we were going to have to be really careful with the elements.
We have the original film elements on A Charlie Brown Christmas. Since this is priceless and irreplaceable art, we do a film inspection to see if it needs to be repaired. There may be cement splices in it, and when the show is 50 years old, those splices can come loose and appear a little bit jagged. So we make sure the show is completely repaired. We check for any obvious wear and tear, and make sure that the film will hold up going through a scanner. That's how we digitize it. Each frame becomes a digital data file, and each one needs to be cleaned and color-corrected.
This also happens with the sound. You take the analog or magnetic soundtrack and digitize it. The first thing is we take out the snap, crackle, and pop, and clean up the individual tracks, then recombine them to make the restored version.
The scanner also takes a picture of the surface dirt on each frame, so we can figure out where it is, which makes it easier to clean and restore. And there was a lot of dirt.
What are some of the dos and don'ts of restoring classic animation? Is there a danger that it can it look "too good," so you lose the charm of the hand-drawn originals?
There are some classic mistakes. It can look too sharp or over-enhanced. With the Charlie Brown stuff, you have to embrace the original look. The picture changes from frame to frame. You've got to realize you can't fix everything. You've basically got to take the show as a whole, not nitpick it, then go back and smooth it out.
We were lucky to have the original artwork, the original cels, so we could see what the original colors were for characters and what they wore. Everyone in Peanuts family has been involved in this in some way, and they've been very helpful.
How important is it for classic animation to be restored?
For every film that gets restored, there are 1,000 that haven't been restored. There's always an underlying race-the-clock mentality that's associated with preservation. So many films have been lost and so many are at risk. Particularly with shows like this, we want our kids and our kids' kids to experience the same things we did.
Separate from your professional experience, are you personally a fan of Peanuts and A Charlie Brown Christmas?
Coincidentally, I am. I know I'm not alone. It's probably my favorite Christmas show, no doubt. If the Linus scene doesn't get you all choked up, then nothing will. My kids like it, and my daughter has a child who just turned 5, and she loves it. I'll take her for a ride in my car and play the soundtrack, and when the picture comes up on the player, she's in heaven. It just makes it that much more special that I can re-experience it through their eyes.
One of the things that really struck me when we started working on it here at Technicolor was that I discovered I wasn't the only one with special relationship to the material. The colorists here, grown men and women, were fighting over the project. That's how fondly it's remembered by so many people.
******
This might be my favorite interview of the series thus far.  Nothing makes me happier than knowing the best people are working on keeping the Peanuts films in the best condition.  And you could hear in Ron's voice how much working on this project means to him.  It was touching.  Okay; I'm going to go grab a tissue, but you should get started entering this month's giveaway.  It's a fun one!
Peanuts inflatables from Gemmy are an easy and charming way to decorate your home or yard for the holidays. The inflatables feature Snoopy in a variety of fun-filled Christmas poses and settings—all guaranteed to set the mood for your annual festivities! (Styles vary and will be distributed randomly.)
Your yard needs this, and your neighbors will be jealous!  Giveaway is open to US residents who are 18 and older.  Ends 11/28/14.  Good luck!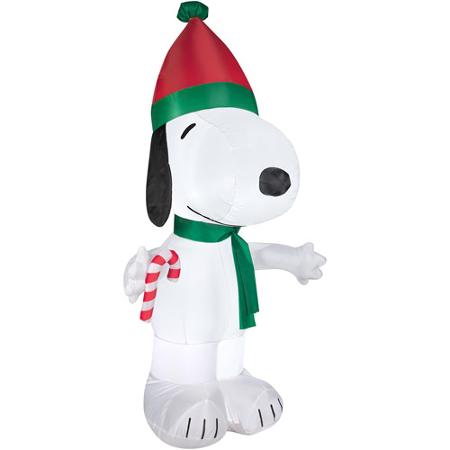 [Read more...]