There is still time left for some fun summer road trips, but I'm honestly already looking forward to long, scenic drives to view the beautiful fall foliage of the NorthEast.  Travel is never simple when you're toting little kids, but there are tools you can use to improve the experience.  We've shared some of BubbleBum's great car products with you in the past, and today we're excited to share their two newest products.  BubbleBum continues to transform kids into happy campers during car travel with the Junkie all-in-one car organizer and the Sneck pillow system!
The Junkie is designed with busy families in mind.  It's not only a car organizer, but it's also an activity station for kids.  You can turn back-seat boredom into a thing of the past!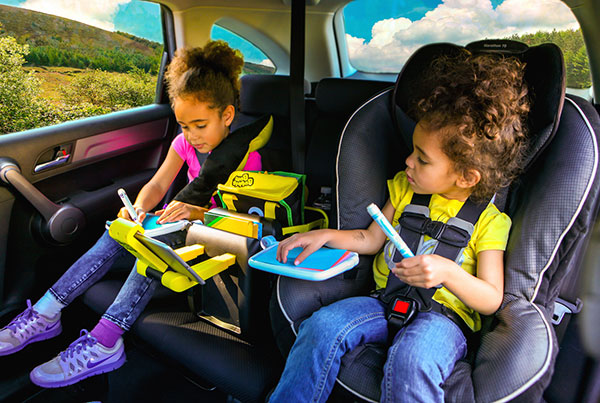 This expandable organizer attaches safely in the middle of the back seat, and can store everything from activities to snacks and drinks.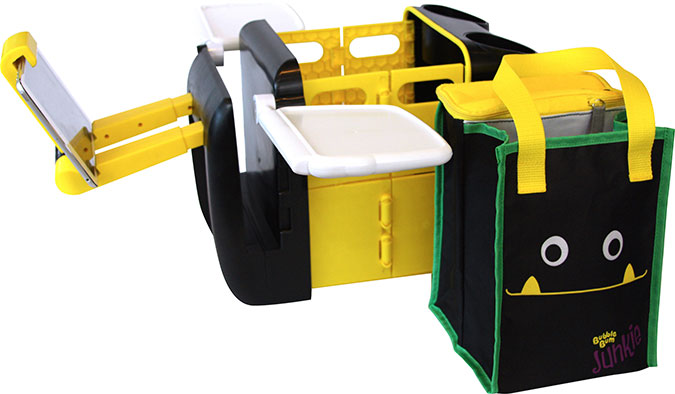 The Junkie has two retractable activity trays, so the kids have a flat surface for playing and for snacking.   They're a little small, but the kids don't seem to mind.  There are two cup holders that securely keep average sized water bottles within reach and safe from tip-over spills.  There is an insulated compartment to keep food and drinks cold, as well as a removable tote bag that makes it super easy to carry gear from the house to the car.  And I think a lot of you will love their innovative tech viewer:  it allows kids to watch movies or their favorite shows on a tablet while keeping it safe and securely in place.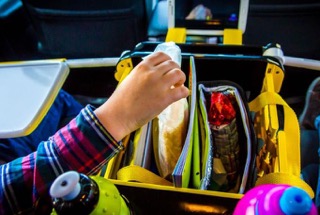 The Junkie keeps the kids busy and happy, and it also promotes road safety:  parents don't have to devote attention to holding onto and passing out water bottles and snacks, or making sure the kids can find everything they need.  My kids want to eat and drink ALL DAY long, so it's very convenient to have them be able to get to their own snacks.  (Now if we could just do something about the associated potty breaks, we'd really be in business.)
Next up:  the Sneck.  This is a travel pillow system that converts for multiple uses.  The design makes napping in the car more comfortable than ever before with micro-bead pods and a cozy material.  No more neck cramps thanks to this cushion!  It easily attaches to the headrest with a Velcro snap, so it will always stay perfectly in place–instead of falling to the floor for it to get trampled on by dirty shoes.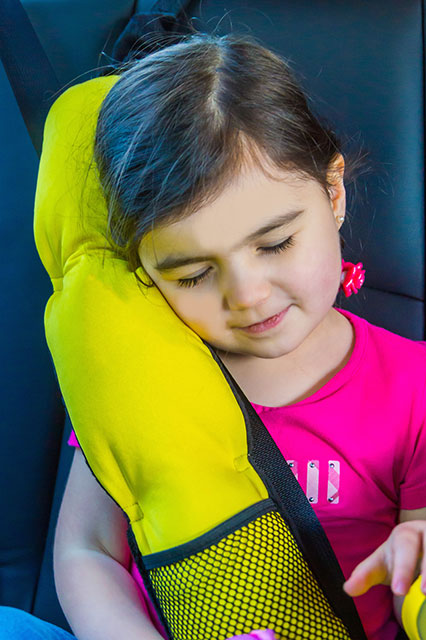 The Sneck has a three-way design, allowing kids to manipulate the pillow's positioning for optimal comfort: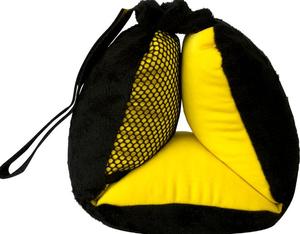 It also has a stash pocket, which gives your kids a safe place to store mp3 players or small toys: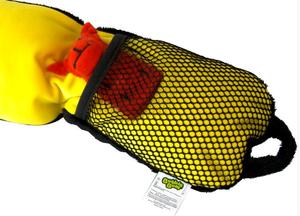 (My daughter likes to keep Bob in the stash pocket.  Yes, Bob the Minion.)
No matter how long or short your car trip may be, you can make sure the kids are comfortable and entertained in the backseat with the Junkie and the Sneck!  They'll soon be available on BubbleBum's website, but for now, you can grab them from Amazon: Sneck and Junkie.  You can also purchase them online at the websites for the following retailers: Target, Babies-R-Us, Sears, and Walmart.
And don't forget, you can always stay up to date on BubbleBum's newest products by following them on Facebook or Twitter.