With Valentine's Day coming up, I bet a lot of you have date nights planned. It's on a weekend this year, after all, so there is plenty of opportunity to do something special with your special someone.
"Do something special" will mean different things to different people, but there's one thing we all have in common:  whether you're planning a fun night on the town, dinner and a movie, or a quiet, romantic dinner at home with your sweetie, I know you want to look your best.  Unfortunately, winter can really wreak havoc on our hair and skin, so you'll want to have the right products in your arsenal to make getting ready for date night easy and fun!
 1. Do a Lip Scrub for Soft, Smooth, Kissable Lips
Whether your lips are chapped from the dry, winter weather or they just aren't as soft as you'd like them to be, there's an easy remedy.
What you'll need:
I don't use any specific measurements when I do this.  I just take a regular spoon, scoop up some sugar, squeeze in some honey, and mix it all up with my finger.  With that same finger, I apply it to my lips and rub in a firm, circular motion.  Wipe your lips clean with a soft cloth, and you're on your way to kissable lips.  If your lips are in rough shape, you can do this 2 or 3 times a week.  Once they're in better condition, you should only need a once a week maintenance scrub.
 2. Try Cucumber Eye Pads to Relieve Tired, Puffy Eyes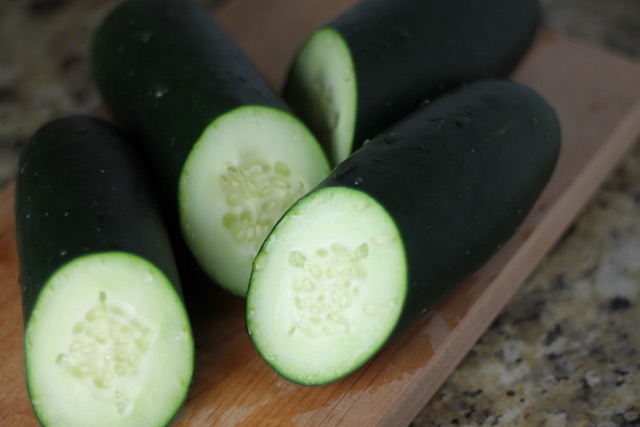 It's all in the eyes, and no ones wants them to be tired and puffy looking.  The water and antioxidants in cucumbers will help moisturize and soothe your eyes and even reduce undereye circles.  Try the DIY Ice Cucumber Eye Pads from SarahandSpice.com for an easy and inexpensive eye refresher.  (And please throw away the hemorrhoid cream. That stuff is full of chemicals that you don't want near your eyes.)
3. Get Glowing Skin with Microdermabrasion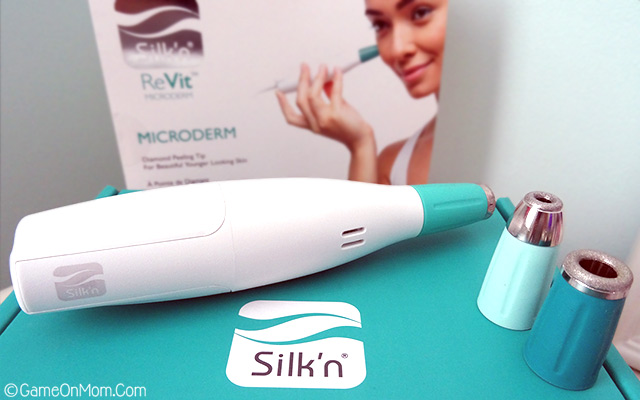 Microdermabrasion is one way to get smoother, healthier skin, and it's something you can do at home.  If you think it sounds a little scary, I know what you mean. I was afraid too, but the Silk'n ReVit is one microdermabrasion tool that will ease your fears and smooth your skin without breaking the bank.  The Silk'n ReVit combines gentle microdermabrasion exfoliation with vacuum stimulation to reduce the appearance of age spots, fine lines, and acne scars.  It's gentle, 100% crystal-free, and you can see visible results in as little as a week.
Despite being a little intimidated by the process, ReVit is not nearly as daunting as I thought, and I'm a big fan of it.  It's been absolutely wonderful when it comes to smoothing my skin after winter has made it a bit flaky, which means my foundation looks a thousand times better and more natural.  As I get older, I find it harder to get that "natural" makeup look, so I'm really happy to find something that does the job.
4. Deep Condition for Salon-Beautiful Locks
Silky hair can be achieved at home with the help of a good conditioner done 2-4 times a month.  Deep conditioners generally contain a combination of moisturizers to soften your hair and proteins to strengthen it, and they can do wonders for hair that's suffered the effects of chemical processing, heat styling, or the weather.  This is where I'd love to give you a recipe for an all-natural hair conditioner, but to be quite honest, I've never found one that I like.  I've tried a huge variety of diy recipes along with conditioners from natural brands, and they just don't do the trick.  (Plus, some of the diy recipes tend to spoil quickly.)  So, this is one area where I forego being natural in favor of what my hair likes best.  Personally, I lean toward conditioners that are designed to smooth and soften over the type that emphasize strengthening, and my favorites are the L'Oréal Feria Color Moisturizing Treatment (I've only ever seen this at Sally's, and if they stop selling it, I will cry) and the Aveda Smooth Infusion Smoothing Masque, but there are lots of options out there.  Just make sure you don't overdo it by applying too frequently, or it will just end up weighing your hair down.
5. Moisturize Your Cuticles for Beautiful Hands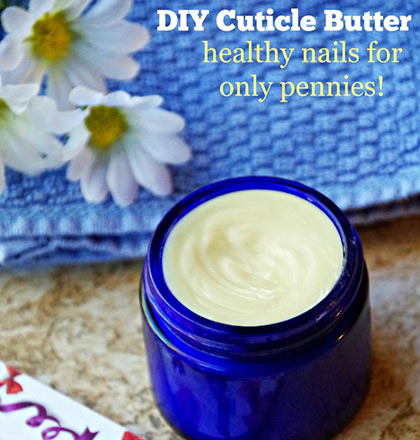 You put your hands through a lot, and while a nice coat of nail polish can certainly brighten things up, you don't want dry, ugly cuticles ruining your look.  I love this recipe for DIY Cuticle Butter from Suburbia Unwrapped because it's inexpensive and fairly simple to put together.  Remember, your cuticles are skin; care for them the way you do the rest of your body, and they'll stay healthy and beautiful.
This is your own little spa day, so go ahead and light some candles or fire up that aromatherapy diffuser.  Just relax and take some time out of your hectic schedule to take care of yourself, and you'll definitely look your best for date night, no matter what the occasion.  I'd suggest a glass of wine, but I don't want you to undo the work of those cucumbers.