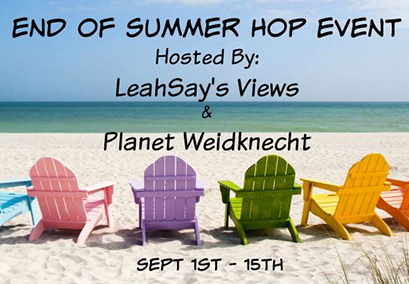 Welcome to the End of Summer Giveaway Hop, hosted by LeahSay's Views and Planet Weidknecht!  It's sad to see the summer coming to an end, but learning about some great products and having lots of chances to win them should cheer you up!  Each participating blog will have a prize with a minimum retail value of $25, so after you're done here, make sure you follow the linky at the bottom of the post to hop to the other blogs.
I'd like to talk about something that is completely unfair and utterly frustrating:  acne.  Most of us go to war with acne as teenagers.  It's unfortunate and embarrassing, but it's something of a rite of passage we all face, and it (usually) gets better.  But when it doesn't?  That's when you get my arch nemesis:  adult acne.

I expected to be dealing with new wrinkles and aging issues in my 30s.  I did not expect to be dealing with pimples and pore issues, and I'm pretty unhappy about it.  I've tried a lot of skincare products over the years, and I'm always happy to try new ones.  I was particularly excited to receive a complimentary kit from a new-to-me product line from Exposed Skincare, because it features something special: the combination of science and nature.
Exposed Skincare has the ingredients you may have come to expect from acne products:  dermatologist-recommended ingredients like benzoyl peroxide and salicylic acid.  What sets this line apart is the fact it uses a holistic approach to traditional acne treatment. In addition to the ingredients above, Exposed Skincare also uses purified water and a soothing moisture complex infused with calming tea extracts to provide antibacterial properties and soothe inflamed skin cells.  Talk about spa quality!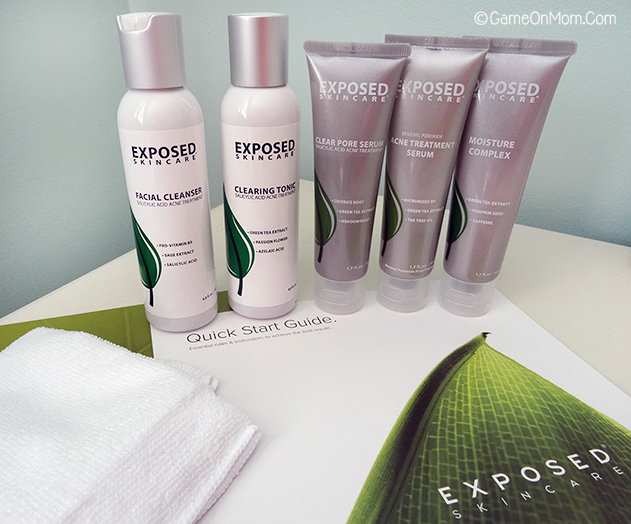 I have been using the 6-Piece Expanded Kit, which features the Exposed Facial Cleanser, Derm-X Cloth, Clearing Tonic, Daytime Acne Serum, Nighttime Acne Serum, and Moisturizing Complex.  All these products work together to cleanse your pores, clear blemishes, and reduce inflammation.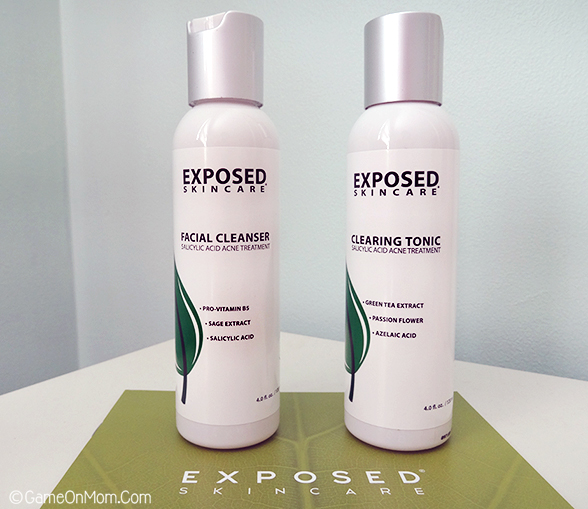 It all starts with the Facial Cleanser, which gets rid of oil and dirt and kills bacteria but does not contain any nasty sulfates.  Use this with the Derm-X Cloth for exfoliating those dead skin cells.  The Clearing Tonic helps control blackheads and whiteheads and preps your skin for serums.  Just a note on the tonic:  the directions say to apply with your bare hands, but the consistency is very thin, so you need to be careful and work fast or you could end up making a mess with it and/or using up more product than you need.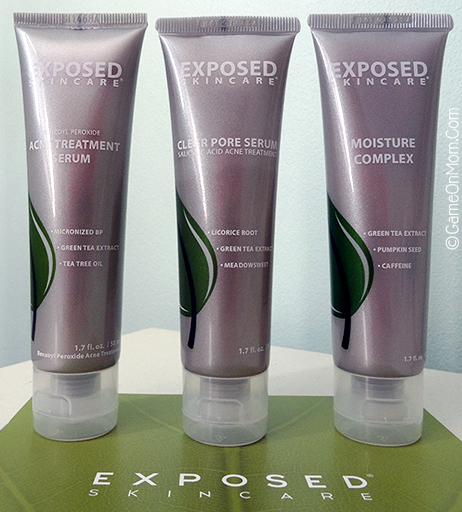 The Acne Treatment Serum contains advanced acne-fighting ingredients to prevent new acne blemishes and whiteheads during the day while the Clear Pore Serum controls acne and rebalances your skin while you sleep.  The Moisture Complex calms and protects your skin both day and night.
I'm really satisfied with this treatment program.  The fact that it doesn't contain sulfates or parabens is a huge benefit to me, and it's also just been working really well.  I've definitely noticed that my skin is getting clearer!  Over the past month I've also noticed that my large pores have gotten smaller, which is a major plus.  Not only does my skin look healthier and less irritated, but my makeup looks better too.  When your skins looks this good, however, you don't need as much makeup!
To learn more about Exposed Skincare's unique approach to acne treatment, check out Exposedskincare.com and find a kit that's perfect for you!  You can also purchase their products separately, but the kits are an awesome deal.
Speaking of awesome deals, Exposed is offering you a chance to win the Exposed Skin Care Expanded Kit (ARV $59.95)!  Open to US residents who are 18 and older.  Ends 9/15/15.  Good luck!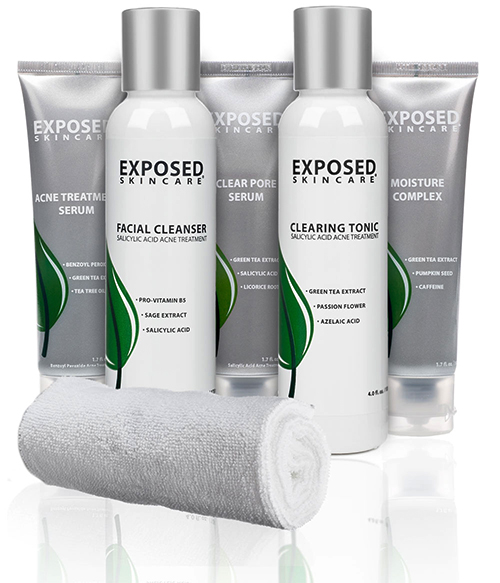 [Read more…]