Wonder Workshop was kind enough to send us complimentary samples of they're products.  All opinions expressed are 100% my own.
One thing in life that makes me very, very happy is finding a toy that my kids will absolutely love, but that also has educational value.  I am so excited to share something with you today that my kids (and I) have fallen in love with, courtesy of Wonder Workshop.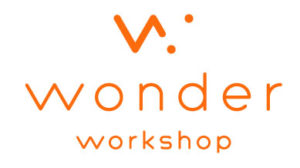 Wonder Workshop has created personal robots (yes, robots!) called Dash & Dot, and I am absolutely certain both you and your children will love them.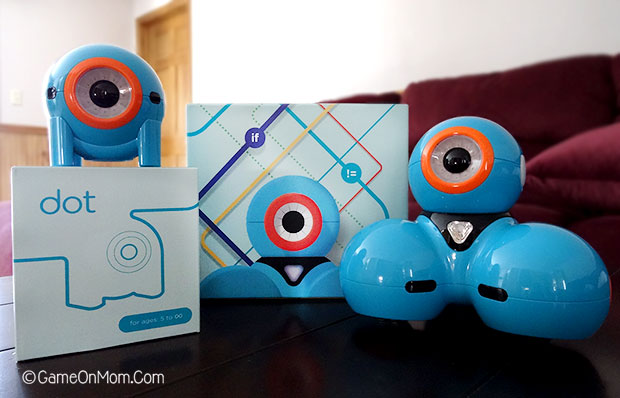 Dash & Dot aren't just electric toys that drive around and make noise.  They are smart, they are capable, and they are designed as a development platform to help your kids learn programming and coding skills in a way that is super easy and super fun.  Dash & Dot can sense their environment and can be programmed wirelessly using a touch device like an iPad.  If this sounds a little confusing, I understand.   But believe me, after you watch this video, you will totally get it (and if you're like me, you'll be ridiculously excited about it):
See what I mean?  Children ages 5 and up have a terrific opportunity to have fun and learn the basics of coding.  As you saw in the video (and already knew), computer science is a non-negotiable skill for our children.  Most of us didn't have the opportunity to play with (and program) robots at age 5, but our kids are beginning a lifelong relationship with computers and programming from an early age.  Even for kids who will never go into the computer science field, computer literacy and problem solving skills are critical.  Your future artists, teachers, lawyers, nurses, et al., will find themselves in a world where the skills Dash & Dot can teach them will be undeniably necessary.
Let me share a bit of what Dash & Dot can do.  Dash is an explorer, a mover and shaker.  Dash drives around, senses objects, hears and responds to sounds, and comes to life with sound, lights, and head motion.  Dot is an instigator.  Dot responds to how it is moved, sends signals for Dash to see where it is, hears and responds to sounds, and transforms with sounds, lights, and imagination.  When put together, that means a world of fun and learning.
There are several apps already available for kids to learn with Dash & Dot.  At my house, we are loving the Xylo app.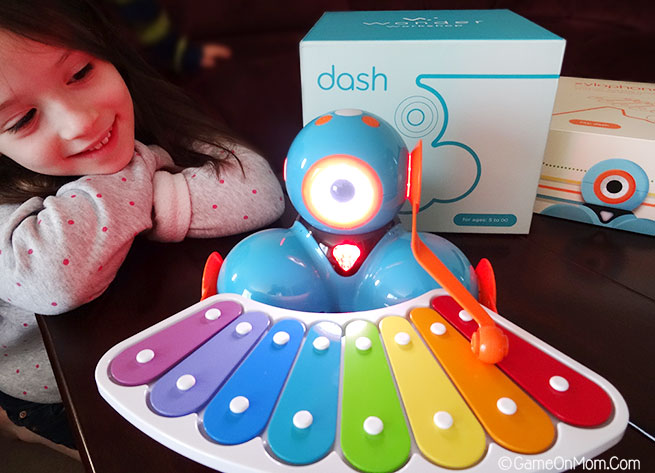 Dash has an actual xylophone accessory!  Unlike other toys, your child won't be the one playing the instrument; instead, he or she will use the app to compose songs and program Dash to move around while playing the music.  Here's a sneak peek of the Xylo app interface:  it's easy for your kids to coordinate movement with music.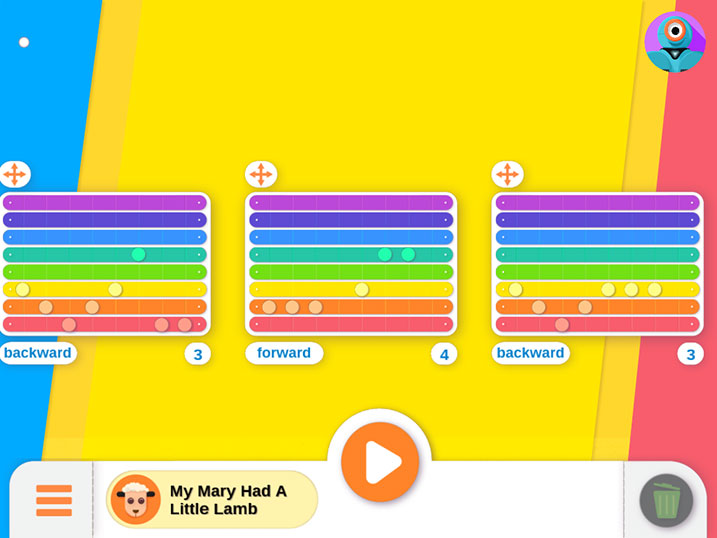 How cool is that?  So cool.  Not only can your children write their own songs, they can program a robot to turn the composition into a live show.  This app teaches sequencing and loops.
We've also been playing with the Bunny Ears accessory for Dot.  (They work for both Dot and Dash, and give either robot a cute new look). [Read more…]