This is Flash. He'll answer to a bunch of names, including Runchkin, Flashadow, Fuzzybutt, Flashdog and, most frequently, Flashy.  He was adopted eight years ago last month. His "father" calls this his Fabio picture. We're not sure what his breed is, but we call him a giant mutant Dachshund. He looks a lot like a long haired, piebald doxie. He's just way bigger. Whatever he is, he's completely adorable, as you can see below.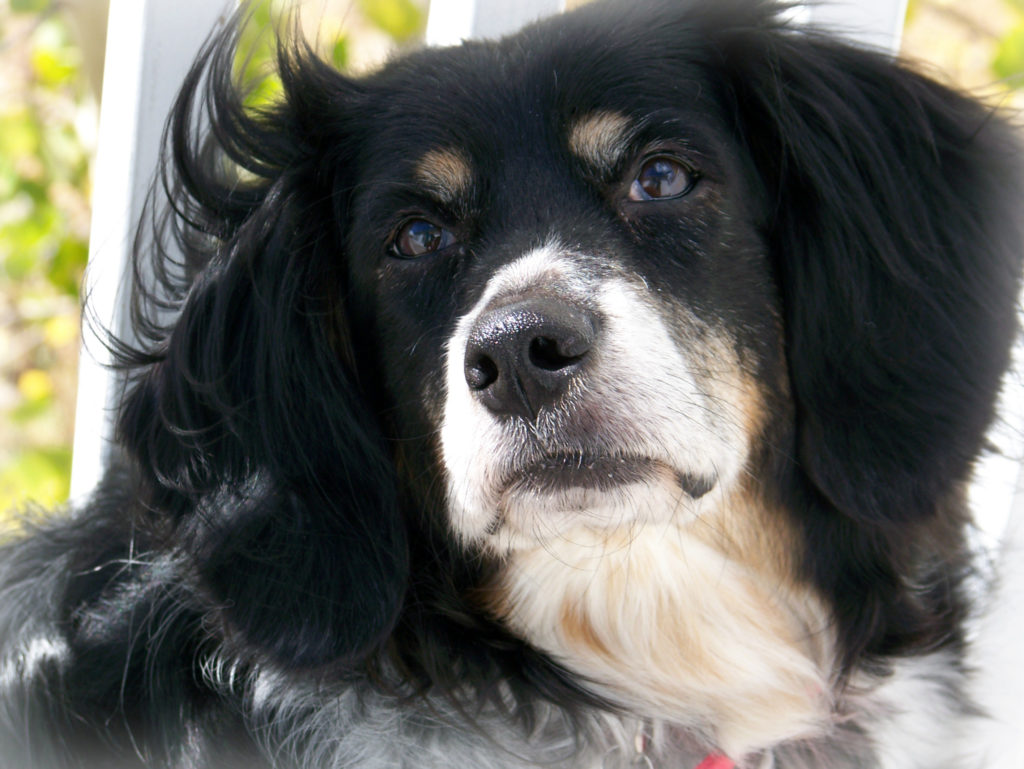 Like most of his fellow canines, Flash is always thrilled to have a chance to try some new treats. When the chance to try out Minties Treats and Betsy Farms jerky came up, I couldn't pass it by (he'd never have gotten over it!). First, let me just say that the opinions in this article are my own (with some help from Flash). I do not work for, or with, any brand mentioned in this article, nor do I have any official relationship with them. I have a relationship with GigaSavvy, for whom I create original editorial content. 
Okay, so first up Minties. These are dental chews, designed to help keep your dog's teeth cleaned between cleanings. Here's some more info from their site:
Each Minties Dental Treat contains five natural ingredients that work in your dog's mouth and stomach to promote fresh breath and reduce unpleasant odors:
Mint

 promotes minty fresh breath.

Parsley

 contains enzymes that help break down odor-causing particles in the stomach.

Dill

 helps inhibit bacterial growth and helps prevent early stages of gingivitis.

Fennel

 helps control bacteria and is a natural breath freshener.

Chlorophyll

 from alfalfa balances acid levels in the stomach and helps deodorize your dog's body.
Here's a pic of what a Minties treat looks like.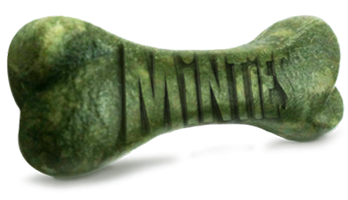 I have to say that we're pretty lucky with Flashy. He doesn't tend to have bad breath. But even still, dental care is important so we do like to at least get him treats that help with keeping his teeth clean. Flash really, really loved these treats. They didn't smell that appealing to me! However, they got a 4.5 out of 5 on the patented Flash Scarf-O-Meter (it's not really patented, but maybe we should work on that!). I enjoy knowing that they're developed by vets, and that they are a lot less expensive than competitive products. Flash really loved these, so I do think we're likely to buy them in the future for him. The recommended instructions involve feeding them as a daily supplement, but since Flash doesn't have bad breath issues, I don't think we'll use them that often. But a few times a month, sure!
The Betsy Farms duck jerky is all natural, which is a big yay from me. Flash might be (a little too) okay with eating things that aren't natural, as long as he deems them tasty enough! However, I try really hard to avoid giving him things that aren't all natural. They smelled almost like human jerky might, but the similarities ended there. The consistency of this is really not very jerky like. The pieces are also pretty big, and I broke the first one in half because that was enough (by my estimation, not Flash's) for a treat for a dog his size (he's about 50 pounds). However, Flashy found this duck jerky stuff very scarftastic (yes, that's a word). He ate it way too fast, and wound up with a bit of a tummy ache that night. In subsequent feedings I actually gave him smaller pieces, fed to him one piece at a time, and that was much easier on his digestive system.
Here's a picture of one full piece. I put it on a standard sized piece of printer paper so you get an idea of the size, and added a quarter for good measure because it seems like whenever people do these sorts of photos currency is involved.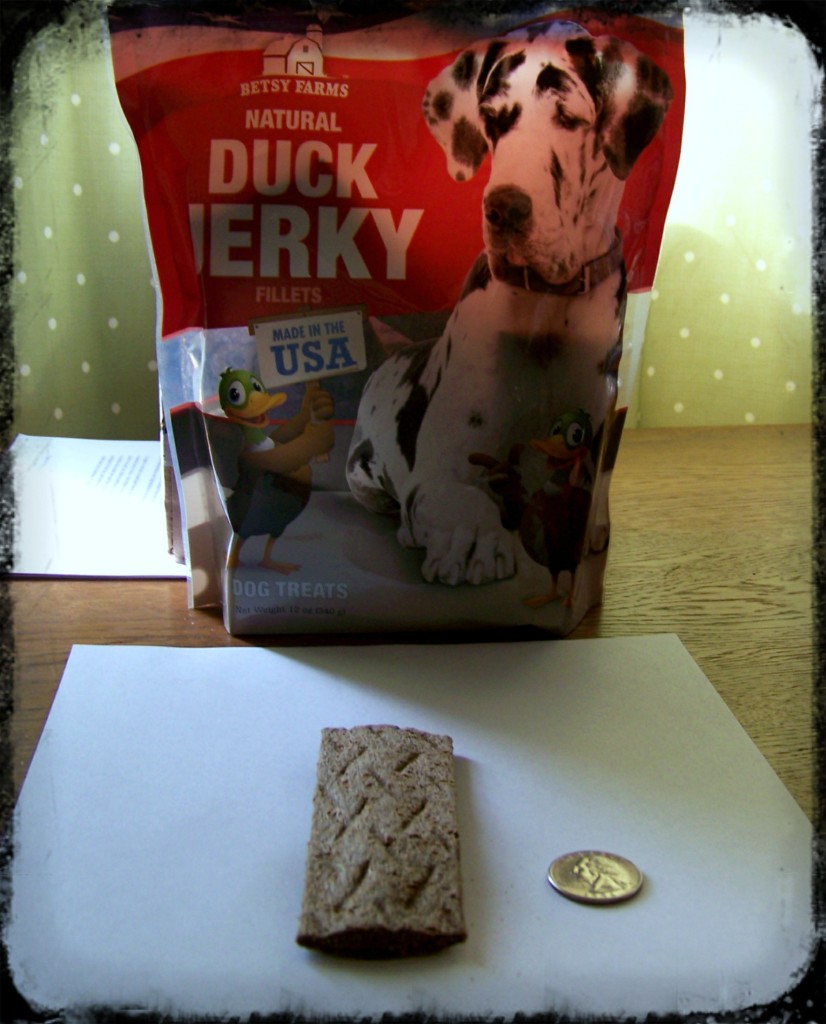 We still have a bit of this jerky left, and I'm undecided yet on whether or not we'll buy this product in the future. While I'm very happy they are all natural, there are still some ingredients that just seem unnecessary to me, compared to other treats I buy him. For example, I'm pretty sure caramel color is added for the humans feeding the dogs. And I can say with absolutely certainty that Flashy doesn't have a palate refined enough to require added hickory smoke flavor. However, I'd say they warranted a 4 out of 5 on the Scarf-O-Meter. He liked them a lot. But he's had other jerky style treats that were more like the consistency of human jerky, and without added flavoring, that he enjoyed even more. However, they'd be better for a dog that has issues chewing the tougher, more traditional style jerky products, as they are a good bit softer.
You can learn more about both products on their respective websites. I encourage you to check them out! I bet your dog will thank you for it!
Here's one final, gratuitous picture of Flash because he's just too cute (and I really like taking his pic!).