Thank you to Silver Dolphin Books and PLAY-DOH for sponsoring this post.
By now, you are probably aware that I'm a book lover.  (Former librarian, remember?) Both of my kids have inherited my obsession, and they're always thrilled to receive a book as a gift.  This time, I have something extra special to share with them because it's not just a book, it's crafty, learning fun!
PLAY-DOH and Silver Dolphin Books have teamed up to create an entire line of amazing books and activity sets with the fitting tagline "Where Learning and Creativity Take Shape".  Basically, they're books that come with PLAY-DOH, which everyone loves, and they encourage learning through creative play.  Now kids have a whole new way to experience the PLAY-DOH magic!  Let's take a look at the three books that I got to try.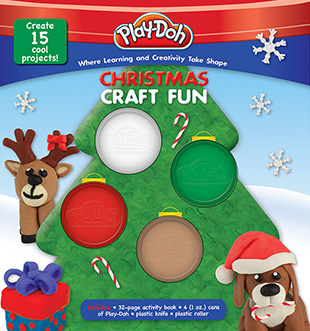 Christmas Craft Fun.  This boxed set contains a 32-page activity book, a whimsical story about Holiday Hound and Christmas in Jollytown, 4 cans of PLAY-DOH, and 15 cool holiday projects will certainly keep youngsters busy Christmas morning making their own ornaments and decorations.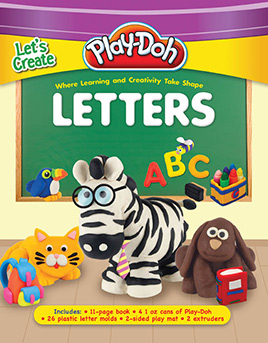 Let's Create:  Letters.  Introduces youngsters to the letters of the alphabet, the first step in learning to read.  Zany Zebra takes a trip through different classroom settings to identify key objects related to letters.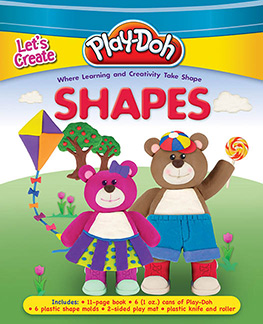 Let's Create: Shapes.  Kids take a trip through "town" and learn basic shape recognition–a key pre-school math skill.
These books are full of colorful images, and the stories and crafts are tons of fun for the kiddies.  The books themselves are quite sturdy and seem like they'll be able hold up to the abuse I know my children will inflict upon them.  Everything you need for hands-on, educational excitement is right in the package, including cans of PLAY-DOH, plastic shaping utensils, and double-sided play mats.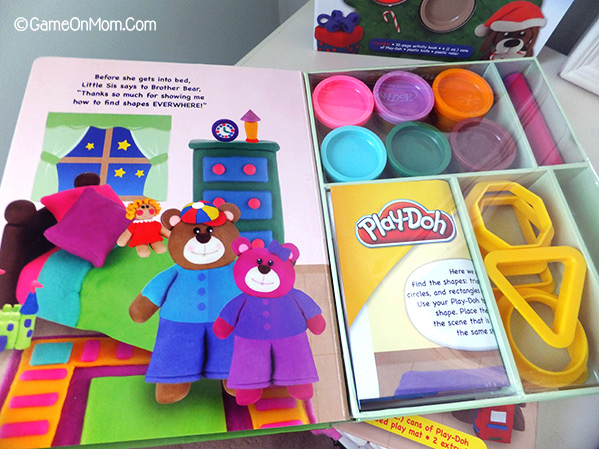 You should have seen the look of delight on my daughter's face when she opened up a book and found PLAY-DOH inside it!  She's feeling the Christmas spirit right now, so that was the first one she wanted to experiment with.  After we read the book and she had a chance to see all of the different crafts, she decided she wanted to try to make the snowman.  She was a little disappointed that we didn't have the same colors they showed in the book, but that was quickly forgotten once she got rolling and shaping.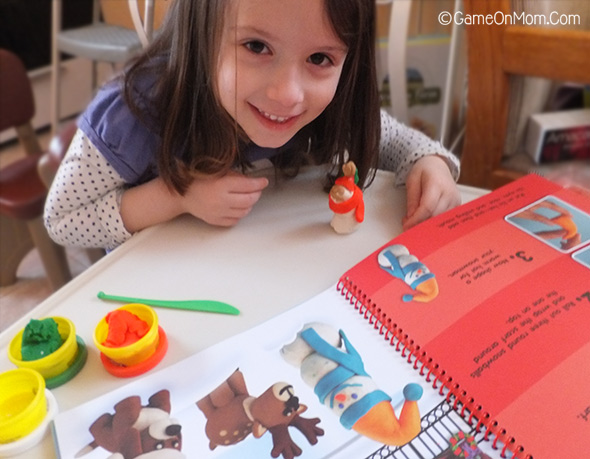 My little artist was so proud of her work!  She has been having such a good time with these books, and the smell of PLAY-DOH makes everyone smile.
Any of the books in Silver Dolphin's PLAY-DOH series would make a great Christmas, birthday, or just because gift.  There are currently 12 titles to choose from, and each one will inspire creativity and learning.  For more information and to learn about the other books in this series, visit Silver Dolphin Books.  They've also got some coloring sheets you'll want to check out while you're there.  And don't forget to connect with Silver Dolphin on Facebook, Twitter, and Pinterest.
Enter to win each of the three titles Christmas Craft Fun, Let's Create:  Shapes, and Let's Create:  Letters!  [Read more...]