Complimentary samples were received for review purposes.  All opinions are my own.
You probably know by now that we here at Game on Mom are always excited about finding ways to reduce our consumption and footprint on our beautiful planet, and we have another one to share with you today!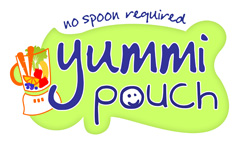 Yummi Pouches are some of the coolest (and cutest) reuseable bags around, and they've been getting a lot of use around our house this summer.
The new Yummi Pouch bags are made of BPA-free, phthalate-free, PVC-free, and lead-free nylon and come in a variety of sizes and styles, including a snack size bag, a sandwich bag, and a storage bag.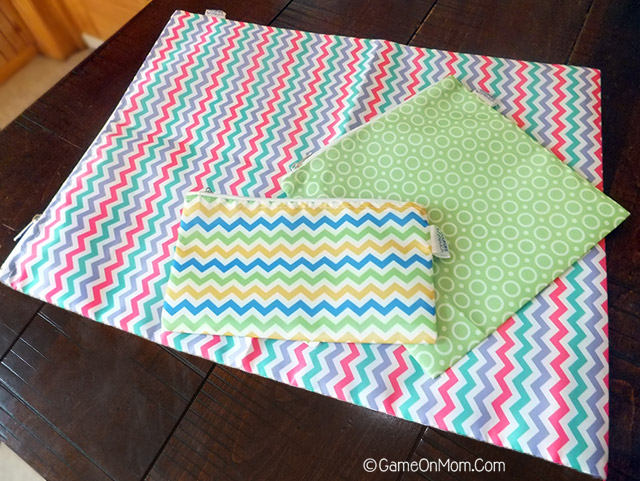 The Cloth Snack Bag is perfect for things like trail mix, snack crackers, or cereal.  It's lined with a water resistant interior and decorated with a variety of fun, colorful prints.  I love that it has a zipper opening – sometimes zip-seal plastic bags can be tricky for little fingers, and the zipper on this bag makes things so much easier!
The Cloth Sandwich Bag is made especially to fit square sandwiches.  The size is perfect, and again, the zipper closure makes it easy for kids to open and close.  You may be wondering how exactly a cloth bag would work with sometimes-messy sandwiches, and I was skeptical about this before I tried them.  I can officially report that my worries were unfounded!  Like all other Yummi Pouches, this sandwich bag is lined with a water resistant interior, so any sunbutter-and-jelly remnants will wash right off with no trouble at all, and won't stain the bag or leave sticky spots.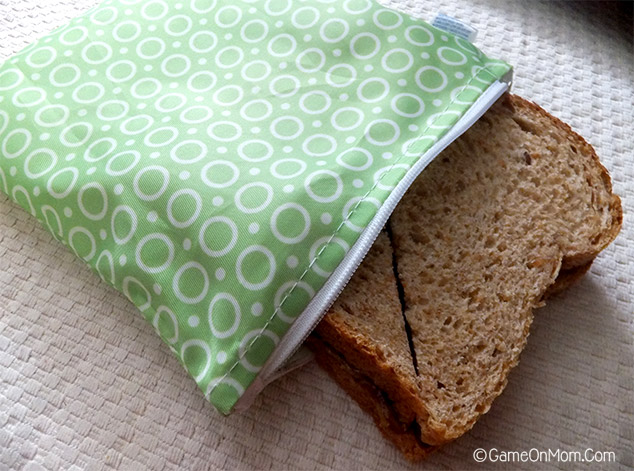 Finally, the Everything Storage Bag is perfect for, well, everything!  You can use this bag for anything you want, wet or dry, but I like to take advantage of the waterproof liner.  We've been using this as a wet bag this summer for the kids' wet swimsuits at camp, and it's been perfect: no more wet backpacks or dripping all over the car! It's also a great bag to pack things that could potentially spill in your bag or suitcase.  You don't have to worry about your shampoo bottle leaking on your cute new shoes anymore!  And of course, these bags are great for holding small toys and books to keep the kiddos occupied on road trips.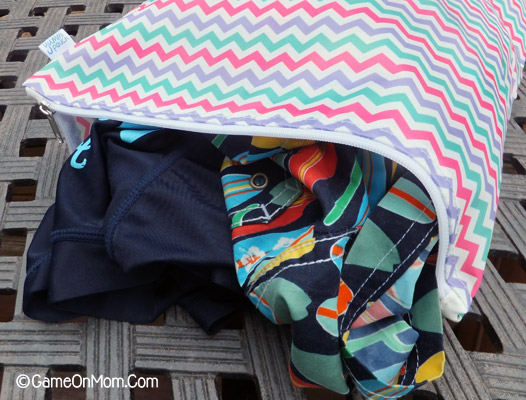 The best part about these bags is that they're super easy to wash.  The waterproof lining makes hand-cleaning a breeze, but you can also toss these into the dishwasher or washing machine for a simple and easy clean.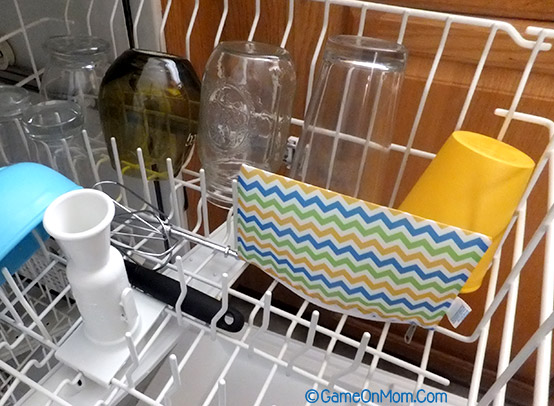 Yummi Pouch also makes reusable food pouches, which we love and have reviewed in the past.  Both the regular Yummi Pouches and their new assortment of bags make it easy to take healthy foods on-the-go, whether it's to camp or school or on a fun road trip!  Make sure to follow them on Facebook and Twitter to keep up with the latest Yummi Pouch news and special offers.