This Inside-Out Umbrella Will Change Your Life + Giveaway
This post is all about an umbrella.  I was not originally planning on dedicating an entire post to one umbrella, but I'm so in love with this thing that I just can't help myself.  Like a lot of you, I'm a very busy, working mother who is often literally juggling multiple things.  Okay, maybe it's more like dropping than juggling because I'm just not talented in that way, but the point is that I always seem to have more than a few things in my hands–and even more things on my mind, which really doesn't help the situation.
Let me tell you what a sad, soggy sight I've been at school pickup on any rainy day in the past two years.  I've been do dissatisfied with my last few umbrellas that I didn't even bother replacing the last one.  Instead, I've been relying on my light rainjacket and it's hood to keep me dry.  This sort of works.  Unless it rains more than a drizzle. Or there's any amount of wind.  Yeah, it's not the best solution.  This inverted umbrella, however, works like a charm and is full of convenient features. Let me tell you how it fits perfectly into my crazy life.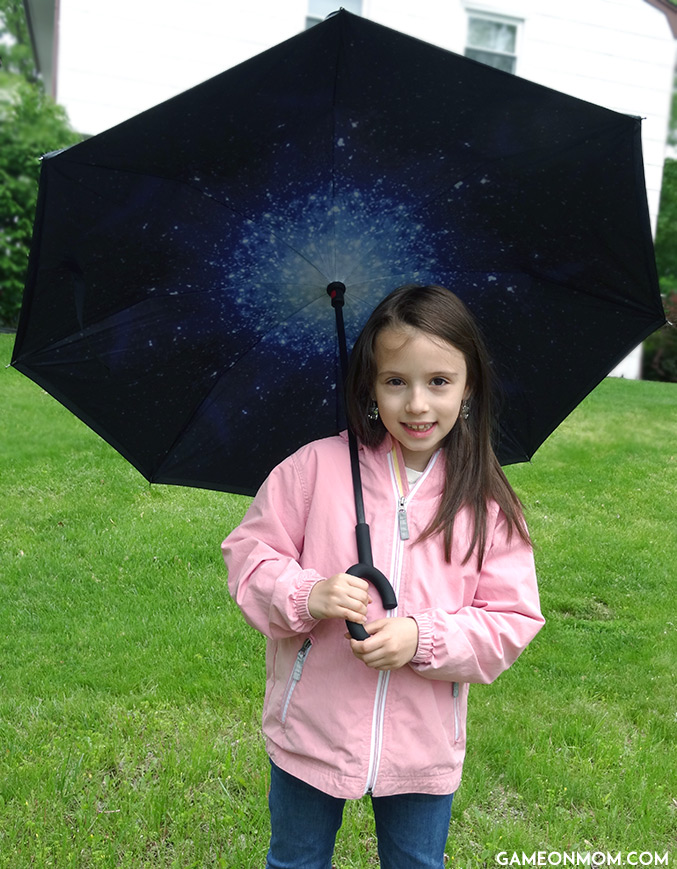 It's an "inverted umbrella" because it has a rather strange inside out kind of design.  This means that when you come in out of the rain and you close the umbrella, the wet outside stays on the inside, so there's no sloppy, wet mess to worry about.  When you're home, you can air it out and let it dry as you like, but I know you don't like going into a restaurant or a friend's house and leaving a puddle behind.  I know I don't like it anyway, and I especially hate getting the floor or seat of my car wet, so this reverse design is just what I need.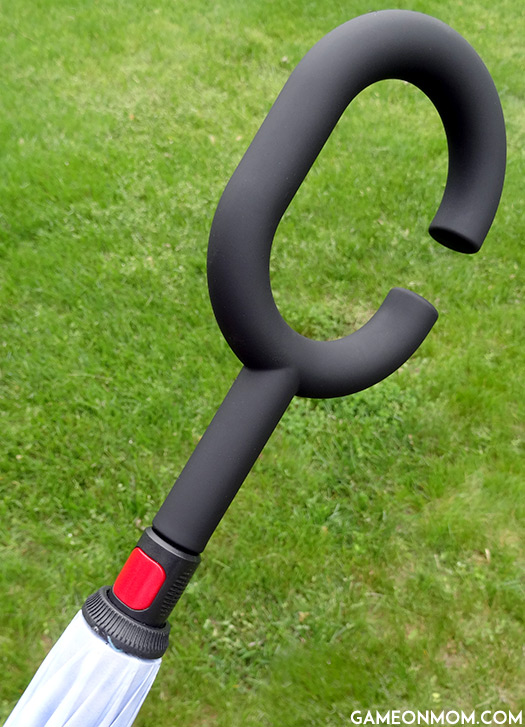 Something else I've never seen on another umbrella is the c-shaped handle.  You can hook the handle onto your wrist, rest the rod on your shoulder, and you still have your hand free to hold other, more interesting things, like a phone, a baby, or a burrito.  Whatever floats your boat.
As you might expect, the umbrella comes with a cover.  In my household, umbrella covers last maybe two uses before they are lost forever.  I'm assuming they end up wherever the lost socks go.  This cover, however, is one I'm not letting go of.  There's a strap attached to it, allowing you to use the cover as a sling that makes it easy to carry the umbrella around when you aren't actually using it.  One of the things that's prevented me from investing in a not-compact umbrella is that I simply didn't feel like carrying a giant one around.  Problem solved.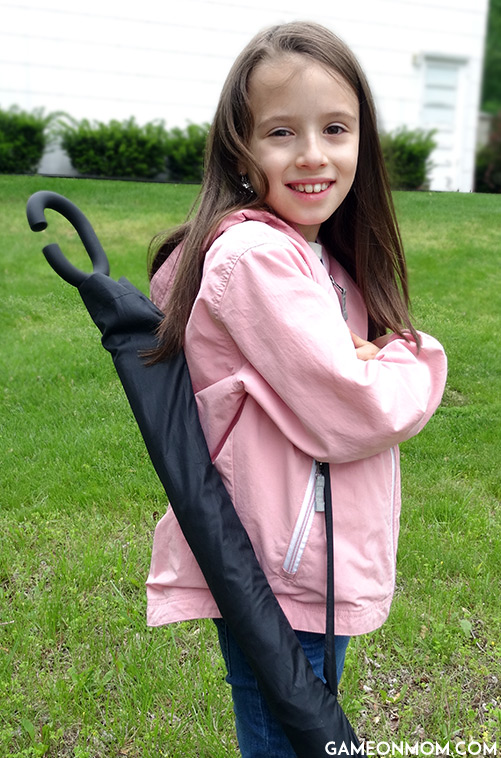 I've saved my favorite feature for last.  Technically, it's part of the first feature, but it's so good that it gets its own paragraph.  When you get in and out of your car during the rain, you get wet, right?  Even when you have an umbrella, some amount of rain makes it way in, and the opening and closing of an umbrella generally results in some spray action.  This goes for getting in and out of any door, I just personally seem to have the most trouble with cars.  It's been a pet peeve of mine for years.   Well, the inverted design of this umbrella means that you can now get in and out of your car without any of that nonsense.  Finally, you can go out in the rain and actually stay dry.  Your hair will be forever grateful to you.
The particular brand of inverted umbrella that I have comes in a few different colors/patterns.  You can choose from all black, black with rose red, or black with a starry night pattern, which is the one I received.  All are available from Amazon for very reasonable prices and with Prime shipping.  Whichever color you choose, you're going to love your new umbrella.  You might even hope for some rain just so you can use it.
Save
We have some special Amazon coupon codes just for you:
Black/Starry S
ky   $4 off code: KZXD3OC2
Black/Rose Red    $3 off code : QWLYCCQM
Black/Black           $3 off code : 2VTG2I6M
After the discount, each umbrella is only $15.99.  You can't beat this deal!  These promo codes expire on May 31, 2017, so don't delay.
Win
Three lucky Game On Mom readers are going to win inverted umbrellas of theirr choice.  Giveaway is open to US residents who are 18 and older.  Ends 5/31/17.  Good luck!