The Flat Out Truth: The VIZIO M50-D1 SmartCast™ 4K HDR Home Theater Display
We're a busy household. It seems like there's always something happening around here, whether it's some kind of after-school activity, a playdate, a party, or even just the nightly homework-dinner-relax juggle.  Even though our schedules are packed, I still make sure we have some family time together. That might look different depending on the day, but one of my favorite things to do is sit down with a fun family movie that we can all enjoy. We don't sit in front of the television all the time, but there's nothing like sharing laughs with your kids, and good movies are one of my favorite ways to do that. Plus, I'm a bit of a movie buff, and I love passing that interest to my children.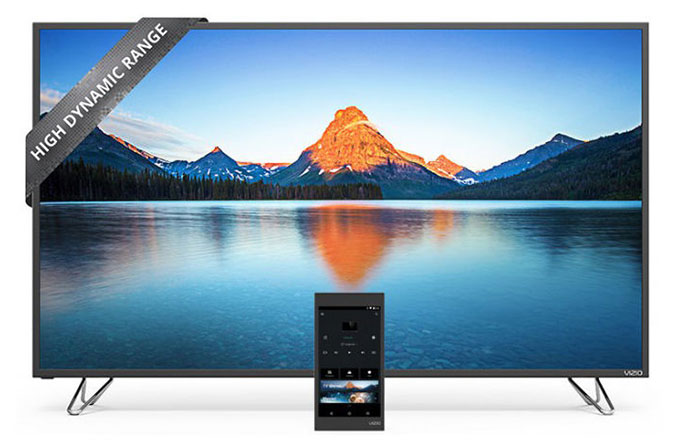 Since we love movies, it's important to me that we have a nice television. There are at least a million and one models out there, but I've always been partial to VIZIO; to me, their name has always been synonymous with quality. VIZIO's new M50-D1 SmartCast™ 4K HDR Home Theater Display is a relatively new addition to their already great lineup, and let me tell you, it's a powerhouse.  Since we have a lot of game and tech-loving followers, VIZIO agreed to provide a complimentary sample in exchange for a review.
The M50-D1 isn't just a standard television. It features an amazing 4K Ultra HD display that supports HDR (high dynamic range) signals, so the picture is crisp and bright.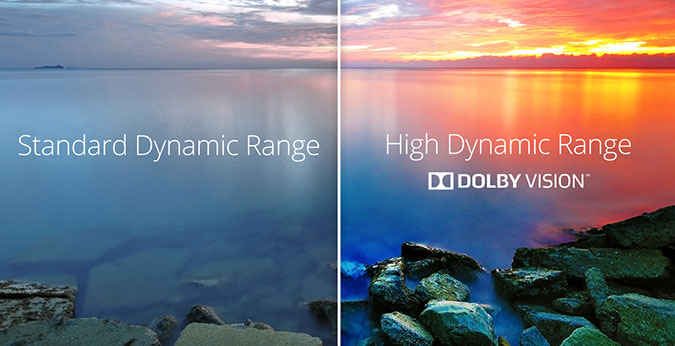 To really see what this TV can do, you obviously need to view Ultra HD content, but thanks to VIZIO's UHD upscaling, everything I've watched looks good on this television.
Since receiving the M50-D1, I've been obsessed with 4K videos on YouTube, and I've been so impressed that I'm actually considering upgrading my Netflix subscription to include Ultra HD.  Honestly, it never ceases to amaze me how quickly technology advances. It feels like yesterday that I was sitting in front of an old square box, and now I can sit on my couch and feel like I'm in a theater. But I digress.
A power cable and an HDMI cable are included, and installation was a breeze. We inserted the feet, plugged it in, paired the remote with the TV, connected to our wifi, waited through a few updates, and voilà! We were ready to go. The length of time this takes will largely depend on the speed of your internet connection, but it didn't take us long at all, and the directions were clear the whole way through. My 8 year old could have done it.
You'll notice this television has "SmartCast™" in its name, and it earns that designation. Google's Chromecast is built right in, so you can access your favorite streaming services without dealing with extra boxes and connections. That means you don't need other devices like Roku or a Fire TV stick, nor do you have to depend on the unreliable apps that come with traditional smart TVs. How does that work? Read on, my friends.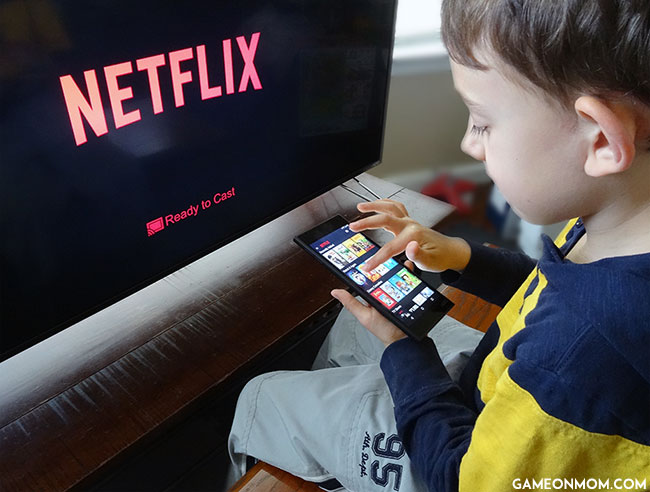 A regular remote to control basic functions is included, but there's something that makes the M50-D1 really special, and I had no idea this existed: it has a powerful 6-inch Android tablet remote with a wireless charging dock. Yes, gone are the days of pushing buttons. Now we interact with our television using a touchscreen tablet that allows us to browse and view using apps that push content to the TV. Never enter a password or search for a movie with silly arrow keys ever again!  This might actually add years onto my life.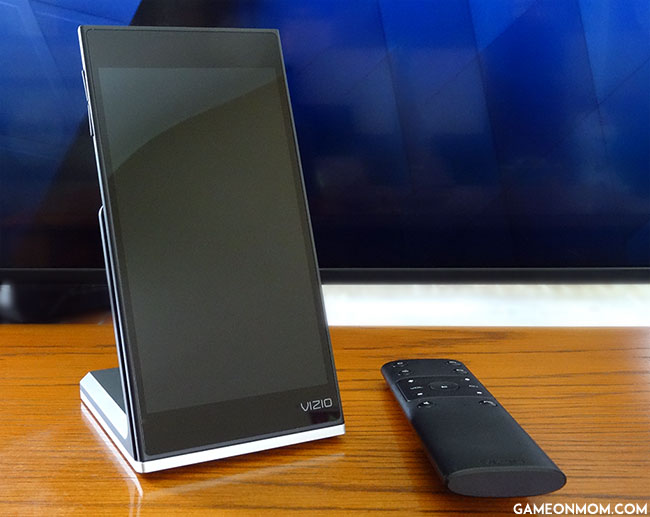 The tablet remote comes pre-installed with the VIZIO SmartCast™ app, which is where all the magic happens. It would take a separate (and lengthy) post to describe all that the app can do, but I'll highlight the main points for now.
Whether you're looking for music, movies, or TV shows, it can all be explored from this one app. Let's say you're in the mood for some Harry Potter. (Because it's always the right time for Harry Potter.) Search the SmartCast™ App, choose the item you want, and you'll get a list of available sources. This is so much better than having to open multiple apps and do multiple searches to find content.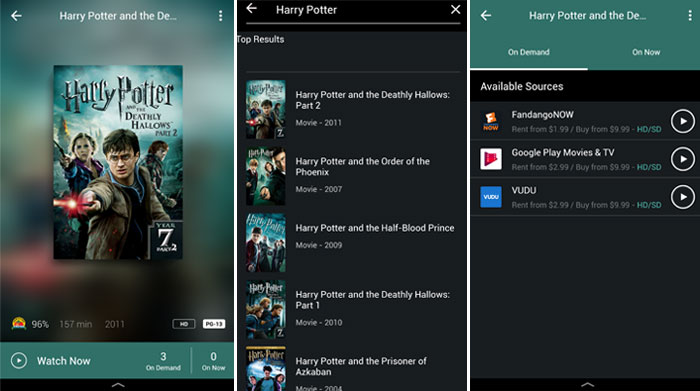 The Collections feature allows you to organize shows and movies into themed collections that you can access easily at any time. VIZIO provides some featured collections to get you started, and it's simple to start setting up your own. You can also add items to your Watchlist and set up alerts to notify you when something in your list is available.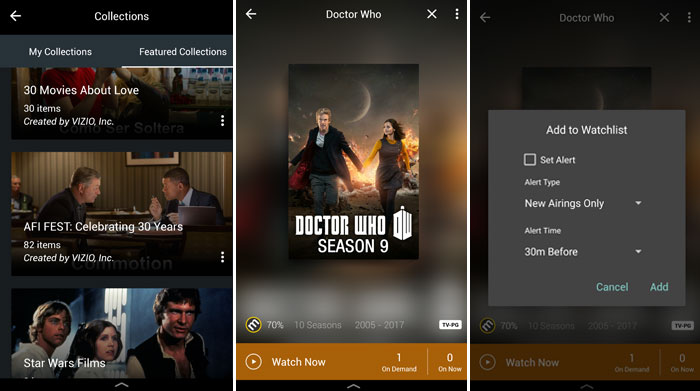 All TV settings can be controlled via the app as well, so you really can do it all from one place. Again, this app is included with the tablet remote, but it can also be installed on any iOS or Android mobile device or tablet.
The VIZIO SmartCast™ App is pretty powerful and so very convenient, but it's not your only option. You can also cast content directly from Chrome–choose to cast a single tab or your entire desktop/laptop. Make sure your Chrome browser is updated (and on the same wifi as your TV), and you won't even need any extra plugins to do this.
The VIZIO M50-D1 has plenty of input options built in. There are 4 HDMI ports (port 1 supports v2.0) as well as component connections, an ethernet port, and two USB ports. For output, you get HDMI ARC, RCA audio out ports, and optical/SPDIF audio out port. I should point out that a TV tuner is not part of the package. I couldn't even guess the last time I used one of those, so I don't anticipate that being a problem.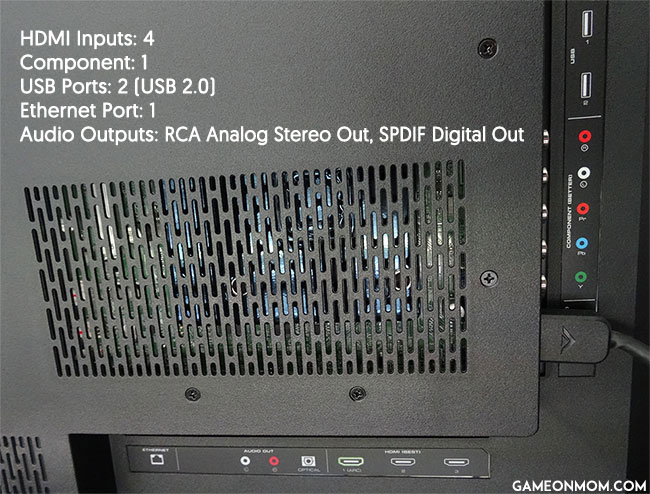 As for the sound…it's fine. It's about as good as any other TV I've heard, which means it's not as rich as I'd like, but there was some improvement when I turned on Volume Leveling.  If you know me at all, you know I can't have too many amazing speakers, so I expect to be upgrading soon.
We've been loving our new TV for family movie time, but it's also a great display for gaming.  In the picture settings, there's a Game mode that optimizes picture settings for game console output, and there's also a Game Low Latency setting to reduce lag.  I'm trying to get my kids to step away from the screen, so this is info I'm keeping to myself for now and making use of after they've gone to bed.  Shhhh.  Don't tell on me.
If you're considering a new television, I definitely recommend the VIZIO M50-D1 SmartCast™. The picture is outstanding and the technology is top-notch, and I feel certain you'll love it as much as we do. And don't worry if 50″ doesn't sound big enough for you. The M-Series is available in sizes up to 80″, and they're all a great value. To learn more about this television and other VIZIO products, visit VIZIO.com.