InstaNatural 100% Pure Organic Argan Oil Review & Giveaway
Disclosure: I got this product as part of an advertorial.
You may have heard a lot of buzz about argan oil lately.  You can find pure argan oil, and you'll also find it as an ingredient in some beauty products, and it's supposed to be great for your hair, face, skin, and nails.  Sounds like a win all around to me!
I'll be honest, though.  I had not heard of argan oil until this month.  I know, I'm a little behind the times.  But in case you're behind with me, let me tell you a little about argan oil.
Argan oil is the oil from the kernels of the argan tree, which grows only in a small region in Morocco.  As such, it's considered a very valuable resource.  In fact, it's one of the rarest oils in the world.  As I mentioned earlier, you can buy pure argan oil, and you can also find it in other products.  Traditionally, of course, the pure oil is used, and that's what we're checking out today.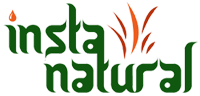 InstaNatural is a provider of 100% organic, cold pressed virgin argan oil.  Their oil doesn't contain any chemicals or preservatives; it's 100% pure Argania Spinosa.  Rich in Vitamin E and other essential fatty acids, it has anti-aging properties to make your skin look younger than ever.  They graciously provided us with a bottle, and I've been using it daily for the past few days.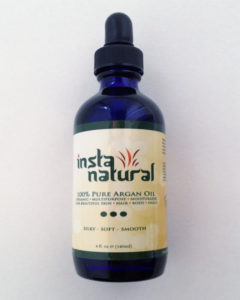 The bottle includes its own dropper, which is definitely necessary with an oil.  It helps prevent spilling or using way too much of the product, and a little really does go a long way with argan oil.  The first thing you might notice is its scent.  The kernels used to make argan oil are found within a nut, which is found within the fruit of the argan tree.  Not surprisingly, it does have a sort of "nutty" scent, but it's very mild.
I've been using this primarily on my feet and hair.  I have some really rough spots on my feet that developed after some "I danced too much at my friend's wedding" blisters faded, and no matter what I try, I can't seem to get rid of them.  After my shower, I've been applying a few drops (really, a little goes a long way) and massaging it in.  It's definitely making those spots softer.  I've only been using it a few days, but I think a week or two of this would take care of the problem.  I've also been adding a few drops to wet hair (again, be conservative) and it's made my hair softer and easier to air dry without ending up with frizz.
If you're interested in trying argan oil, I definitely recommend checking out InstaNatural.  To learn more about the many benefits of argan oil, visit InstaNatural.com.  If you'd like to purchase some, you can find InstaNatura 100% Pure Argan Oil on Amazon.  Don't forget to visit them on Facebook too.
But guess what?  We're giving away one full-sized bottle of InstaNatural argan oil!  Giveaway is open to US residents who are 18 and over.  Ends 2/2/14.  Good luck!
– giveaway info – 
I received one or more of the products mentioned above for free using Tomoson.com. Regardless, I only recommend products or services I use personally and believe will be good for my readers.