Ladies, let's talk about a sensitive subject.
Sweat.
Not perspiration, not a dewy glow, not a light sheen. I'm talking about actual, full-on sweat. And there's really no delicate way to approach it.
Of course it's much worse in the summer, but it really doesn't matter what time of year. If you're busy chasing after toddlers, working, running errands, cleaning, cooking, working out…you're going to sweat. And we all know how awkward it can be if we get those unsightly wet spots in the underarm area of our shirts. Even worse? When deodorant builds up on your shirt and causes stiffness and discoloration.
Hey, it happens.
But it doesn't have to!   I am so glad I was sent a complimentary Sweatshield Undershirt.

These are amazing little undershirts that keep you dry all day.  They're great for all those everyday activities that get a little hectic.  They definitely come in handy now, but they would have also been perfect for the days when I worked outside the home and moved around on my feet all day.
Sweatshield Undershirts come in styles for both men and women. The women's style is a versatile scoop neck shirt. They're equipped with a "sweat shield", which provides a sweat proof barrier between your underarm and your outer shirt. The barrier is 100% impenetrable, it's comfortable, and it's thin and discreet.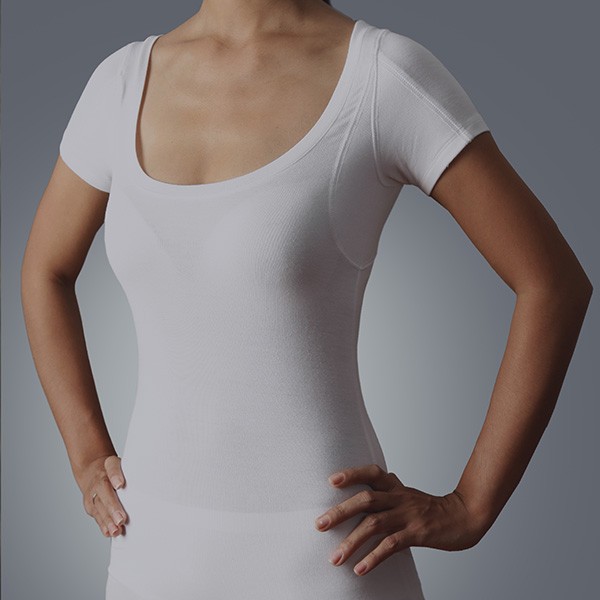 How does it work? Perspiration (okay, sweat) hits the barrier's "comfort layer."   The moisture is absorbed and sealed, and the odor is neutralized. The heat left behind then escapes as a vapor.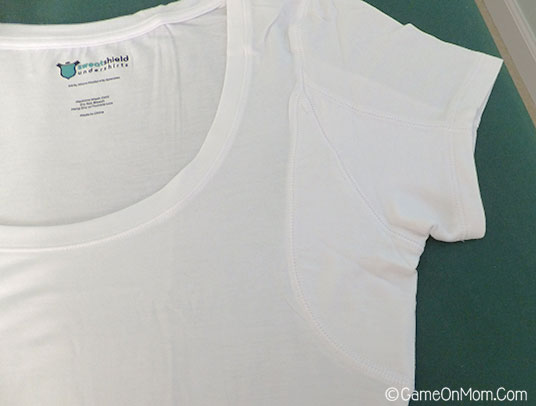 I've been using the women's scoop neck. It's nicely tailored and has a slim fit, so it's perfect for layering underneath other shirts. (We all know how annoying it can be trying to layer a bulky undershirt.  You end up spending the day constantly adjusting your clothing).  The neckline is low enough to be hidden by most shirts, but it's modest enough to use as a layering piece worn underneath a blazer or cardigan.  The fabric is soft and comfortable; it's made from a micro modal fabric, which is 50% more absorbent than cotton. It's lightweight and breathable, which helps keep you cool. It's also smooth to the touch and your outer shirts will "glide" over it rather than bunch up.
I've only worn the shirt under casual clothes so far, but it's so versatile you could even layer it under something dressier. I've been to many a graduation and wedding where I ended up afraid to raise my arms over my head, but no more!   The next time I have to dance the YMCA at a wedding, I can do it with confidence!  (As much confidence as you can have while dancing the YMCA, that is).  I believe I'll definitely get some mileage out of my Sweatshield shirt!
Visit Sweatshield Undershirts to learn more and see the other shirts they offer!
I received one or more of the products mentioned above for free using Tomoson.com. Regardless, I only recommend products or services I use personally and believe will be good for my readers.