Eat, Shop, and Play at the Prudential Center in Boston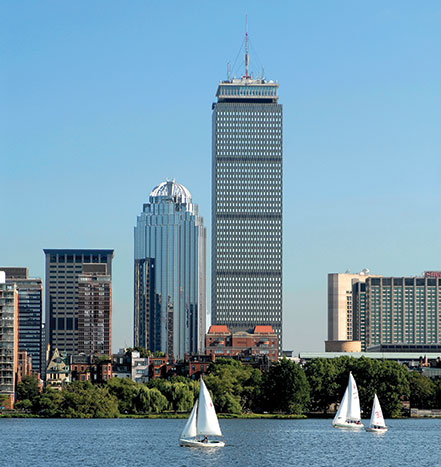 When you're in Boston, you can't miss the second tallest building of their skyline:  the Prudential Tower.  This imposing tower is part of the larger Prudential Center complex, which is home to more than 75 shops and restaurants, New England's largest parking deck, a 1.3 acre open-air park, and more.  All of this is located among some of Boston's most popular activities, so if you're visiting the city, you'll likely pass by it at some point and it's worth stopping in.  The Prudential Center was kind enough to provide my family with a shopping and dining package so I could show you what a great place this is for families!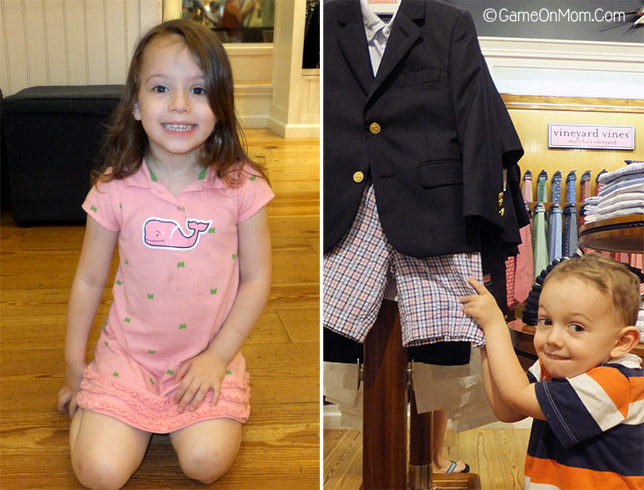 Our first stop was a store called Vineyard Vines, a retailer of clothing for men, women, and kids.  None of us had ever shopped there before, and I was overwhelmed by the extreme cuteness of the tiny, preppy clothing they had for young people.  The staff there was so helpful and friendly, and they decorated my kids with adorable whale stickers shortly after we arrived.  The kids loved the stickers so much that they tried transferring them to their clothing for the rest of the week.  Children can sit on some cushy cubes and watch cartoons while the parents browse, but if you're my son, you forego the comfy seating and opt to sprawl across the floor like you own the place.  I was just grateful to have them distracted so I could get some shopping done.  How fabulous would my son look all dressed up in some seersuckers and a blazer?  My pink-obsessed daughter just had to have the pink pleated twill skirt.  How could I say no to such cuteness?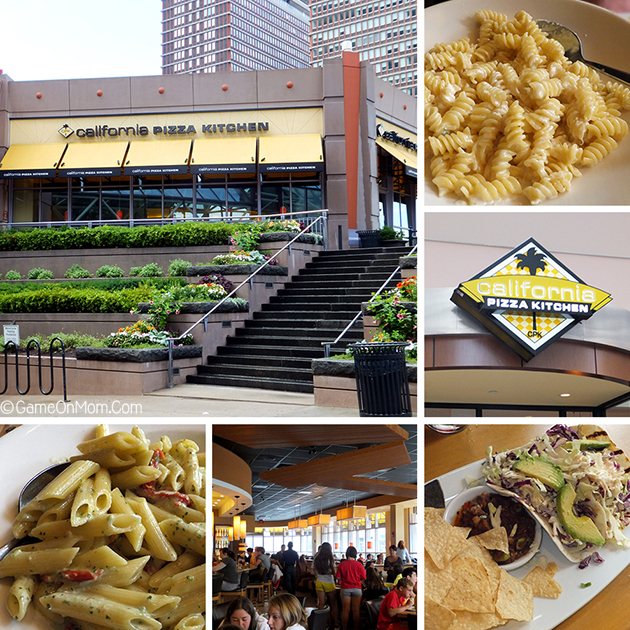 Would you believe this was my first time ever going to a California Pizza Kitchen?  I know I've seen them before, but there's never been one around at a time I was ready to eat.  Anyway, it turns out this was the perfect lunch spot for a family of four that includes two rambunctious children.  Since having the kids, I've really come to appreciate restaurants that have a comfortable amount of noise–the kind that will mask my loud children so we don't disrupt others but that isn't annoying.  This was one of those.  Their reasonably-priced kids menu has several pizza, pasta, and chicken options, but when macaroni & cheese is offered, you can bet that's what my kids will pick.  It was so nice to see they serve real food instead of that artificially-colored junk from a box you find at a lot of restaurants.  I was also in the mood for a pasta dish (I sometimes give in to my carb cravings when I'm traveling), and I chose the Pesto Cream Penne.  With all of that creamy pesto sauce and cheese, I'm sure this dish is deadly, but it was so worth it.  My husband ordered the Fish Tacos and gobbled them up in record time.  I might have stolen a chip or two.  (Carbs are evil, but I love them.)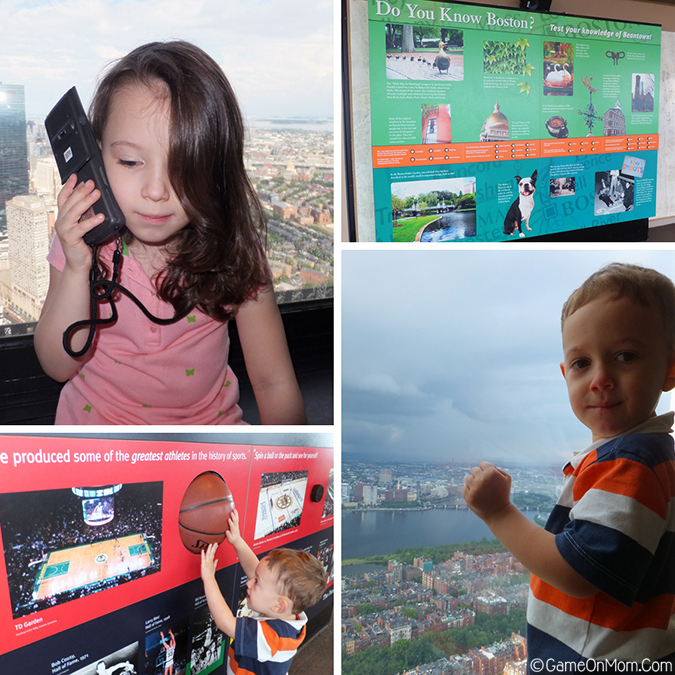 Next up was our very favorite part of our visit to the Prudential Center:  the Skywalk Observatory!  If you're looking for the best view of Boston, this is where you need to be.  At 50-stories high, you'll have an unforgettable, panoramic, 360-degree view of the city that you can't get anywhere else.  An informative, self-guided audio tour is available to highlight the city's many points of interest, and kiddos can listen to a version made especially for them.  My daughter felt very grown up as she listened intently on her handset and learned all about Boston.  Interactive exhibits throughout the Skywalk provide even more opportunities for learning and for fun!  This is a great place to start your trip to Boston because you'll get some background info on the city and it's areas, which might help you plan the rest of your trip.  They sometimes close for special events, so call before you go.  I'm looking forward to going back again at night and seeing the city all lit up!  I'd love to make a night of it and combine it that with a trip to the Top of the Hub Restaurant and Lounge.  Who wants to babysit?
These are just a few of the things you'll find at the Prudential Center.  This place is seriously huge, and you could spend all day walking around, visiting the shops, and eating too much of the yummy food.  Parents will want to check out Magic Beans for toys and baby gear or Isis for everything from stuffed animals to strollers to educational programs.  Want to look your best while you're out on the town?  An Aveda salon called Escape is just waiting to make you pretty.  The Samsonite store is available for when you need to to pick up some travel essentials.  (Always handy when you're traveling, right?)  And of course, it wouldn't be Boston if there weren't a Dunkin' Donuts.  Like I said, the Prudential Center is enormous, and it's got everything you could possibly need.  Aside from all of the fun shopping and delicious food, they have a health club, a post office, several banks, a dry cleaners, and you can even get your car detailed.  See what I mean?  Everything.
The Prudential Center is located in Boston's Back Bay at 800 Boylston St.  It's easy to get there via public transportation, and they have that giant parking garage that I mentioned earlier.  You can also catch one of the popular tours from here, including the Boston Duck Tours, Old Town Trolley Tours, and Beantown Trolley Tours.  There is a ton to do at the Prudential Center, and you can almost get lost in all of the fun.  Luckily, they have maps.  Go alone or take the family, but definitely stop by if you're in the area.
The Prudential Center provided a complimentary dining and shopping package for review purposes.  All opinions are my own.