Diet-to-Go Delivers!

Losing weight and sticking to a good diet can be difficult when you're a busy person who doesn't have a lot of time to devote to meal planning and preparation.  My husband has been looking to drop a few pounds for a while now, but our hectic schedules have held him back.  We'd been toying with the idea of setting him up with some sort of meal delivery plan to make things easier, so when I was presented with an opportunity to try Diet-to-Go, I couldn't say no.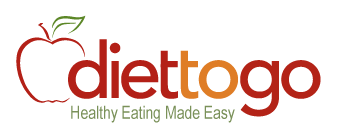 Diet-to-Go sends delicious, healthy meals right to your door, saving you a lot of time and making it easy for you to stay on track with your diet.  They currently have three different plans to choose from:  traditional, vegetarian, and low-carb.  Each plan comes in a 5-day and 7-day version and includes all side dishes and condiments.  Meal plans are customizable, so if you're a picky eater or you just want more control over which meals they send you, you can make choices to accommodate your preferences.
We were sent a traditional, 5-day plan, and as I mentioned, everything was included.  I was overwhelmed with how much stuff was packed into the cooler they sent!  Although I did sample a lot of the food, my husband was the one following the plan, and the first meal he tried ended up being his favorite.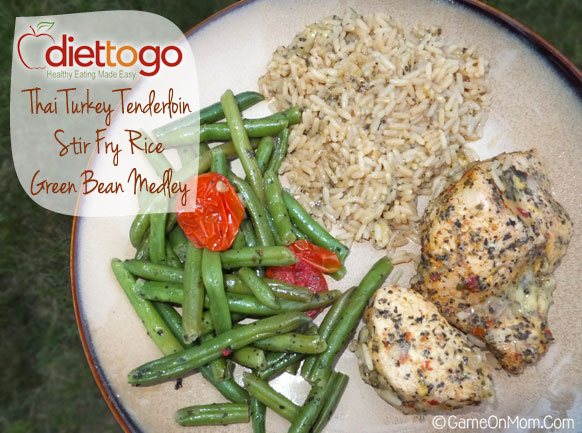 The Thai Turkey Tenderloin was full of authentic Thai flavors.  The turkey was moist and tender, the side dishes went perfectly with it, and the dish was very filling.  Overall, this was a tasty and satisfying meal that my husband would be happy to eat again and again.
My favorite was the grilled cheese, and if you know me at all, this shouldn't be much of a  surprise.  Grilled cheese is one of my favorite inventions, and I'd eat it every day if I could.  Lentil chili is something that I make often, and although this one isn't nearly as spicy and exciting as mine (maybe I'll share the recipe some day), it was good and a whole lot easier than making it myself.  Brownies?  Always.  This is exactly the kind of meal I'd create if someone ever asked me to create a meal.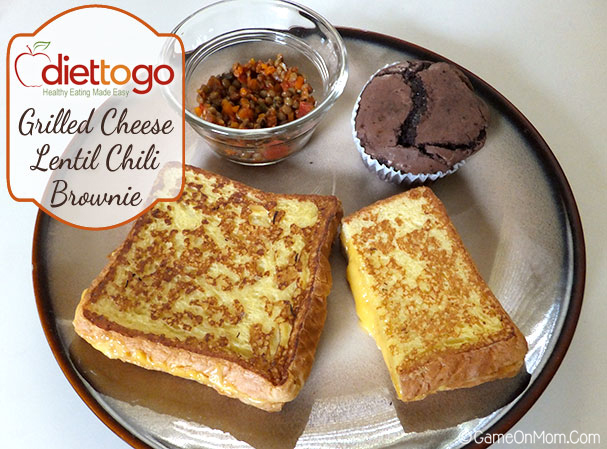 Our least favorite was the Turkey Burger.  It wasn't bad, but it was a bit bland.  Although not the most exciting sandwich, it was certainly edible, and I could see myself throwing it into an order every so often just to add some variety.  Besides, it's hard for me to really dislike something that involves cheese.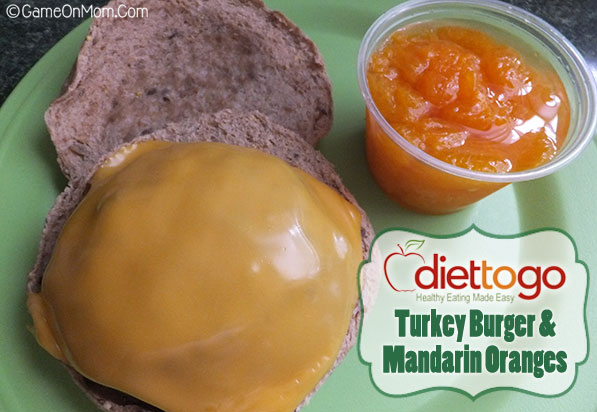 My husband and I were both impressed with how fresh and "real" the Diet-to-Go foods tasted.  On at least two occasions, my husband actually called me from work to tell me how much he was enjoying his meal.  The food is yummy, freshly prepared, and so very convenient.  After just 5 days of switching to their perfectly portioned, nutritionally-balanced meals, my husband shed about 1.5 lbs!  The only concerns I have with this service have to do with the juices and yogurts that were included.  I'd much rather have a piece of actual fiber-filled fruit than a juice, even if I have to supply the fruit myself.  Some of the yogurt contained artificial sweeteners, and I try my best to stay far away from those.  These are things I'd keep in mind when customizing my meal plan.
We just got back from vacation, and my pants are more snug than they should be.  What's a vacation without a little overindulgence, right?  The trip was delicious, but I'm regretting my eating choices now that I'm back to real life.  I think I see Diet-to-Go in my own future!
I received one or more of the products mentioned above for free using Tomoson.com. Regardless, I only recommend products or services I use personally and believe will be good for my readers.