Welcome to the Spring Fever Event hosted by Andersons Angels and Joy of Momma Joyner. This Event features a little bit of everything to help you need to help welcome Spring! Each blog has gathered up a unique Prize Package of $25 or more so be sure to visit each blog from the linky below and enter for your chance to win some really amazing prizes! This event will end on March 15th at 11:59 PM EST.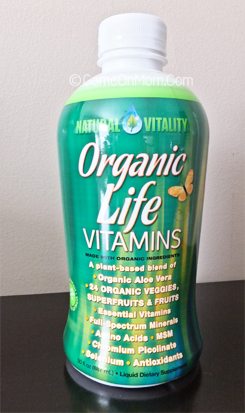 My diet is usually pretty healthy, but I always take a multi-vitamin just to make sure I have all of the important nutritional stuff covered for the day.  My main problem with this solution is that I very much dislike trying to swallow those enormous pills.  They're too big.  If you are unfortunate enough to accidentally taste one, it's generally an unpleasant experience.  Also, some of them are just stinky.  So, you go through all of that, and then you still aren't sure how much of the nutrients your body is even absorbing.
Guess what!  There is a better way, and that way is Natural Vitality's Organic Life Liquid Vitamins.  Liquid vitamins eliminate the need to struggle with those large pills.  More importantly, they are more quickly and easily absorbed by your body because there isn't anything that needs to be broken down first.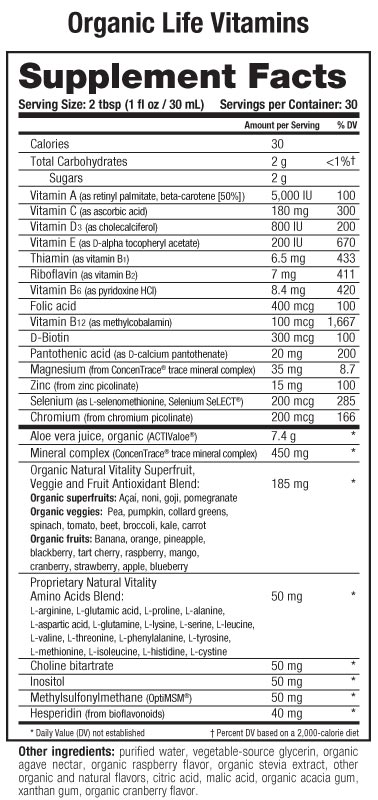 Organic Life Vitamins also happen to taste great!  It uses organic flavors along with organic stevia and organic agave for sweetness.  The flavor is light and fruity, so it's really easy to drink this all by itself.  You can also mix it into your favorite drink if you prefer.  I often add mine into the smoothie that I have for breakfast most mornings, and it goes perfectly with it.
You're probably curious about what's in these vitamins, so I've included the nutrition label for you to read. (Click on the image to see an enlarged version.)  As you can see, it's got almost everything you need in amounts that meet or exceed the recommended daily value.  What I really like about these vitamins is that they also contain 24 organic fruits and veggies, including cranberry, blueberry, spinach, broccoli, açaí, and my favorite pomegranate!  And it doesn't stop there.  Organic Life features organic aloe vera, which contains over 200 amino acids, vitamins, antioxidants, minerals, enzymes, and sterols.  Did you know all of that about aloe vera?  Yeah, neither did I.  Note that there isn't any calcium in this, so you might want to take an additional supplement if that's a concern.  The only thing this is really lacking for me is iodine.  I don't eat much salt, so I do normally prefer a multi that contains it.
If an easy to take, readily absorbed multi-vitamin sounds good to you, then I definitely suggest Natural Vitality's Organic Life Vitamins.  They are available in a 30 oz. bottle and also in convenient single-serving NutraPacks that are great for travel or keeping in your purse.
Visit Natural Vitality to learn more about this and their other great products.  Catch them on Facebook and Twitter too!
Would you like to try this or another great product from Natural Vitality?  Enter now to win a $30 eGift Card!  Giveaway is open to US residents, 18 and over.  Ends 3/15.  Good luck!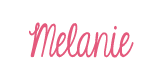 I received complimentary product in order to facilitate this review.  No other compensation was received.  Andersons Angels, Game On Mom, and the Spring Fever bloggers are not responsible for sponsors that fail to fulfill their prizes.