Winter's Coming! Cleava Snap-to-Bra Cami Giveaway

Do you suffer from the plunging neckline blues?  Do you get excited when you spot the seemingly perfect dress only to be disappointed when you try it on and discover that it's showing off too much of the goods?  Maybe you are particularly well-endowed or maybe you just don't feel the need to be flashing defenseless citizens.  Either way,  the result is the same:  countless adorable tops and dresses go unpurchased and unworn.  Could you solve the problem by layering?  Sure, sometimes you can.  It's even a cute look.  The downside to layering is that it often looks bulky and messy.  No one wants to look messy.  And in the summer months, do you really want to wear more clothes?  I don't know about you, but I think it's hot enough with just one shirt on.  Okay, thus far, we have learned the following:  the layered look = good but bulkiness = bad.  What's a girl to do?  You guessed it…wear a Cleava!
Designed by a woman (of course!), Cleava is a cami that snaps right onto your bra to provide extra coverage for times when you feel modesty is the best policy.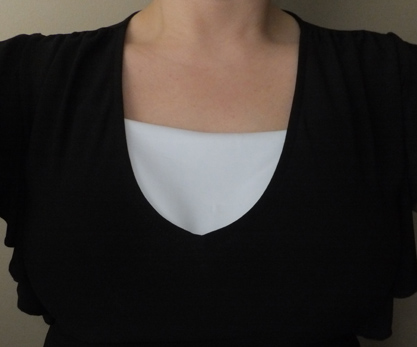 Looks great, right?  So, how do you use the Cleava?  It's easy!


You can get a Cleava on and off in no time.  It's so simple that I didn't even need to read the directions the first time I tried it.
For so long, I have shied away from clothes that I really wanted to wear because I felt like I was just too exposed.  With Cleava, I don't have to do that anymore!  What's even better is that I can easily go from a modest daytime look to something with less coverage for nighttime.  The Cleava can be quickly removed and is small enough to throw in your purse, so the transition is effortless.
Cleava comes in a variety of solid colors including black, white, nude, blue, pink, and more.  If you're feeling fancy, you can opt for one with lace or even rhinestones!

Michelle De Sousa, the inventor of Cleava, is so confident that you're going to love your Cleava that she is offering FREE SHIPPING.  Just use code "FSGO" when you order.  Hurry, this code expires 11/29/12!
You also have the 30 Day Guarantee. If you are unhappy with your Cleava for any reason, you can return it within 30 days. You've got nothing to lose!
The Cleava also makes a great gift–any woman would love to have one!
Order Cleava online or call 1-888-692-5328.
You can also enter to WIN one right now!  Open to residents of the US and Canada, 18 and over.
Good Luck!
*I received a complimentary Cleava in order to facilitate this review. All opinions expressed in this post are mine and 100% honest. No other compensation was received.
List of Participating Blogs: