You Look Mahvelous! Cleanse & Prevent with Niapads Review & Giveaway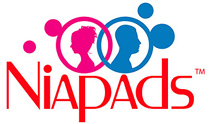 Ladies (and gentlemen), I'm sure you'd agree with me when I say:  It's just not fair to have pimples in your 30s!  Most of us have outgrown the acne that comes with being a teenager, but if you're like me, you still get random pimples once a month or so.  It's not really enough for me to justify the purchase of an expensive, multi-step treatment program, but it's a problem that needs addressing.
That's why I'm excited to try Niapads!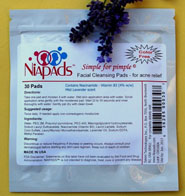 Cleansing my face and preventing those pesky pimple outbreaks couldn't be easier.  You simply take a pad from the re-sealable pouch, moisten it with water, wet your skin, and gently scrub!  No dealing with messy liquids and scrub brushes.
And no more worrying about the strong, harsh ingredients found in many cleansers.  Each Niapad delivers a therapeutic amount of Niacinamide USP, which is generally recognized as safe for pregnant women and nursing mothers.  It also contains lavender oil (a natural antibacterial and moisturizer, and it smells yummy, too!), and it has no added colors.
Niapads also score bonus points with me because they're so portable.  I love to travel, but it's always difficult to figure out what I'm allowed to carry on the plane.  Now I can toss aside my bulky bottles of liquid cleanser, and throw these flat little pads into my carry-on bag without a second thought.  And since they're so compact, they're also great for throwing in your gym bag!
Visit the Niapads website to learn more.  Connect with Niapads on Facebook, Twitter, and YouTube!
Buy!  Purchase Niapads on Amazon and get FREE SHIPPING to the US and Canada! They are available in single packs of 30 or for the best value, grab a six pack.

Win!  Niapads is generously offering one of my readers two 30-count packs of Niapads!  That's a $34 value!  Enter through the Rafflecopter below.  Giveaway is open to US and Canadian residents who are 18 or older.  Ends 11/25/12.
Now hop along for more chances to Look Mahvelous!


I was provided with a complimentary pack of Niapads for review purposes.  No other compensation was provided.