GO-GREEN Eco-Friendly Food Container Giveaway – Ends 10/7
GO-GREEN is a packaging specialist that aims to reduce the environmental impact of their packaging by using green solutions and materials.  The process to manufacture their polypropylene trays, for example, uses 30% less energy and less material than would typically be used for production of such a product.  Their strategy incorporates methods designed to reduce the packaging's carbon footprint without sacrificing function or performance in their products.
Today, I am delighted to show you the GO-GREEN trays that I got to sample.  These round, three-compartment trays are about 8″ in diameter, and each compartment is about 2.5″ deep.  The tray itself is microwavable; the clear, flat lids, however, are not.
These trays are great for entertaining!  You can use them to serve all sorts of party foods.  Having a Halloween party?  Go ahead and fill them up with all those cute mini chocolate candies.  I mean vegetables!  Okay, how about a tray of vegetables for every two trays of candy?  Seems to me like all that healthiness would totally cancel out the evilness of the chocolate, right?  Deal.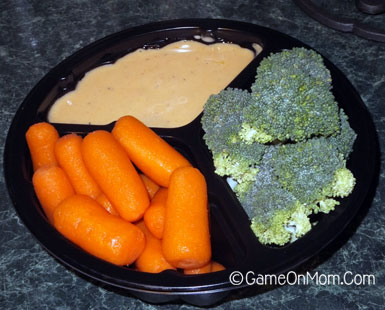 They also make very convenient to go containers if you want to send your guests home with any extra food.  You can fit a decent amount of food in the deep compartments; just pop on the lid and you're all set to travel.  If it's hot food, the leftovers can even be reheated right in the tray!
Would you love to try out these trays for yourself?  Then enter to win!  One of my readers is going to receive 50 GO-GREEN eco-friendly, three-compartment, polypropylene food storage trays with coordinating lids!
Just use the Rafflecopter form below!  Good Luck!