Build Your Own Locket at PicturesOnGold.com + Giveaway
We all know how hard moms work, and the holidays are the perfect time to show them appreciation for all they've done throughout the year.  But what's the right gift to express your feelings?  As a mother, let me offer you some advice:  give mom something personal and heartfelt, and she'll treasure it forever.
I've got just the thing too.  (What a surprise, right?)  Maybe you've heard of PicturesOnGold.com already.  They offer a variety of jewelry that can be customized with pictures and/or engravings.  I've come across their work before, and I've always been impressed with what they can do, but I just recently learned something new (to me) about them.  They've got a nifty "Build Your Own Locket" tool that lets you create the perfect locket in just a few simple steps.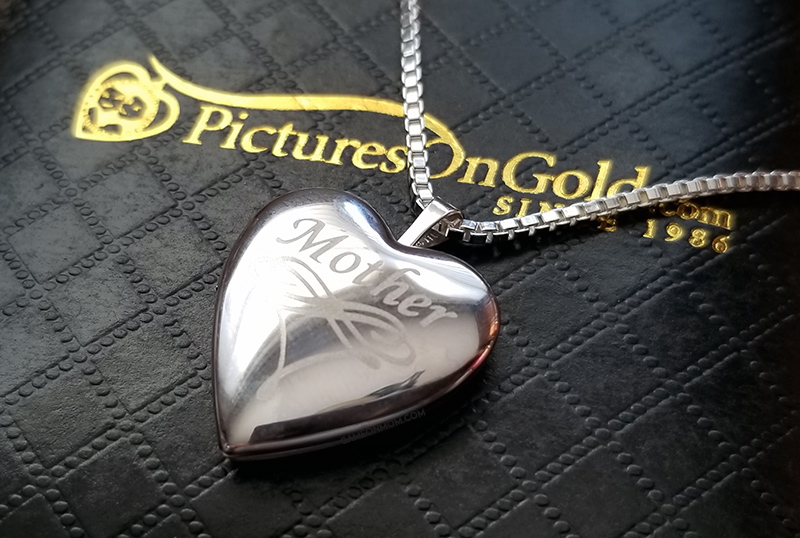 I've wanted a heart-shaped locket since I was about 6 and I saw the movie Annie for the first time, so building this one was a pretty exciting moment for me.  Let me lay out the process for you.
First, you head over to Design Your Own Sterling Silver 2 Photo Heart Locket In Real Time.  Once there, you are able to choose the size of the locket you desire, along with options like birthstones, text, and clipart for the front of your locket.  I went with a "Mother", but you can enter your own message, use one their ideas, or monogram it.  Then you choose options for the interior, and this is where you can add in a photo.  Go with a traditional paper photo or get fancy like I did and choose a laser engraved image (black and white or color).  In either case, you can mail, email, or even upload your picture right to the tool.  How convenient!  Resize and move your photo so it fits the way you like it, and voila!  You're picture is done.  The tiny photo situation is the main thing that has kept me from getting a locket before, but Pictures On Gold makes it so easy.  They also give you the option of customizing the back side of the locket, again with clip art or text.  My daughter came up with this message all on her own: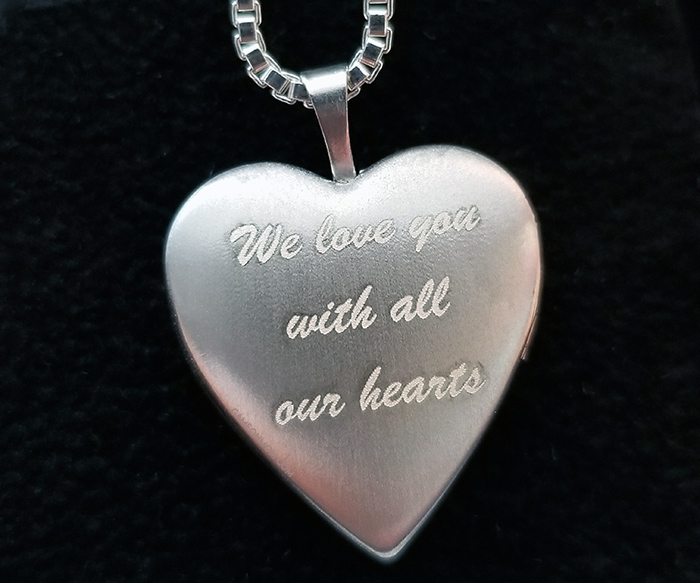 She really is the sweetest.
Anyway, once you've got that all done, you pick the type and length of chain you want, or opt to get a locket without a chain.  Preview the final product to make sure it's exactly what you want, and you're all set.  The whole thing is quick and easy, and since it usually ships in one day, you have an amazing keepsake in almost no time at all.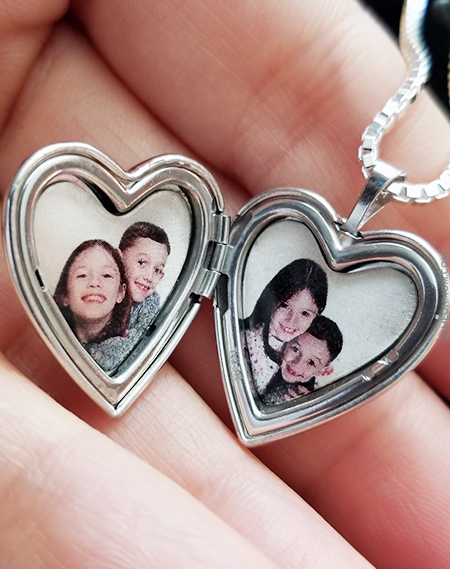 The pictures look even nicer in person, but my new camera phone is a little too good at picking up details, I think.  If your photos don't fit perfectly when you upload them, their digital artists can help fix it.  They can even enhance your photos by doing things like putting two people who are spaced apart closer together or to remove backgrounds.  Plus, the color laser and laser pictures are waterproof, scratch-proof, and guaranteed for a lifetime.
The locket is beautiful, and I absolutely love wearing it.  Every time I open it and see those smiling faces or even just read the inscription on the back, I feel all warm inside and want to give my babies a big squeeze.
While a piece of jewelry from Pictures On Gold certainly makes a wonderful holiday gift for mom, it obviously isn't limited to that.   A unique and thoughtful gift such as this is a wonderful way to show anyone you care on any occasion.  I have the Sterling Silver 2-Picture Heart Locket, but you can choose other metals and shapes.  Whichever locket you choose, and whatever the reason, this is a gift that the recipient will cherish always.  I wouldn't be surprised if it inspires a tear or two.  I get a little choked up just thinking about it.
Visit PicturesOnGold to learn more, and don't forget to connect with them on Facebook, Twitter, and Instagram.
Want save on your Pictures On Gold purchase?  Use coupon code BLOG10 for a 10% discount!  (If you hurry, you might still be able to snag some good Cyber Week deals too.)
PicturesOnGold.com is also offering Game On Mom readers a chance to win a Sterling Silver 2-Photo Heart Locket along with an 18-inch Sterling Silver Box Chain!  Giveaway is open to US residents who are 18 and older.  Ends 12/15/17 at 11:59 PM ET.  Good luck!