Bike Boston with the Family and Urban AdvenTours
What's better than seeing the marvelous sights of Boston?  Seeing them on a bike!  You've probably been on some kind of tour in your life, but chances are it was on a bus or a trolley or you were walking.  During my family's recent trip to Boston, we were able to try something new and exciting:  an Urban AdvenTour!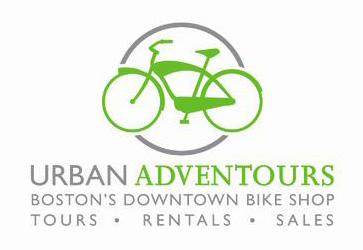 Based out of Boston's North End, Urban AdvenTours offers daily, guided bike tours that let you see the city in a whole new way.  Several tour options are available, including an overview of Boston's best sights to see, a tour of Cambridge, and evening tour that focuses on the waterfront, a tour of Boston's beautiful green spaces, and even a tour that takes you along the path of Paul Revere's famous ride.  We did their Tour de Boston, which they describe as being their best tour for families.
With each tour, you get a bike and helmet fitted just for you.  My little girl got such a kick out of being set up in her own bike seat for the very first time!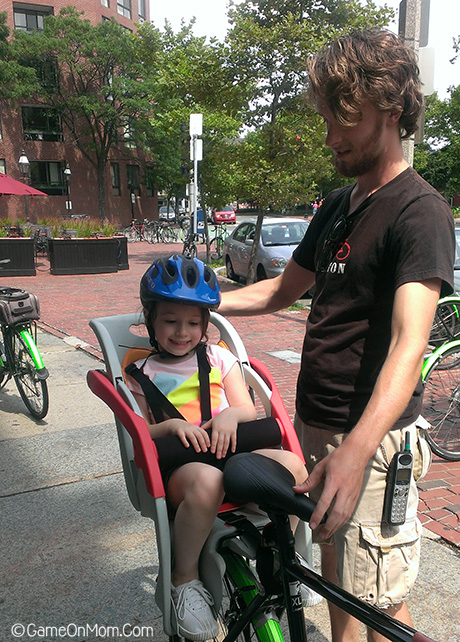 You're also provided with a bottle of cold water (you'll appreciate that) and a super awesome tour guide.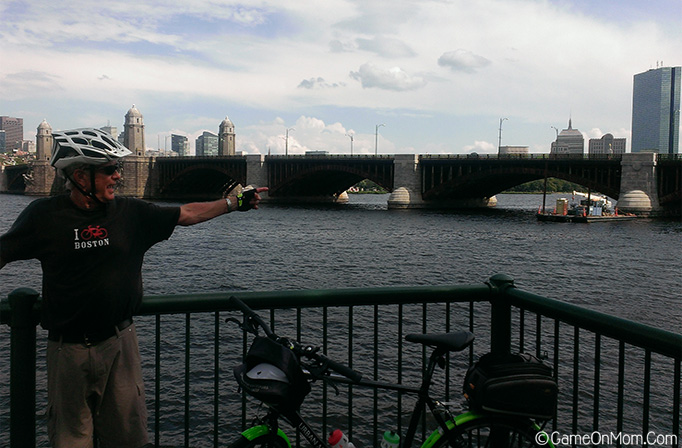 Our guide was friendly, great with the kids, and very knowledgeable about all of the sights he was showing us.  As he discussed the history of Boston and shared some lesser known facts about the places we were seeing, we could tell that he's someone who really enjoys his job.  And what did he show us while we were biking around Boston?  So many things!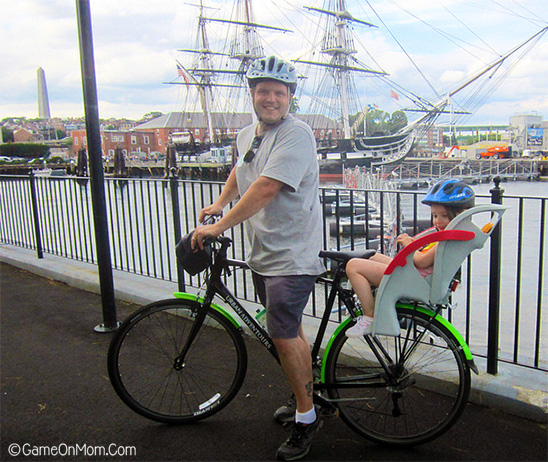 The Tour de Boston took us up and down the Charles River where we saw the Zakim Bunker Hill Memorial Bridge from about a billion different angles, as well as historical landmarks like the USS Constitution, aka Old Ironsides.  We even hopped over to Cambridge where we rode through the MIT campus and had the opportunity to take a little break by the very unsually shaped and extra shiny Strata Center.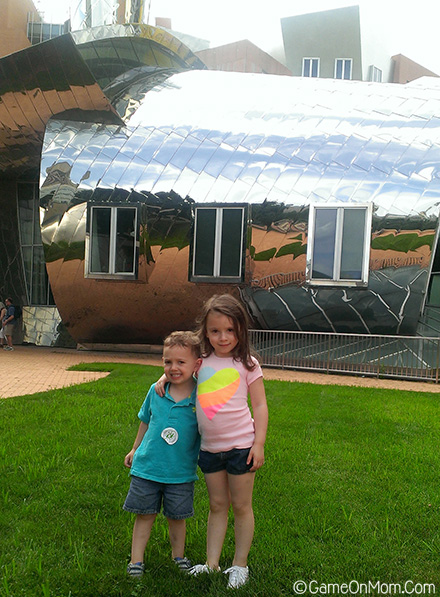 Initially, I was a little nervous about how my 3-year-old and 4-year old would handle being strapped onto a bike for a couple of hours, but they loved every single minute of this experience.  I can't count the number of times my son yelled from his bike seat that he was having so much fun, but I think it was almost as many times as he tried to convince me to race Daddy.  It's been a few weeks since we did this, and they're still asking when they can go bike riding again.  I don't think my son will ever forget his special watermelon helmet!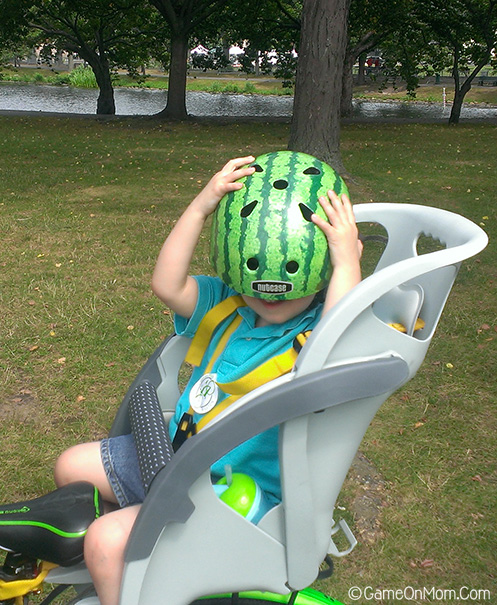 The Urban AdvenTours Tour de Boston is a great way for a family to explore a great city together.  The tour sticks to bike paths most of the time, and it moves at a comfortable pace, so you don't need to be a pro cyclist to keep up.  This is most definitely an adventure that every family can enjoy.  Burning a few calories while you're having some serious fun doesn't hurt either.  If you're going to be in Boston and want a fun, active, and unique experience, Urban AdvenTours is the way to go.  This is how I would have my family see every city we visit!
In addition to all of the tours I mentioned, Urban AdvenTours also offers bike rentals and sales, as well as customizable private tours.  You can find them at 103 Atlantic Ave. in Boston and at UrbanAdvenTours.com.
A complimentary tour was provided for review.  We were under no obligation to give a positive review, it's just really that good.