Swagbucks $100 Gift Card Giveaway!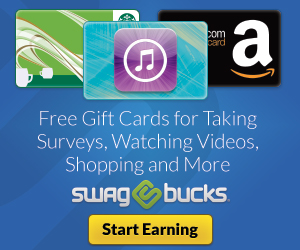 Have you heard of Swagbucks?  I know some of you already use it; I can see you're getting to my blog from there.  (Yes, I'm spying on you!)
I use Swagbucks too.  Why?  Because it's easy, and I earn free gift cards.  You heard me correctly, I said FREE gift cards.  They have lots of ways for you to earn free stuff, including taking surveys, answering pools, watching videos, and more.  I like to use Swagbucks as my search engine because they randomly reward you with Swagbucks.  I'm searching anyway, so I might as well earn gift cards at the same time!
If you're one of the ones who haven't joined up with Swagbucks yet, now is the time because we have a special offer for you.  Normally, when you sign up they start you with 30 Swagbucks, but if you sign up today as part of this promotion, you'll start with 100 Swagbucks instead!
How Do You Get Started?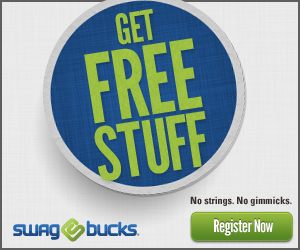 Create an account with Swagbucks.  Make sure you click the text that reads "I have a sign up code" .
Enter Code GAMEONMOM (All codes are case sensitive.)
You'll start off with 100 Swagbucks instead of 30 Swagbucks!  (You only need 450 Swagbucks to get a FREE $5 gift card.)
Once you're a member, you can set Swagbucks as your home page or go to Swagbucks.com to search for everything – Facebook, email, news, and more!
You need to have a Swagbucks account in order to enter this giveaway, so make sure you follow the easy instructions above if you haven't already.  Don't forget to use my sign up code so you receive the extra Swagbucks!
I've teamed up with Swagbucks and Saving You Dinero to give one lucky reader a $100 gift card of his/her choice. We want you to see how easy it is to earn FREE gift cards.  This is a fantastic way to start saving up for Christmas!
Enter using the Rafflecopter form below.  Good luck!
a Rafflecopter giveaway

This giveaway is open to residents of US, Canada, UK, Ireland, India, and Australia.  The winner will be chosen using Rafflecopter.  Winner will be notified through email and will have 48 hours to claim his/her prize or a new winner will be chosen.