Ten Recipes for National Margarita Day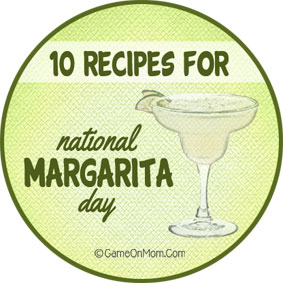 Happy National Margarita Day!  Yes, there is a National Margarita Day, and that day is today, February 22nd.  Did your Friday just get a lot better?  I know mine did.
The margarita is a very popular cocktail, and I am in complete agreement that it deserves it's own special holiday.  To help you celebrate (and I really hope you plan to do that), I have compiled a list of recipes for National Margarita Day.  Margarita purists might criticize my inclusion of the frozen and fruity, but I'm okay with that.  It's a day for fun, and what's more fun than fruit?  Aside from the tequila, I mean.
Time for the list!  I hope you think they sound as delicious as I think they do.

4.  Skinny Grapefruit Margarita
7.  Frozen Lemon Berry Margarita
You know how I love my pomegranates.  I just had to finish off the list with a margarita featuring my favorite fruit!
So, there you go.  Now you can spend the rest of your workday thinking about the margaritas you're going to make when you get home tonight.
Which is your favorite kind of margarita?  Are you going to celebrate this silly holiday?