Mascarpone & Raspberry Stuffed French Toast #Valentines
Happy one month until Valentine's Day!  Yep, the most romantic day of the year is almost here, and we're helping you get ready by sharing some sweet treats that are perfect for the holiday.  I am a firm believer that every holiday should be enjoyed to the fullest, and for me, that starts with breakfast.  And so, that is exactly what I'm contributing–my favorite way to start one of my favorite days.  It's a sweet one because that's what Valentine's Day should be!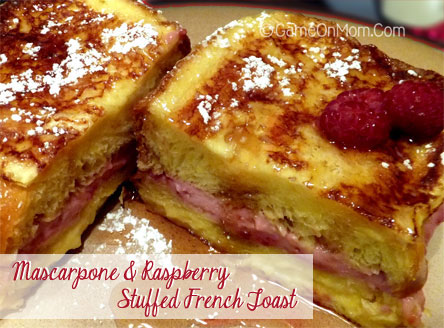 Mascarpone & Raspberry Stuffed French Toast
Ingredients
Filling:
8 oz. mascarpone cheese
1 cup raspberries (fresh or thawed frozen)
2 tbsp powdered sugar
½ tsp pure vanilla extract
French Toast:
1 loaf of challah bread, cut into ¾ in. slices
4 large eggs
1 cup half and half
1 tsp pure vanilla extract
¼ tsp salt
raspberries for garnish
real maple syrup
Instructions
For Filling:
Mash raspberries
Mix raspberries with the mascarpone, powdered sugar, and vanilla until thoroughly combined
For French Toast:
Heat a griddle to 325°
Take two slices of bread and spread filling onto one side of each piece, then place together to make a sandwich. Repeat with remaining slices.
Whisk together eggs, half and half, vanilla, and salt
Dip both sides of bread in egg mixture
Cook on buttered griddle, 2-3 minutes per side
Top with powdered sugar, raspberries, and maple syrup
Follow the hop below for more yummy Valentine's Day recipes!