5 Outdoor Toys for the Best in Summer Fun
School is over, the sun is shining, and it's time to get the kids outside and active!  Pry the electronics out of their little hands and give them a real toy that will engage and excite them instead.  My family spends as much time outside as we can, so we usually have a nice selection of outdoor games and toys that keep us all laughing and playing together.  Here are some of our favorites for affordable outdoor fun this season: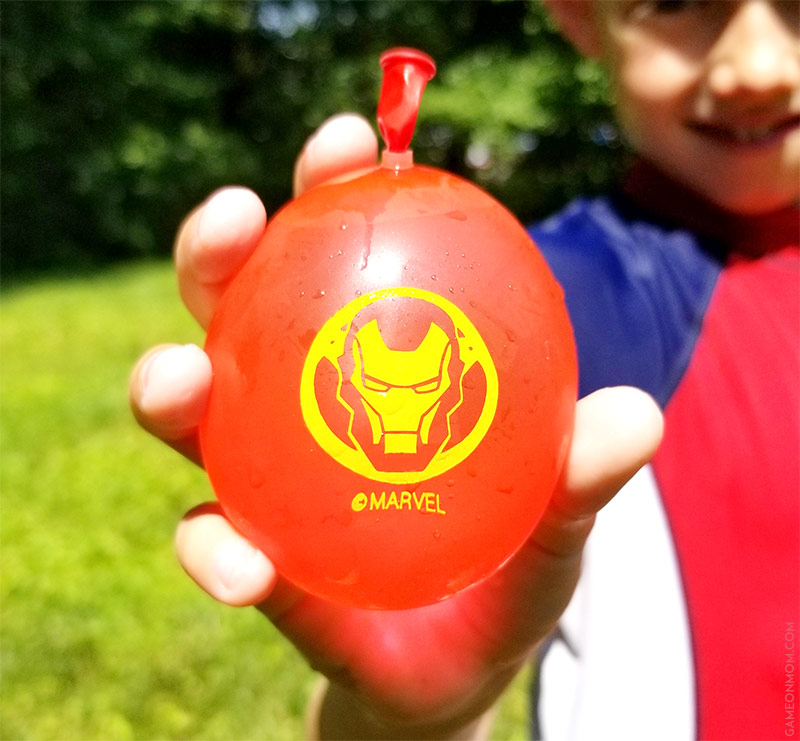 Nothing says summer like a good water balloon fight!  Unfortunately, I've never quite mastered the skill of balloon tying, so I am very appreciative of Zuru's self-tying Bunch O Balloons.  You may already be familiar with how they make it super easy to fill and tie 100 water balloons in a matter of seconds, but did you know that they're now available in a Marvel Avengers theme?  Yes!  Superheroes!  These special packs feature balloons imprinted with Iron Man, Hulk, and Captain America symbols, which can really add an exciting component to the game.  My son and his friends like to each choose a superhero and pit one character against another in a rather dramatic water balloon battle.  And did I mention they ar self-sealing?  I'll never get over the genius of that.  Bunch O Balloons has truly been the answer to my water balloon prayers, but what really takes it over the top for me is that the natural latex balloons are recyclable and biodegradable.  Bunches of fun and earth conscious.  What more could you ask for?  You can find the Marvel Avengers Bunch O Balloons at Walmart and  Target.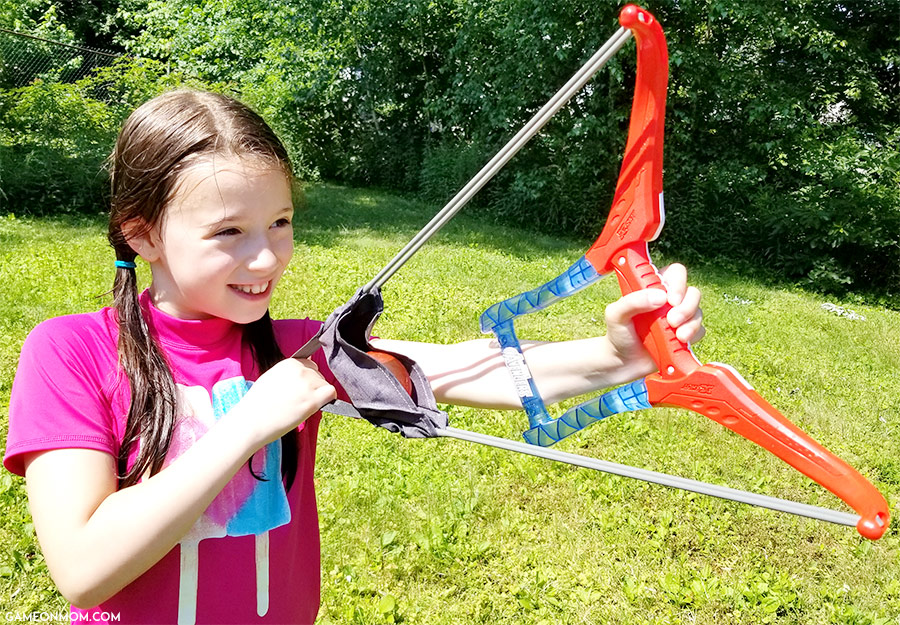 How do you make water balloons even more fun?  Launch them with a slingshot!  No…seriously.  Take your battles to a whole new level with this accessory that blasts your water balloons up to 100 feet.  Using the lightweight slingshot is easy:  grip the handle, load a balloon into the pouch, aim, and fire.  In my son's own words, "It's the most awesome water balloon thing I've ever seen."  Each package includes one slingshot and 105 of the self-tying water balloons.  Available at stores like Amazon and Target.
There are so many water gun options out there, and I've found that a lot of them are either really low quality or really expensive.  There are a few brands that do a decent job of melding quality with affordability, and Zuru is one of them.  Their X-Shot Water Warfare range includes blasters of all sizes, and each one is powerful and accurate.  Our favorite is the Hurricane Hydro, mostly because the water tank has a whopping 53 0z. capacity.  All you need to do is fill 'er up and use the pumping action to blast up to 30 feet.  Another fun and unique feature is its ability to shoot four kinds of water streams, including focus shot, hydro cannon, scatter shot, and tri-blast.  My kids get such a kick out of having four different ways to soak their opponents, so they're always fighting over who gets to use this particular gun.  MSRP on the Hurricane Hydro is just $14.99, but I've seen them priced even lower.  Right now, Target has it for $9.99!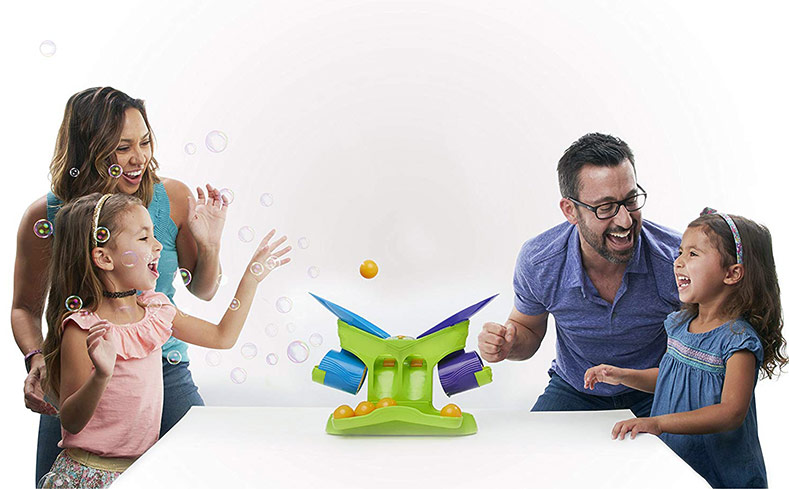 Ping Pong + Gazillion Bubbles = Bubble Pong.  Obviously.  Bounce ping pong balls into your opponent's side, and when you get one in, your opponent gets blasted with bubbles.  Score 3 times, and you're officially the winner, but honestly, I think the losers have just as much fun in this game.  Three levels of difficulty make it great for the family to play together.  The bubble fun isn't over when the game is though.  Turn on bubble machine mode for non-stop bubbles and have yourself a bubble party.  Bubble solution is included with the set, but the kids are going to have so much fun with this, you're going to want to have more on hand!  Find Gazillion Bubble Pong at Target.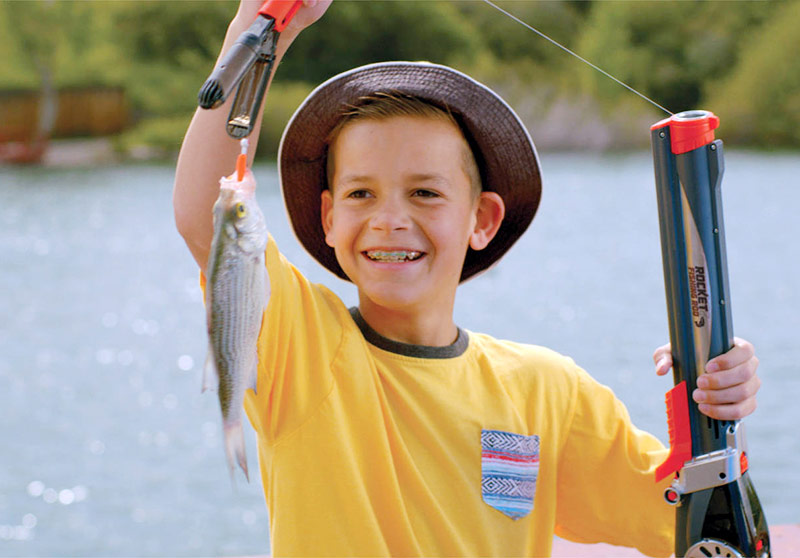 To be honest, I'm not sure I'm completely okay with the idea of fishing, but I can tell you that my husband and son thing it's just wonderful.  A traditional rod and reel can be difficult for young ones to manage, but the Rocket Fishing Rod takes all the hassle out of the equation.  Just click it and shoot to cast the line up to 30 feet and start catching real fish!  It's really that simple.  Made of strong ABS plastic, the Rocket Fishing Rod is built to last and will provide endless outdoor fun for the little fisherman in your life.  Grab yours from Amazon.