Screen-Free, Mess-Free Fun with ORBMolecules + Giveaway
It's a snow day! Well, it's a snow day for the kids anyway. I work from home, so I don't get the day off. It would be easy to plant the kids in front of the TV so I can focus on my job, but you know how I feel about screens. When I provide my children with engaging toys that allow them to be creative, they don't even ask to watch TV. This time, I've got something brand new for them: ORBMolecules.
We first discovered ORBMolecules at the 2017 Play Fair, but we didn't have a lot of time to spend at the booth, so my daughter was only able to make something small. She loved her fish, but she really wanted to create something more elaborate. Imagine how her eyes lit up when I showed her we had our very own kit to play with at home.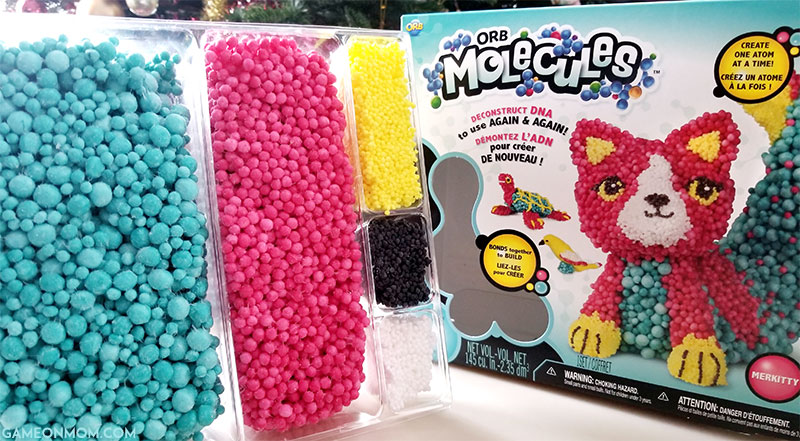 Let's talk a little about how ORBMolecules works. In every kit, you get thousands of pieces (in 3 different sizes) that you can use to build any 3D creation your imagination can dream up. The shapes will hold together for as long as you want, and when you're ready to build something new, you just take it apart and start again. The pieces never dry out and they only stick to themselves, so there's no mess.
We have the Merkitty kit, and my daughter didn't waste any time getting started.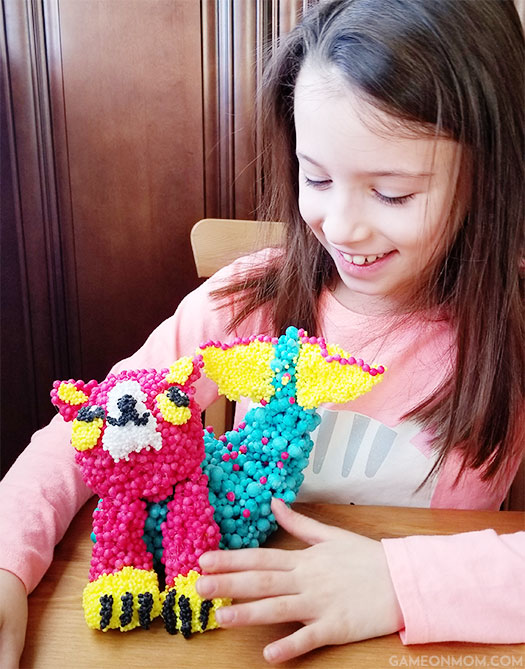 Instructions aren't included, so she used the image on the box as a guide. It took her longer to complete than I was expecting, but it wasn't difficult for her. When she was done, she was so proud!
She has no intention of disassembling her Merkitty right now, but she's got plenty of pieces left over for other projects.  So far, she's assembed a small menagerie of creatures straight from her imagination, including a tiny bumble bee butterfly and a miniature bear monster.  My favorite is her flying whale spouting water: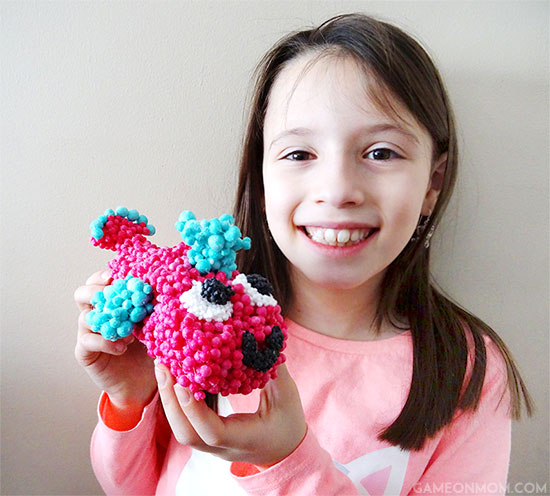 Believe it or not, she's still got a bunch of molecules to work with, and she plans to construct a flying turtle next.  I can't wait to see what other amazing things she comes up with!
There are currently six different kits available, each with a different assortment of colors. Because they never dry out, you can have endless fun with just one kit, or you can add other kits to expand your color options and the amount of constructed creatures you can have at one time. Whichever route you go, ORBMolecules are a fun, colorful, no-mess way to let your kids express their creativity. It's made in the USA too!
Find ORBMolecules at Michaels for just $14.99. (If you really want to get it online, they have some on Amazon, but they're more expensive.)
Enter now for a chance to win an ORBMolecules Kit! Giveaway is open to US residents who are 18 and older. Ends 1/21/18 at 11: 59 PM ET. Good luck!