Gifts for People Who Love to Drink + Winter Seasonal Beer Bucket Giveaway
Show your friends how much you care by giving the gift of drink.  For alcohol enthusiasts, a boozy gift is almost always welcome.  Here are a some suggestions to make the shopping process easier.  Cheers!
KHOR Vodka

Why not surprise the vodka lover in your life with something different this year? Ukraine's famed Khortytsa (KHOR) Vodka is the world's third-largest vodka brand and is now widely available in the American market, making it an ideal gift.  This holiday season, the brand is available in a variety of gift boxes that feature a 750-mL bottle and a 100-mL sample.  Khortytsa Platinum, which is the most popular item in the line, is available in a handsome gift box with a 100-mL sample.  Khortytsa Honey Pepper, which offers a spicy zing to a variety of cocktails, is also available in an attractive gift set with a 100-mL on-pack of Khortytsa Platinum.  Khortytsa De Luxe, the line's "super premium" vodka for connoisseurs, has a stunning new gift box.   My favorite is the gift pack of Khortytsa Ice; it's specially formulated to be served frozen — with the bottle turning blue when chilled — and features two branded shot glasses.
Craft Beer Club

Craft Beer is a gift they will love to open again, and again, and again!  From ales and lagers to porters and stouts, CraftBeerClub.com's buyers discover exceptional craft brews from around the country.  Each monthly selection is produced by small-production, independent artisan craft beer brewers who use traditional brewing ingredients with creative techniques and time-honored brewing methods. Every Beer Club shipment includes 12 world-class craft beers, featuring two breweries and four styles.  Choose monthly, every-other, or quarterly shipments, and gift 1 to 12 shipments.  New gift recipients receive up to 3 bonus gifts, and shipping is always free in the contiguous USA.
Gold Medal Wine Club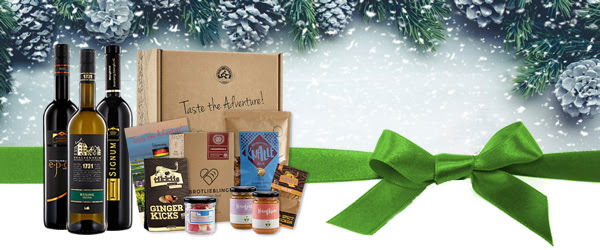 Discover extraordinary wines and big discounts on gifts and accessories with GoldMedalWineClub.com. With a national reputation for finding America's finest, limited production wines, GoldMedalWineClub.com has been recognized in The Wall Street Journal, Bon Appetite Magazine, and Food and Wine Magazine. Featured wines meet strict selection criteria, including multiple medals from major wine competitions along with high ratings from national wine publications such as Wine Spectator, Wine Enthusiast, and Robert Parker's The Wine Advocate.  There are 6 exciting wine club to choose from starting at just $39.
Never Too Hungover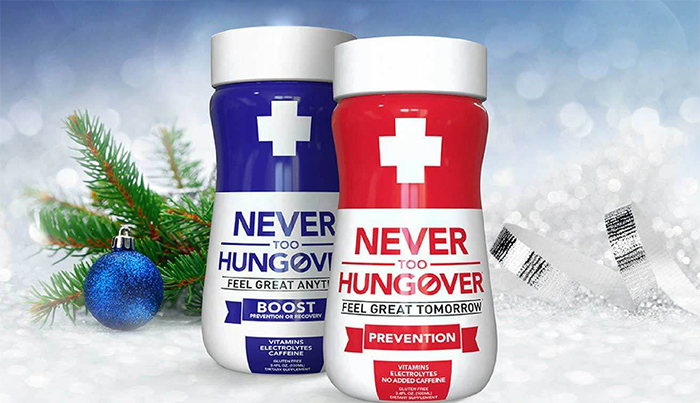 As I've gotten older, I've found that more than a drink or two results in a very unpleasant day after, so I thought this fit right into a post on alcohol-related gifts.  Give it alone or with a bottle of something, and it's both practical and kind of funny!  Never Too Hungover is a healthy vitamin blend that helps neutralize toxins, restore vital nutrients, and rehydrate the body. It is the best tasting and most effective way to help prevent or recover from hangovers — or simply get a healthy energy, electrolyte, and multivitamin boost. Never Too Hungover is comprised of a proprietary natural vitamin blend, amino acids, antioxidants, nutrients, and minerals. It's sugar free, gluten free, and contains only five calories per serving.
Cocktail Chameleon
From the classic Margarita to the Love Byte, a stunning new home mixologist's one-stop guide is award-winning designer and producer Mark Addison's invitation to join him as he dresses up twelve cocktails in twelve unique variations for 144 signature takes on the classics.  Mr. Addison tantalizes with molecular mixology to create the Anti-Gravity, instructs on how to reinvent the beloved Bloody Mary with sake, and invokes the famed royal rose garden with the Versailles in this beautiful new book.  Whether given as a gift or a valuable addition to one's own library, Cocktail Chameleon will unlock the mixologist in everyone. It is sure to become an instant ally for hosts looking to elevate an occasion or to help unwind and end the day on a high note!
Spirit Infusion Kit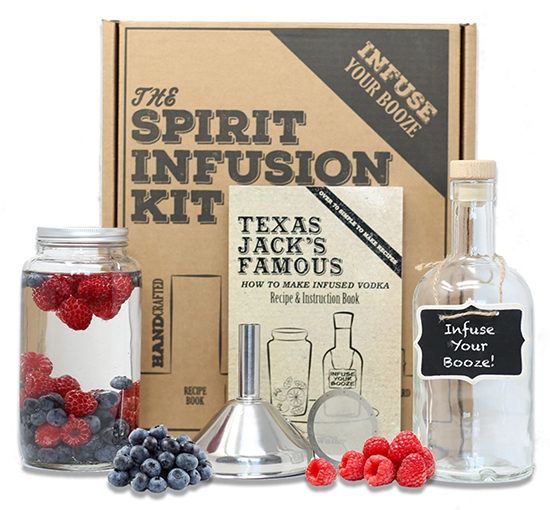 Make your own premium handcrafted small-batch liquor infusions at home using all-natural ingredients. The Spirit Infusion Kit is perfect for those connoisseurs or at home bartenders that enjoy mixing up their own affordable cocktails. This kit contains everything you need to transform a plain bottle of booze like vodka into a unique, tasteful and naturally delicious infusion. Included is Texas Jack's "How to Make Infused Vodka" featuring over 70 simple recipes including the history of vodka as well as detailed instructions. Vodka makes a great choice because it's a neutral spirit that gives the infused ingredient a chance to shine, but he same infusing concepts apply for infusing other spirits such as whiskey, gin, rum, etc.
Gourmet Gift Baskets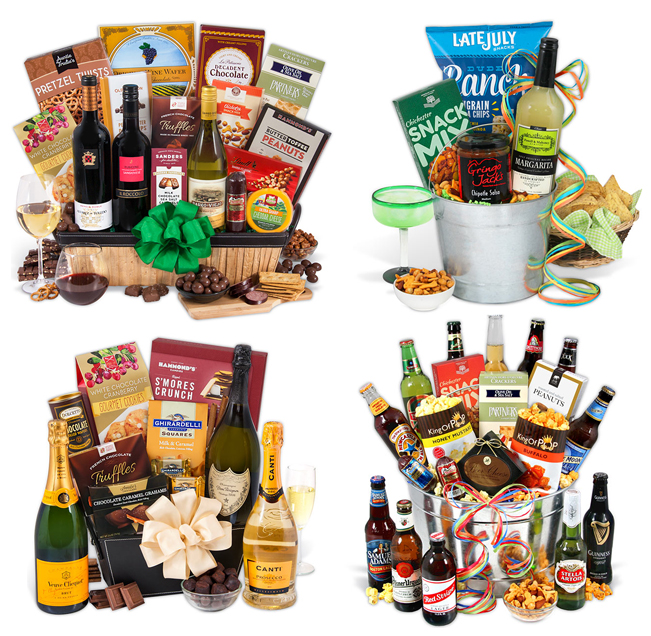 You can't go wrong with a gift basket, and GourmetGiftBaskets.com has something for everyone.  Choose from wine, beer, champagne, and more, and each is paired with premium goodies like chocolate and cheese.  In addition to their classic baskets, they're currently offering some extra festive holiday baskets, and you can even shop buy category (e.g., for her, for him, ships free, etc.) to make the selection process simple.   Gourmet Gift Baskets is a family-owned, NH-based company in its 15th year, so they know how to put together a gift package that people will love.
Tipsy Tags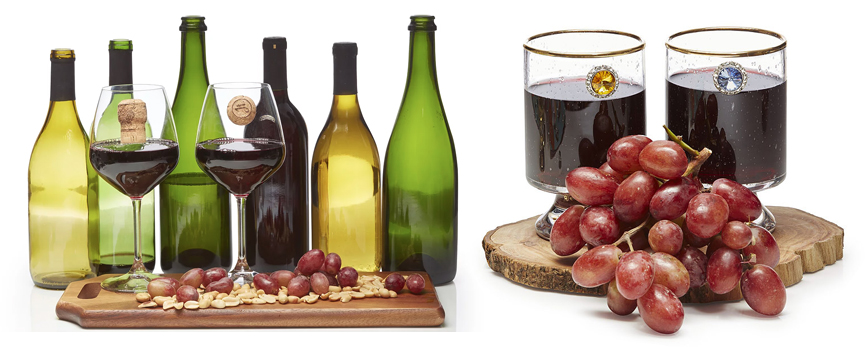 Keep track of your drink while adding some class and sass to your glass!  Tipsy Tags wine and drink charms attach to any smooth glass or plastic surface with a super-strong magnet that holds firmly in place for safe sipping.  They offer a lot of ways to dress up your glass, from Paris-themed to Scrabble tiles, and some of them will even make you laugh.  Tipsy Tags are perfect as a stocking stuffer or add-on present to a bottle of wine, but they're so fun and pretty that they make great gifts on their own too.
Giveaway
GourmetGiftBaskets.com is generously offering my readers a chance to win A Winter Seasonal Beer Bucket!  How awesome is that?! This amazing bucket includes one bottle each of Hibernator by Long Trail, Accumulation by New Belgium, Winter Shredder by Cisco, Prelude Special Ale by Shipyard, Trösten by Von Trapp, Goose Winter Ale by Goose Island, along with premium cheese, smoked sausage, and other gourmet snacks.
Giveaway is open to US residents who are 21 and older.  Ends 12/30/17 at 11:59 PM.  Good luck!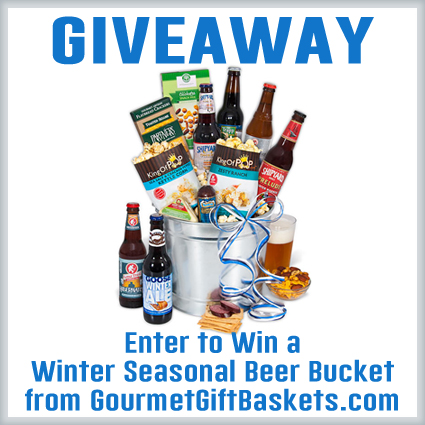 '