Gifts to Inspire Game Nights
Games are fun, right?  They exist solely to amuse us, and they happen to be a great way to bring together family and friends too.   So, it's no surprise that we think games make some of the best gifts, and we've put together a list that of games that will entertain you, help you create amazing memories, and some that will even give your brain a little exercise.
Operation:  Escape Room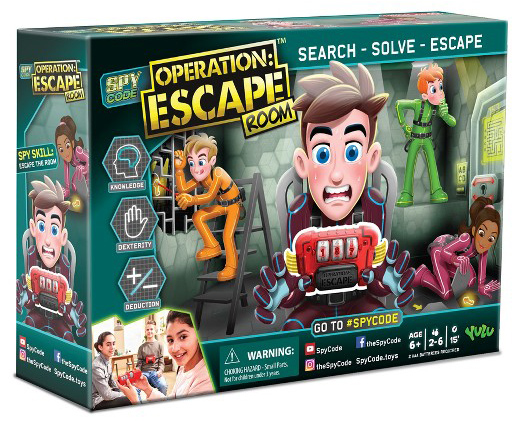 Escape rooms are a thing these days, and now you can bring all the excitement into your own home.  In this version, a player is captured and locked into a special belt equipped with a timer.  Kids and adults alike will enjoy working together to set the captured player free before time runs out.  To do so, they must solve three challenges:  a Skill Challenge, a Strategy Challenge, and a Luck Challenge.  Remember to work quickly! If all tasks are not solved within the time frame on the belt, the player wearing the belt stays captured and everyone loses.  It's great fun for a party, family game night, or if you just want to pretend you're a spy.
Buy:  Target
Wordoku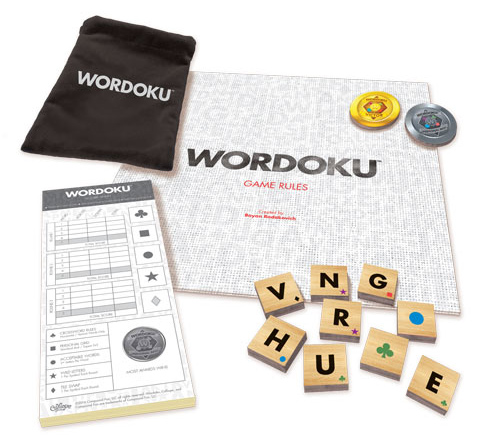 Word games like crossword puzzles, Sudoku, and Scrabble have always been one of my very favorite ways to pass the time, so when I discovered Wordoku from Calliope Games, I knew it was right up my alley.  One to six players race to create words using puzzle tiles that are printed with letters and with symbols.  Earn points by creating words in a 4×4 grid, and if you're smart about using the symbols, you can score double word values.  You have three rounds to earn reward tokens for scoring the most points, and the player with the most tokens is the winner.  For a greater challenge, try using a 5×5 grid.  Wordoku is fun spelled out!
Hoagie

To build the perfect sandwich, you must use the freshest ingredients, accent it with flavorful condiments, and serve it up with a proud smile. But in the game of Hoagie, building the perfect sandwich isn't easy; to win, you must stack your sandwich with great tasting fixings while keeping Merideth, Bo, and Reuben, a trio of sandwich-destroying oogies, from spoiling your ingredients.  It's simple fun for the whole family, and you'll have a lot of laughs creating and spoiling sandwiches!
Buy:  Amazon
Sleepover Party Game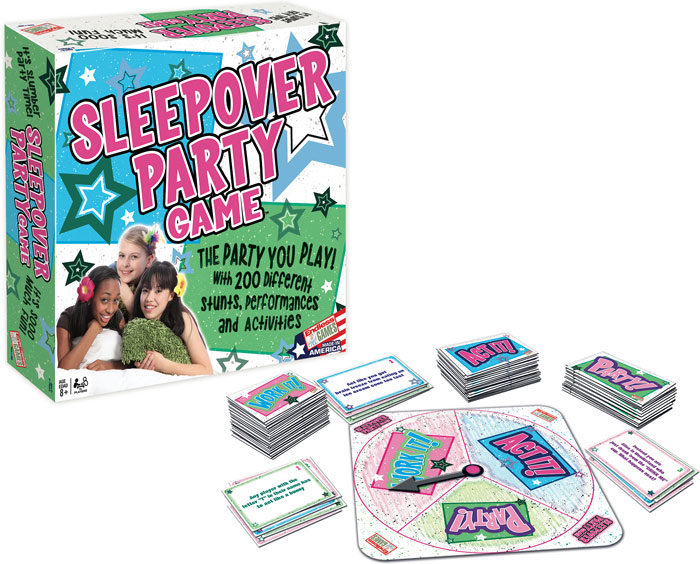 No ones sleeps at a sleepover party anyway, right?  With the Sleepover Party Game, there will be laughing, singing, and all other sorts of craziness as kids spend those late night hours performing more than 200 silly challenges.  If you're brave enough to spin that spinner, you might end up making funny noises or trying to lick your elbow.  There are lots of possibilities, and every one of them is super goofy, so expect a whole lot of giggling with this one!  Oh, and it might look like a girls' game, but I guarantee that if there are any little brothers around, they'll have just as much fun.
Buy:  Toy Genius | Walmart
Blurble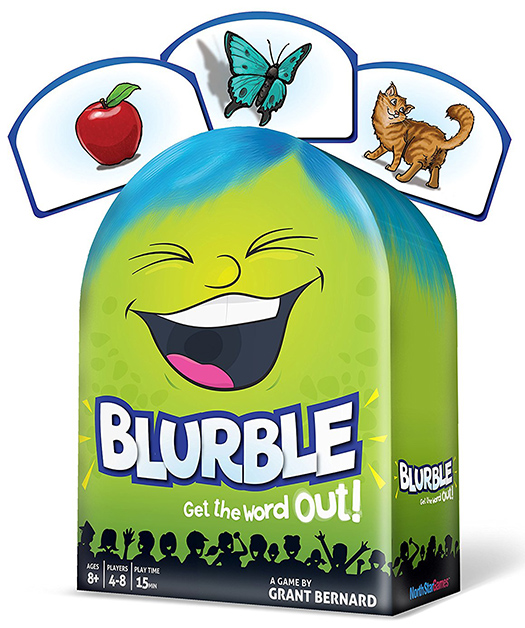 Blurble is the hilarious game involving something we do everyday – talk!  Be the first to say a word that starts with the same letter as the image on a card.  It sounds easy, but be careful not to trip on your tongue as you try to get the word out!  Flip a card and race against your opponent to say a word that begins with the same letter as the image on the card. Proper nouns, numbers, and words with fewer than three letters are not allowed. The faster you are, the more cards you'll collect. The player with the most cards at the end is the winner.
Who's the Dude?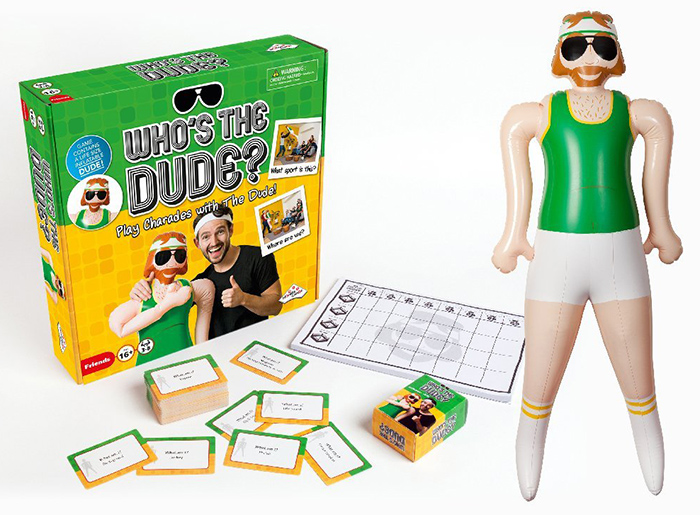 Play charades with the Dude! The Dude is your best friend in this hilarious party game. Act out movie scenes, professions, love ballads, and other ridiculous activities. The other players have to guess what you're doing with the Dude! And the Dude? He always wins! Never a Doll moment!
Mouthguard Challenge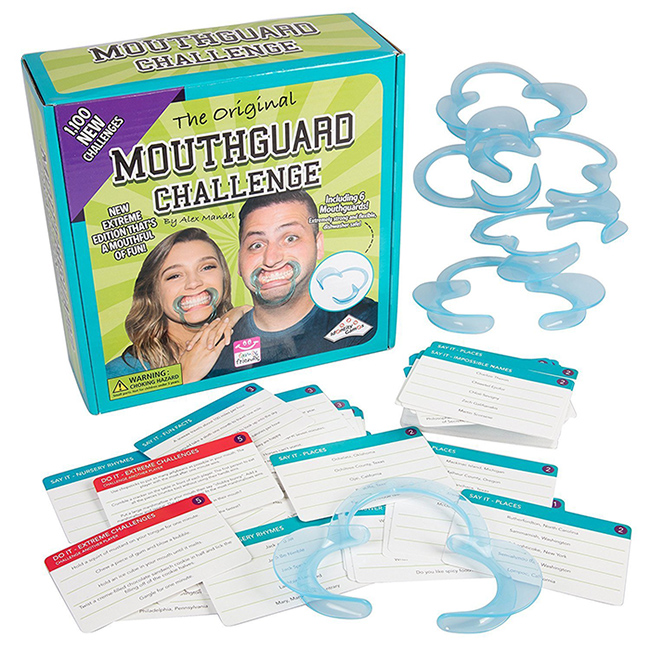 The viral video sensation that got millions of hits on YouTube and millions of shares on Facebook is now available in a fun family game! Put in your mouthguard and you're good to go! The mouthguards make the simplest things like talking, whispering, drinking, and blowing nearly impossible! Try to get other players to guess the words/phrases, or race against each other in head to head battles. In order to win this game you have to listen closely, guess, keep yourself from laughing, and do some of the weirdest things you've ever done… It's the game where it pays to have a big mouth!
Mouse Trap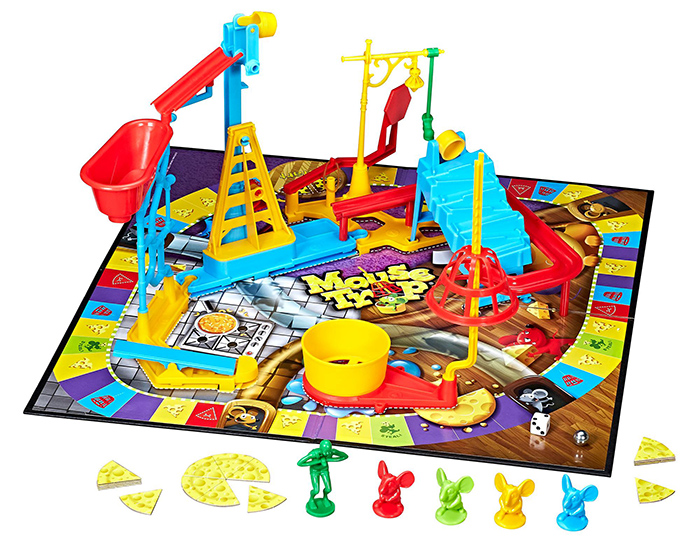 The Mouse Trap game, a longtime family favorite, is always good for zany action and lots of laughs. Scurry around the board collecting cheese and stealing cheese from other players…but watch out for the trap! While kids are engaged in playing the Mouse Trap game, they can also practice valuable skills in construction, cause and effect, and decision-making. As they interact with the trap, a working, multi-part machine, kids can practice construction skills. They can also work on understanding cause and effect as they understand that each action causes a reaction. And players can practice decision making as they analyze the situation and determine the next best step. Most importantly, kids can have so much fun playing this wacky game!