Despicable Me 3 is Available to Own Now + Free Printable Holiday Activity Sheets
We've got Minions, and you can too, because Despicable Me 3 is now available on 4K Ultra HD, Blu-ray, DVD, and Digital!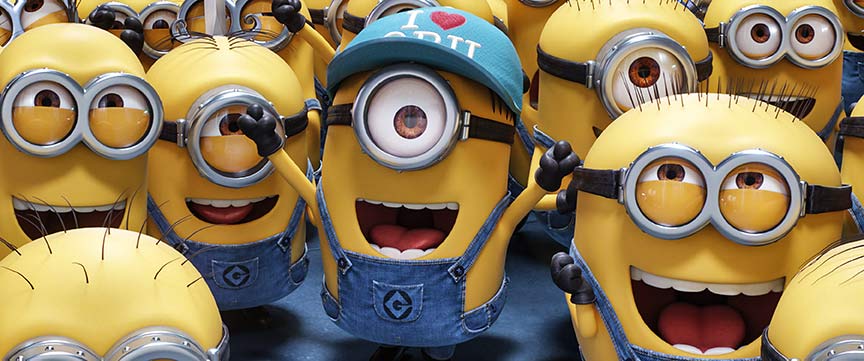 The third installment of this immensely successful franchise introduces us to a brand new supervillain:  disgruntled '80s kid actor Balthazar Bratt.  Mad at the word because his TV show was canceled, he turned to a life of crime and worked his way to the top of the Anti-Villain League's most wanted list.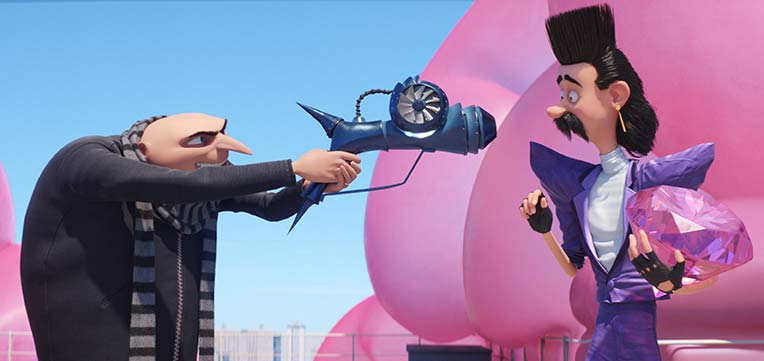 A failed attempt to take Bratt down results in both Gru and his wife Lucy being fired from the AVL.  As if that weren't enough to turn Gru's world upside down, he discovers he has an identical twin brother named Dru.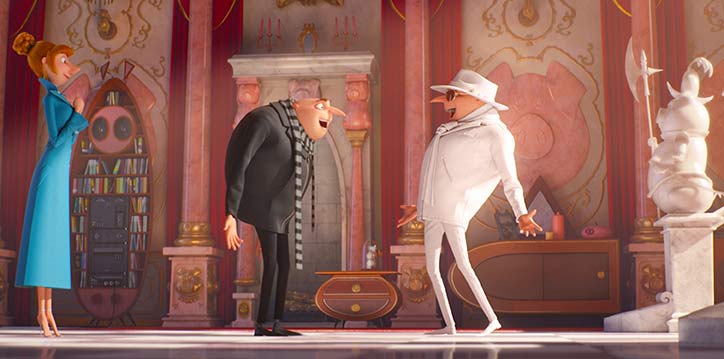 Dru has money, Dru has hair, and Dru wants Gru to resume villainy.  Does Gru give in?  Does he ever defeat Balthazar Bratt?  I won't give any of that away, but I will tell you that you'll laugh a whole lot while you're trying to find out.
If your family is one that can appreciate Minions, unicorns, and dance fighting, then you'll have a blast watching Despicable Me 3 together.  And it's the perfect last-minute gift for any fan since you can grab it at most stores or get it from Amazon with Prime shipping.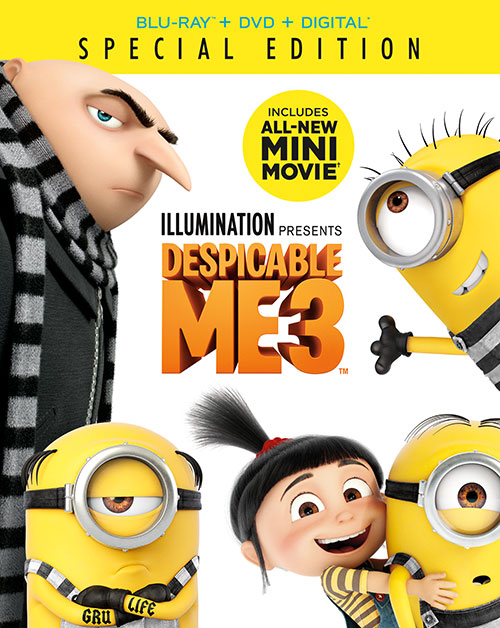 Do you get really excited about the bonus features like we do?  If you answered yes, then you are in for a real treat with this one.  Check out all of the exclusive extras you get with 4k Ultra HD, Blu-ray, DVD, & Digital:
All-New Mini Movie — The Secret Life of Kyle
Minion Moments — Watch the Minions cause more hilarious mayhem with Gru
Deleted Scene — With intro by Dana Gaier, the voice of Edith
Character Profiles — The inside scoop on the most popular characters, from the actors who play them
The Making of Despicable Me 3 — A behind-the-scenes look at the making of the movie
Developing Dru — Behind the scenes character development of Dru
The AVL Files — Through the lens of the Anti-Villain League's hi-tech database, this ultra secret, interactive surveillance briefing showcases all of the agency's amazing creations and top agents
Freedonia Visitors Guide — Welcome to Freedonia! See all that the town has to offer with this interactive map. From its world class cheese, to its beautiful coastline, Freedonia has it all!
Despicable Me TV — Tune in for some fabulous fun with these Despicable Me 3 Includes "Balthazar Bratt Action Figure," "Bad Boy Bod by Balthazar Bratt" and "Agnes' Super Cute, Incredibly Amazing Toy Sale."
"Doowit" Sing-Along — Sing along with Pharrell Williams as the Minions plot their escape from prison
"Yellow Light" Music Video — Official music video by Pharrell Williams
Minion Mugshots — The Minions add to the long list of celebrity mugshots in their very own "rogues gallery."
Wanted Posters — Have you seen these Minions wanted for various crimes?
Ready for even more DM3 fun?  Just for our readers, we have some free printable Despicable Me 3 holiday activity sheets!  There's a placemat with games and an ornament that your kids can customize and hang on the tree.  Click the image below to open and save the PDF.  Then all you have to do is print and you can join in the fun starting as soon as right now!