A Calendar for Every Personality + Giveaway
I just love calendars!  Obviously, you can use them for keeping track of important dates, but they can be so much more than an organizational tool.  When you need a little break from the chaos of life, a glance at a calendar can reward you with an uplifting image or a touching sentiment.  They can teach you origami, tell you a joke, or transport you to a foreign city.  Affordable, fun, and useful, calendars also make great gifts.  You can find a huge selection of them available with Prime shipping on Amazon, so they're ideal for your last-minute shopping.
I usually work with two calendars:  one to keep me organized and one to dress up my desk and inspire me.  My kids, on the other hand, like an interactive calendar, while my husband prefers one he can learn from.  Luckily, there really is a calendar for everyone out there, and here are some of our favorites for 2018:

Both pretty and practical, The Kitchen Companion is a Page-A-Week Calendar that will help you stay organized all year long.  For each week, you get lots of room for appointments or other notes, a separate column for your grocery list, and a clever kitchen tip.  And it's got a heavy duty magnetic backer, so you can keep it right on the fridge if you like.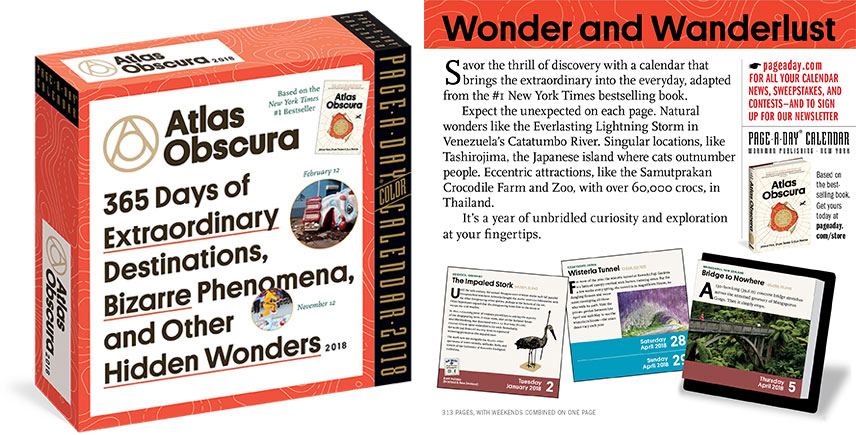 This one is for your inner explorer.  The Atlas Obscura Page-A-Day Calendar is jam-packed with natural wonders, architectural marvels, and surprising stories–all complimented by awe-inspiring color photographs.  Discover something strange and unexpected every day!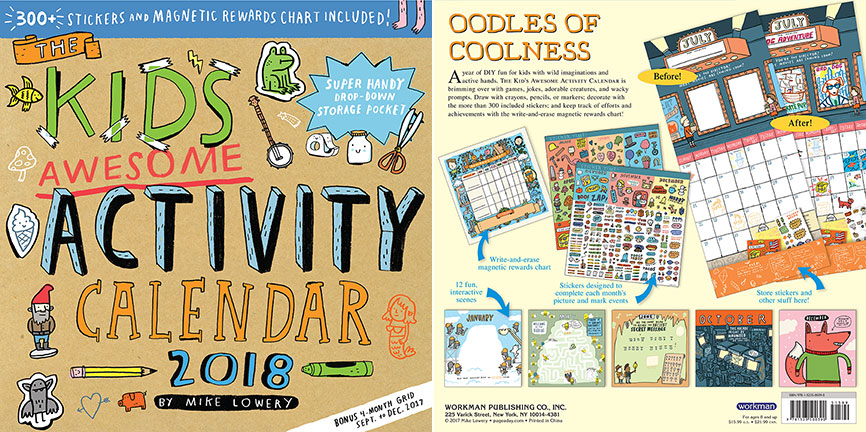 Keep your kids' hands and minds active month after month with the Kids Awesome Activity Calendar.  They'll love connecting the dots, deciphering the secret messages, and responding to the fun prompts throughout the calendar.  Three hundred stickers are included and kids are encouraged to further embellish the pages with their own artwork.  A drop-down storage pocket keeps their supplies at the ready, and it includes a colorful, magnetic reward chart that they'll actually want to fill in.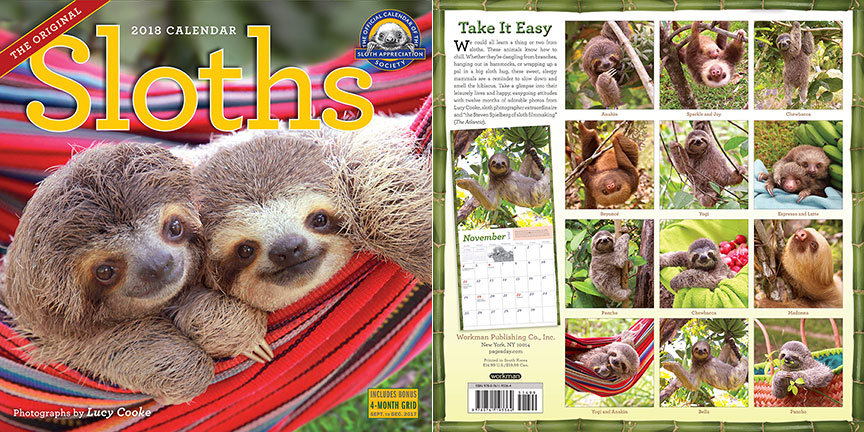 Look at those faces!  If the smile of a sloth doesn't brighten your day, nothing will.  This monthly wall calendar features these amazing animals doing what they do best–mostly hanging around or munching on a treat.  Each month, you'll learn facts about Sloths and be reminded to take your time and enjoy life.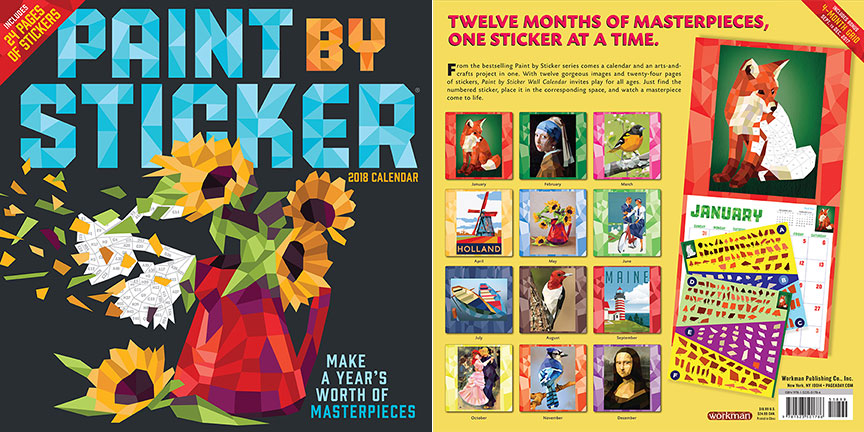 When you can't paint, stick!  With the Paint by Sticker Wall Calendar, twelve months of beautiful masterpieces are created one sticker at a time.  Part calendar, part arts and crafts project, the whole family can work together to bring each work of art to life.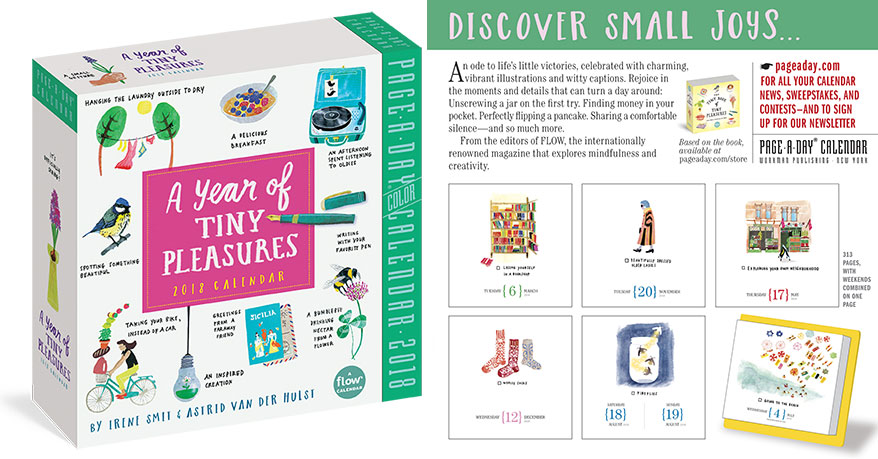 Ever feel overwhelmed or like life is just a succession of busy days that pass by too quickly?  Then you need the A Year of Tiny Pleasures Page-A-Day Calendar.  With each turn of a page, you'll find colorful illustrations and clever reminders of the little things that make us happy.  It will help you recognize what's really important and can turn around your whole day.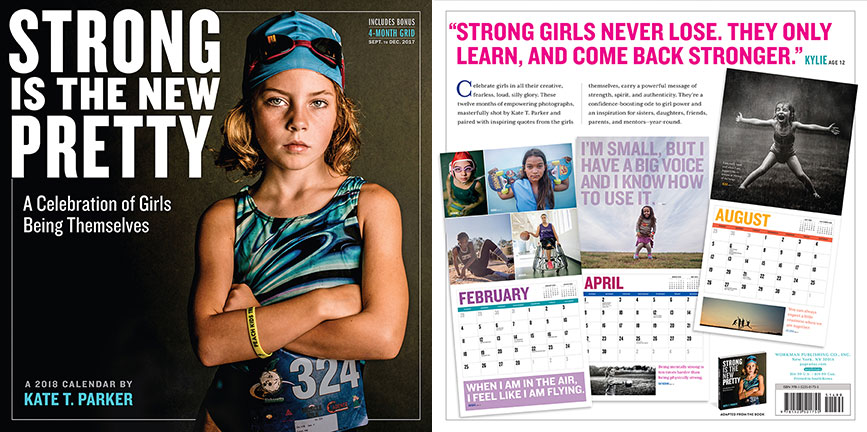 Adapted by the book of the same title, the Strong Is the New Pretty Wall Calendar shows girls being silly, being creative, being fierce–being themselves.  With gorgeous photography and inspiring quotes from the subjects themselves, this calendar will show girls what real beauty is and help them build strength and confidence of their own.
Giveaway
Enter now for a chance to win your choice of one of these calendars!  Giveaway is open to US residents who are 18 and older.  Ends 1/4/17 at 11:59 PM ET.  Good luck!