Better At-Home Manicures + Giveaway
Happy December!  I'm told that Thanksgiving has passed, but it happened so quickly I'm not sure I believe it. If it's true, it means Christmas is just around the corner, and I'm 100% not prepared for that. Well, except for one thing: sprucing up my look for my office holiday party. It might seem like a small thing, but a nice manicure makes me feel so much better about myself and keeps me looking "put together," so it's always a must for special events.
I'm pretty good with at-home manicures, but sometimes the process can be so frustrating. If I had a dollar for every time I've accidentally knocked over a nail polish bottle, well, I'd never have to do another at-home manicure. I'm also increasingly nervous about the ingredients found in many nail polishes, so I find that I'm getting pickier about the products I use. Long story short, I love pretty nails, but getting there can be a pain.
I bet you share some of those same frustrations, so I'm excited share a couple of products that will make your at-home manicures much more enjoyable!  Gather round and let me tell you about the Tippur and Surya Brasil nail polishes.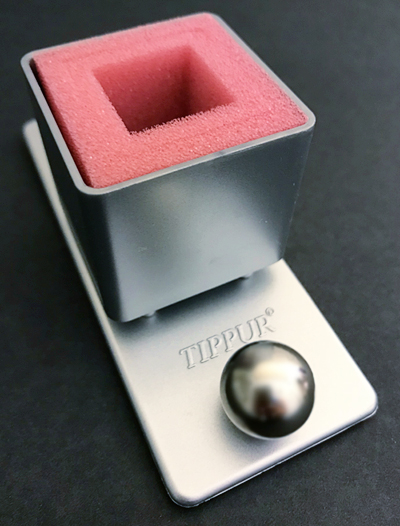 The Tippur is a genius invention. I'd love to shake the hand of its inventor. As I mentioned earlier, I've knocked over my fair share of nail polish bottles, and you're probably familiar with that feeling of sheer panic when an open bottle of polish threatens whatever surface you're working on. With the Tippur, you'll never have to worry about that again, because it holds your bottle for you at any angle you like!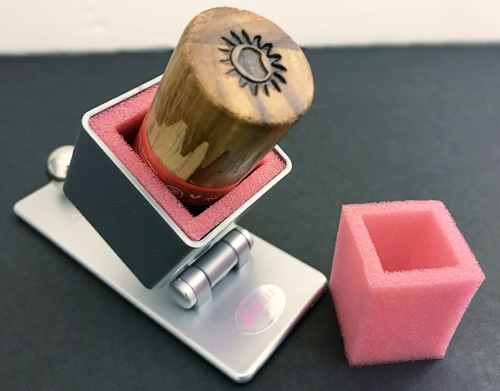 The bottom of the Tippur is coated in a rubber mesh that grips any surface, so it won't slide around. It also has two pieces of foam in the polish holder so that you can have a customized fit. For most of my polishes, I can take out one piece and my bottles will sit snuggly in the holder. For larger or smaller bottles, you could use two pieces of foam or none at all. The Tippur also tilts as far (or as near) as you'd like.  It makes it so much easier to paint your own nails–especially as the bottle becomes more empty.  They say it's like having a third hand, and they're right.  I'm truly in love with this thing, and I'm not really sure how I functioned without it. It's definitely become a permanent staple in my manicure process.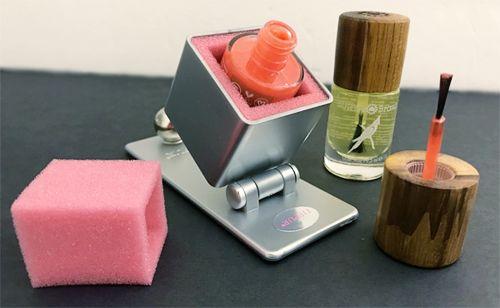 I've also been using polishes by Surya Brasil, because they're not loaded with all the bad-for-you ingredients found in so many other brands. Surya Brasil's Exotic Animals Nail Polish collection is non-toxic, cruelty-free, and certified vegan. How cool (and rare) is that?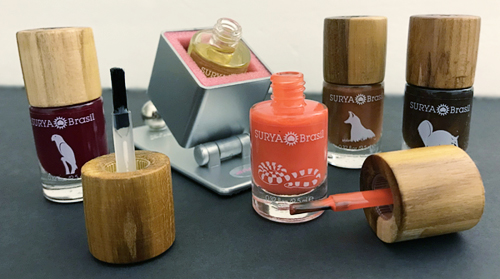 I received a variety of colors to try out, including a clear top coat, Coral Snake, Eclectus Parrot, Wolf, and Anteater (I love the names). I was a little skeptical about the formula, because we all know that sometimes the products with the best ingredients don't necessarily work as well as the bad stuff. That's not the case with Surya Brasil. I honestly noticed no difference at all with this formula versus the other brands in my collection. It goes on smoothly and consistently, and it wears just as well as everything else I use, so it's a win all around!

I mentioned that Surya Brasil polishes are non-toxic, which means they're 7-Free:
No camphor
No DBP
No formaldehyde
No parabens
No toluene
No ingredients of animal origin
No animal testing
I love having a polish that I can feel good about wearing, and I hope you'll give them a try, too! There are 16 vibrant colors to choose from, from red to blue to everything in between.
Want to make your at-home manicures easier and better for you? Visit Tippur.com and SuryaBrasilProducts.com to grab some of my new favorite manicure gear!  They're both available on Amazon too:  Tippur – Surya Brasil.
The generous team at Tippur is going to give one Game On Mom reader 2 Tippur Nail Polish Holders!  Giveaway is open to US residents who are 18 and older.  Ends 12/17/17 at 11:59 PM ET.  Good luck!