Strong, Shiny Hair on Tap from BRÖÖ + Giveaway
I received this product for free from Moms Meet (momsmeet.com), May Media Group LLC, who received it directly from the manufacturer. As a Moms Meet blogger, I agree to use this product and post my honest opinion on my blog. The opinions posted are my own.
Let's talk about hair, shall we?
I've been pretty mad at my hair lately because it seems to have taken on a mind of its own. Actually, that's not true – it's always had a mind of its own, but now it's going through some kind of identity crisis. I've always had fine hair, which means it can get oily in a hurry, but now my daily washing to prevent oiliness is causing hair to dry out. I've known this is, in large part, due to using the wrong products or using them incorrectly, so I was excited to try something new: BRÖÖ.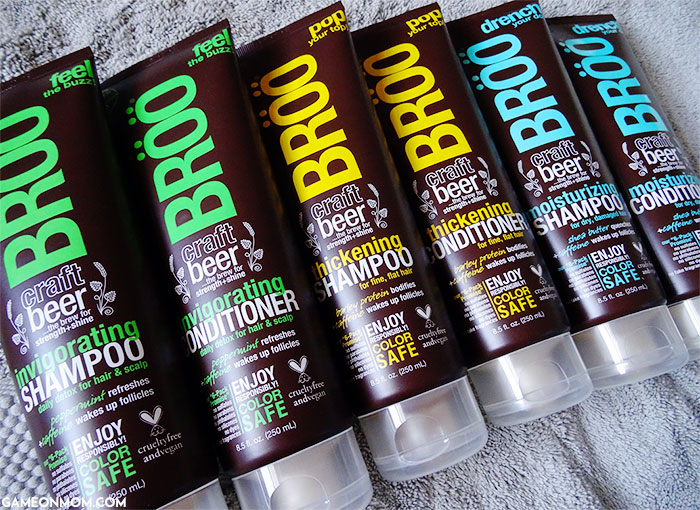 BRÖÖ is a beer-based shampoo. Have you ever heard that beer is good for your hair? I don't mean drinking it, though that's good all by itself. I mean actually using beer as a hair rinse. I've heard this for years but never tried it, because I didn't want to smell like I had bathed in beer. Fortunately, BRÖÖ gives us the best of both worlds – we can get all the benefits of beer without the beer smell.
BRÖÖ offers both shampoo and conditioner, both of which feature all-malt, hoppy craft beer as the main ingredient. It takes all of the best restorative properties of beer while adding vitamins and minerals to make your hair healthy. What does the beer actually do? The malted barley repairs and volumizes your hair, and the hops are loaded with oils to protect it. I'm sold.
You might be wondering the same thing I asked before using it: does BRÖÖ smell like beer? Nope! It does not. BRÖÖ actually comes in three different varieties, each with its own benefits and 100% natural scent.
Thickening:   Barley protein amplifies and volumizes, and the delicious citrus crème fragrance smells of orange, grapefruit, and vanilla cream.  As someone with fine hair, I appreciate the extra body this shampoo and conditioner give me.
Invigorating: Contains peppermint to energize and tingle, and the malted mint scent is a refreshing blend of peppermint, geranium, and rosemary.  I love using this one in the morning because it really helps me get revved up for the day.
Moisturizing: Shea butter hydrates and softens and the hop flower fragrance has notes of lavender, geranium, and ylang ylang. This one is going to be perfect for those dry winter months.
I've been using these products for a while now, and I'm impressed with how well they work. They lather like a dream, and I always feel like my hair is super clean after using them.  A lot of shampoos and conditioners contain silicone, which can build up in your hair over time and make it kind of dull and lifeless.  BRÖÖ, on the other hand, uses a natural alternative to silicone, so you won't have that problem, but it still helps me fight my natural frizz and it detangles well, which is very important to me. All in all, I'm really enjoying BRÖÖ!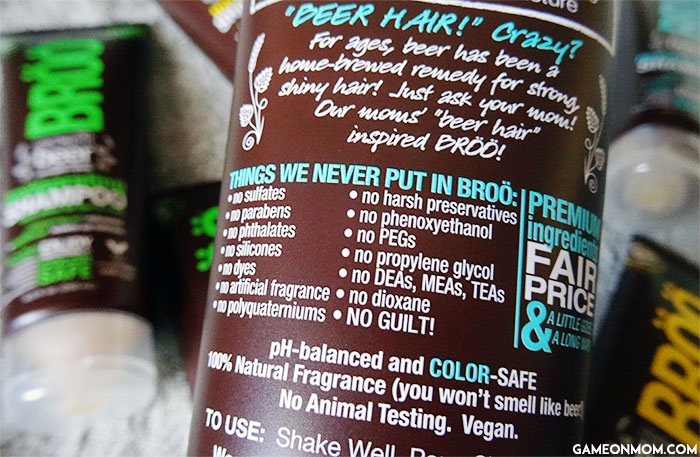 Aside from how well it works, there are some other things I love about BRÖÖ. First, it is totally free of harmful chemicals like sulfates, parabens, phthalates, dyes, and artificial fragrances. It's also pH-balanced and safe for color treated hair. BRÖÖ is vegan and cruelty-free, too. Finally, and this is my favorite part, BRÖÖ is partnered with water.org, and a portion of every sale is donated to clean water initiatives around the world. That's a lot of good in a little bottle!
Want to try it for yourself? BRÖÖ isn't hard to find; it's available at Walmart both in-store and online. Better yet, one lucky Game On Mom reader will win a pair of BRÖÖ Craft Beer Thickening Shampoo & Conditioner in an organza bag!  Open to US residents who are 18 and older.  Ends 11/27/17 at 11:59 PM ET.