Nostalgic Toys for Kids of All Ages
Do you have fond memories of playing with your childhood toys?  Retro toys have been making a comeback, and I can completely understand why.  There's emotion tied up in them, and it feels good to get nostalgic about things you enjoyed as a child.  It feels even better to share those things with a new generation.  As you're finishing up your holiday shopping this year, you might be considering adding some classic toys to your list.  The options for nostalgia-inducing toys seem to be growing every year, and these are my current favorites.
Atari Classic Games Joystick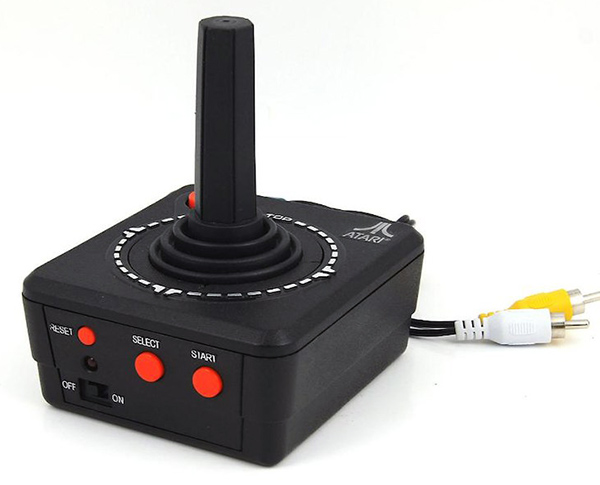 Ready to travel back to the early 80s?  Based on the iconic Atari 2600 gaming console, the Atari Classic Games Joystick offers ten different classic Atari games, including Asteroids, Breakout, Centipede, Missile Command, and more! The games feature retro graphics and all the original gameplay, without all the cartridges.  Use the attached RCA cables to plug the joystick directly into your TV, and prepare to enjoy a classic gaming experience!
Space Invaders Mini Arcade Game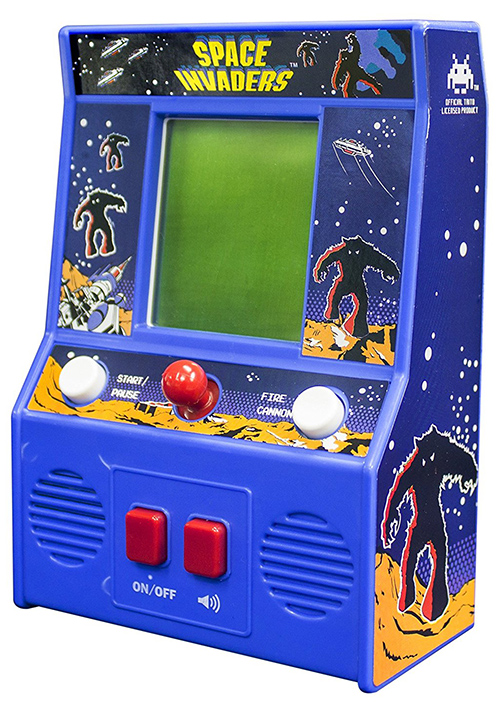 Play your favorite classic arcade games any time, any place with Mini Arcade Classics from The Bridge Direct.  Featuring authentic arcade graphics, sounds, and gameplay, the Space Invaders Mini Arcade Game is just like the original only it's portable and you don't have to worry about having enough quarters.  Move your laser gun left and right as waves of aliens descend, faster and faster.  Blast them apart and then knock out their mothership for bonus points.  Also available in Centipede, QBert, Joust, Frogger, and Pac-Man versions, and batteries are included!
Giant Ant Farm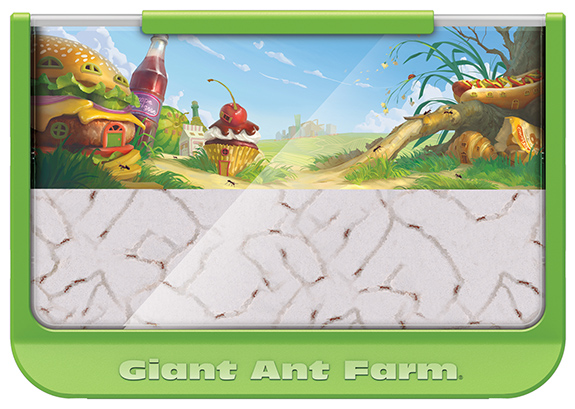 Experience the fascinating timeless classic for the first time or all over again and get a peek into the amazing underground world of the ant.  The re-designed Giant Ant Farm now matches the sleek look and quality of the 60th ANT-iversary versions introduced last year but now with twice the viewing area. It also features a whimsical ant town picnic scene. The included tubes and antports also allow you to connect this to other ant farms including the original size and is a perfect centerpiece for your Ant Farm collection. The large viewing area also makes it great for classrooms too! This model has the largest viewing area of any Ant Farm® habitat, and don't worry–it's break-resistant and escape-proof!
Buy:  Toys R Us
Lite Brite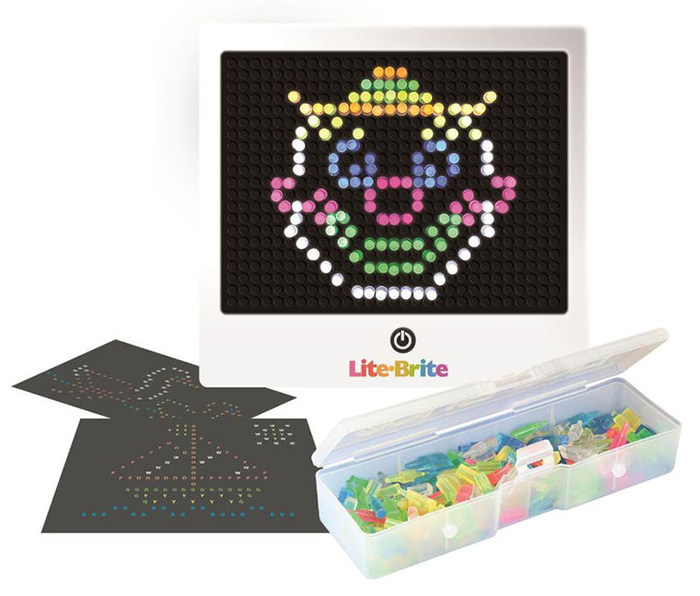 Sharing the magical experience you had with Lite Brite with the newer generation is as fun & rewarding as ever with the newly updated Lite Brite! Inspired by the most iconic packaging style through the years, this new retro version combines the best of the original with new updated features for the best glowing peg play ever. Lite Brite was the original creator of combining peg art with light and is still the leader in providing that amazing pay off. Easy and fun for anyone of all ages. Just follow the template or Art Guide pictures to put the corresponding colored pegs into the directed peg holes & anyone can create beautiful pictures that glow. Follow the pre-designed pattern or create your own bright & colorful masterpieces, the possibilities are endless! The sleek white tablet with black board has light behind it. Just push the button to see the 4 different light shows you get to choose from in order to enhance your art blinking, pulsing, steady and random offer a new & exciting experience. Storage tray keeps your pegs organized with an easy open and close lid that snaps shut. The storage tray has 2 plugs that snap into your tablet for safe keeping.  Promotes imagination and develops fine motor skills, hand-eye coordination, and cognitive development.

Buy:  Amazon | Barnes & Noble
ViewMaster Boxed Set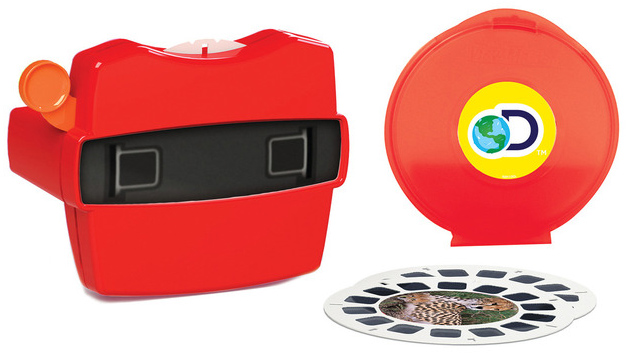 The ViewMaster is back! Now you and your children can enjoy a favorite play toy from your past with this ViewMaster Boxed Set. Take a trip through Africa, swim with the fish, or experience prehistoric life with each ViewMaster reel. This boxes set features 21 3D images and a reel storage case.  For Ages: 3+
Buy:  Barnes & Noble | Kohl's
Etch A Sketch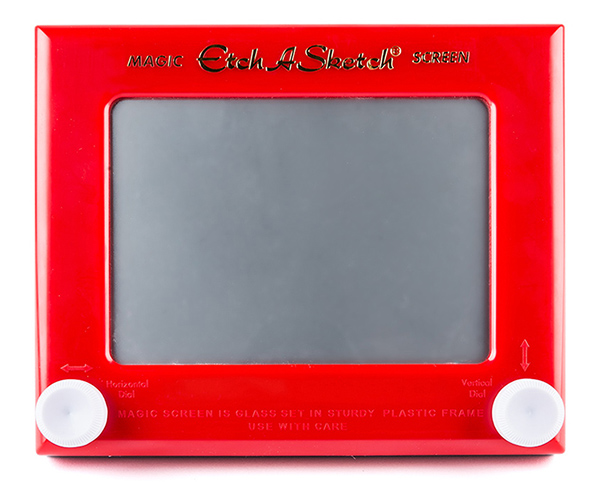 For more than 50 years, children and adults alike have been discovering the magical world of creativity and pencil-free drawing with Classic Etch A Sketch! The iconic frame, easy-to-use knobs, classic magic screen and shake-to-erase feature — not to mention the endless hours of fun it provides — have made it popular all around the world! Sketch, erase, and sketch again with Etch A Sketch.  Features the original magic screen that's fun and easy to use! Left knob draws left and right, right knob draws up and down. Turn both knobs together for angles and curves! When you're done, turn over and shake to erase — then, start the fun all over again!
Spirograph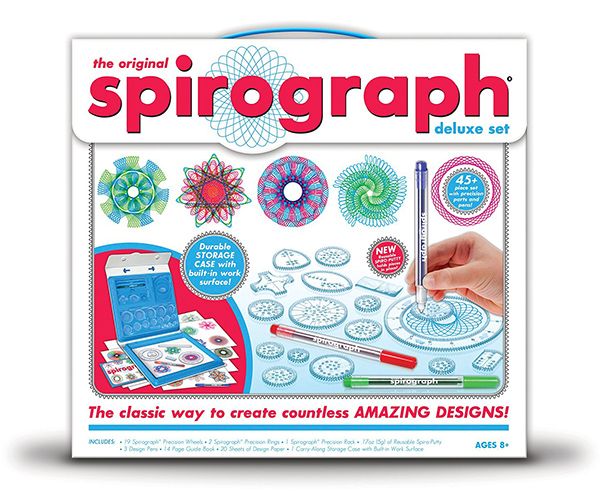 The classic way for aspiring artists to create millions of amazing designs is back and better than ever! The Original Spirograph® Deluxe Set features all the iconic wheels and rings of the original, re-engineered and updated for today. The kit features a high quality, durable carrying case with snap-in storage and a built-in drawing surface. The precision engineered Spirograph® gears work with the 3 retractable ballpoint pens included in the set as well as with most standard pens, markers and pencils. The new Spiro-Putty holds the Spirograph® pieces securely on the paper so that you can create intricately beautiful designs with no holes in the paper! The set also comes with 20 sheets of design paper and a full color design guide, which explains the fundamentals of drawing with Spirograph® as well as step-by-step instructions for creating your own designs!
Buy:  Amazon | Barnes & Noble