Holiday Gift Guide: Engaging Children's Books + Giveaway
As a former librarian and a lifelong lover of literature, I make sure I have at least a few books under the tree every Christmas.  A good book can teach your children new things, spark their imaginations, encourage creativity and curiosity…I could go on all day, but instead, I'll just tell you my favorite books for this year.  (Oh, and these all qualify for Prime shipping on Amazon, so they're great last-minute gifts too.)
All Aboard the Discovery Express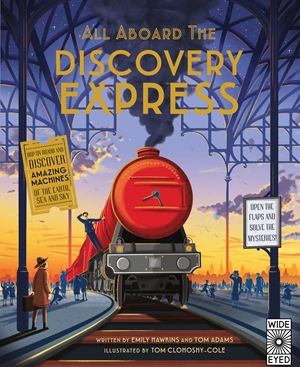 Hop aboard the Discovery Express and travel through time to explore the history of transportation and solve the mystery of the missing professor.   There are discoveries to be made on every page–just lift the flaps to reveal them and uncover clues at the same time.  The beautiful illustrations and interactive journey will engage inquisitive young minds.  Age range:  7 – 10 years.
Buy:  Amazon | Barnes & Noble
The Story Orchestra: The Nutcracker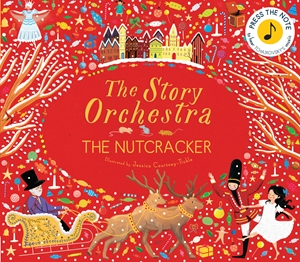 The Nutcracker is a classic that should be part of everyone's childhood, and this vibrant retelling  makes it accessible to all.  Clara's Christmas adventure begins with the gift of a wooden nutcracker, and you'll join her as the battle with the Mouse King unfolds, the nutcracker is transformed, and she journeys  to the Land of Sweets.  Each two-page spread is complemented by surprisingly good quality audio clips of songs from the ballet, including "The Dance of the Reed Flutes", "The Watlz of Flowers", and "The Dance of the Sugar Plum Fairy", and more.  At the end of the book, you'll find a glossary to help young ones understand basic musical terms, a brief bio of the great Tchaikovsky, and short explanations of how each musical piece relates to the story.  This is a wonderful introduction to a wonderful ballet, and will children will be enamored with the colorful illustrations and beautiful music. Age range:  6 – 9 years
Buy:  Amazon | Barnes & Noble
Rocket: A Journey Through the Pages Book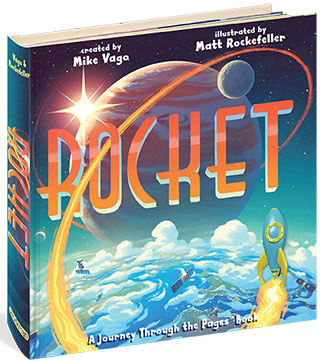 Your budding astronaut will just love this interactive book that includes an actual rocket ship!  Navigate the rocket across and over pages (it's stays connected to its track) to explore the space and the many wonders it holds.  Your child will visit planets, chase comets, and more while developing a passion for science and adventure.  Age range: 4 – 8, but due to the simplicity of the text, I think it will be most appreciated by those on the younger end of that range.
Buy:  Amazon | Barnes & Noble
Illumanatomy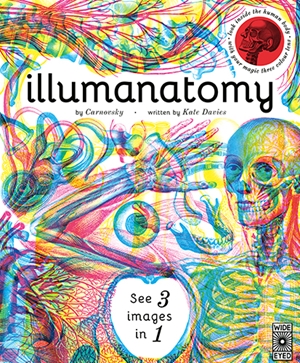 A follow up to  the internationally best-selling Illuminature, Illumanatomy includes a magic x-ray lens to allow young readers to see the human body like they've never seen it before.  Try the red lens to examine the skeleton, the green for the muscles, and the blue to see how your organs work.  With detailed illustrations and an abundance of interesting facts, kids will love uncovering the secrets of the human body from head to toe.  Age range:  8 – 12.
Buy:  Amazon | Barnes & Noble
It Starts with a Seed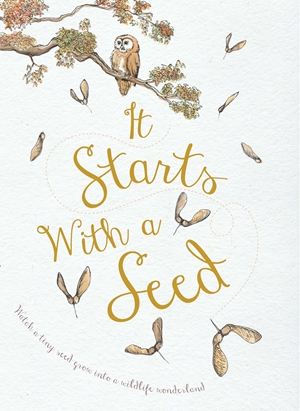 "How can something so small grow into a tree, which is such an incredibly BIG thing to be?"  This evocative question will be answered as you follow a seed through the seasons and years of its transformation into a giant sycamore.  You'll watch its branches and roots grow and become filled with life as the lyrical text simply explains the process.  The artwork is as enchanting as its message, and little ones will surely stop to examine each page.  Age range:  4 – 8.
Buy:  Amazon | Barnes & Noble
50 States of the USA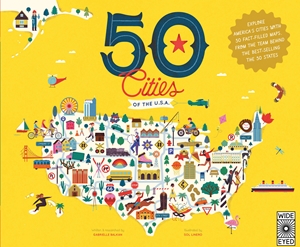 This colorful, oversized book takes us on a trip across the country, making stops at 50 well-chosen US cities. Each city has its own double-page spread that features notable people, places, inventions, events, and food–with a touch of geography thrown in. Key facts like population, size, and tallest building are grouped together in their own little boxes for easy reference. Wondering how you might spend a day in a particular city? Suggested itineraries are included for you too. Jam-packed with information, this book will have your kids wanting to learn even more about the fascinating places that make up our country, and it might just spark a healthy interest in travel.   Age range:  8 – 12.
Buy:  Amazon | Barnes & Noble
Win
One lucky Game On Mom reader is going to win one of each of these amazing books!  Giveaway is open to US residents who are 18 and older.  Ends 11/28/17 at 11:59 PM ET.  Good luck!