Highlights from Play Fair NY 2017
Every February, I attend Toy Fair and have to explain to my kids why they can't come and that they wouldn't enjoy it anyway.  Well, The Toy Association must have felt my pain because they joined forces with LeftField Media to bring us Play Fair, a public event where kids of all ages can have some serious hands-on fun.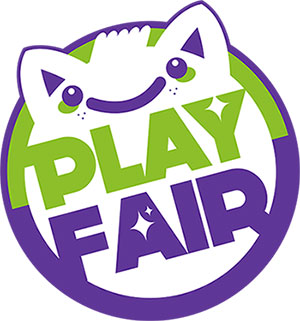 The second annual Play Fair took place at the Jacob Javits Center in NYC this past weekend (Nov. 4th & 5th), and it was more than double the size of the previous year with three times the amount of floor space and over 40 exhibitors, including Cartoon Network, LEGO, Moose, and more.  There was so much to see, in fact, that we didn't get to see everything.  We had an amazing time trying though.
There are so many opportunities to play, I almost didn't know where to start.  My kids, of course, didn't have that problem.  They spotted some of their favorite characters at the Rubie's booth and immediately started to pose.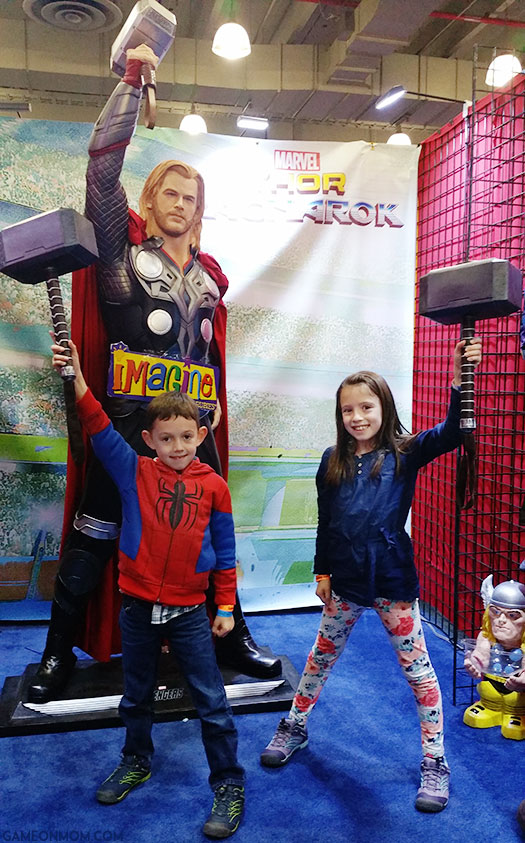 Not too far from Thor and his superhero friends was the Moose booth.  Apparently, my daughter has been taking lessons from The Flash, because she was over there before I even knew she was gone.  Both kids ooh-ed and aah-ed over Shopkins and The Grossery Gang, but most of their time was spent playing with Shopkins Cutie Cars.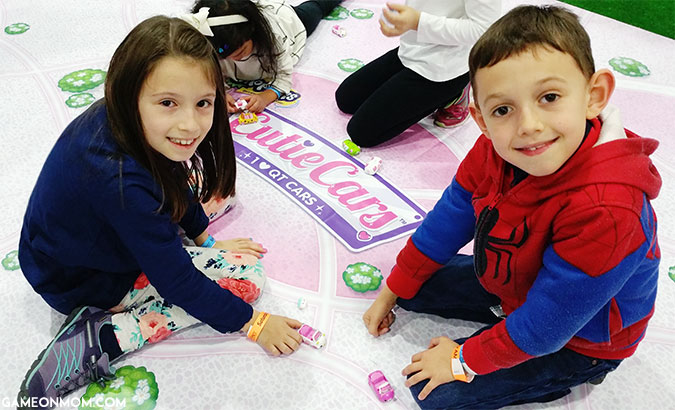 The Cartoon Network booth was also a big hit.  This one had a line, but it was totally worth the wait, because when it was your turn, you got to spin a giant wheel for a chance to win Ben 10 prizes. Everyone got something for spinning, but bigger prizes include Ben 10 action figures, and if you were really lucky, the entire Ben 10 line.  My son won a Stinkfly!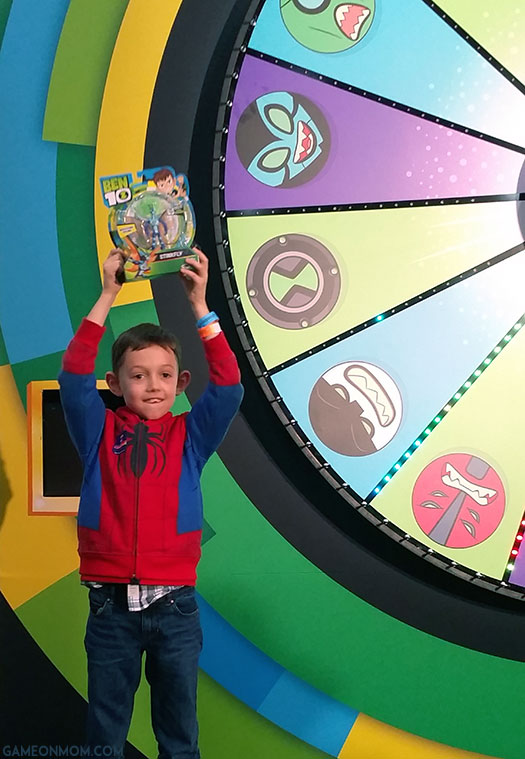 It was like a being on a game show, and he loved every second of it.
We witnessed the first public appearance of Orb Molecules, the world's first construction compound.  My daughter made the cutest little fish.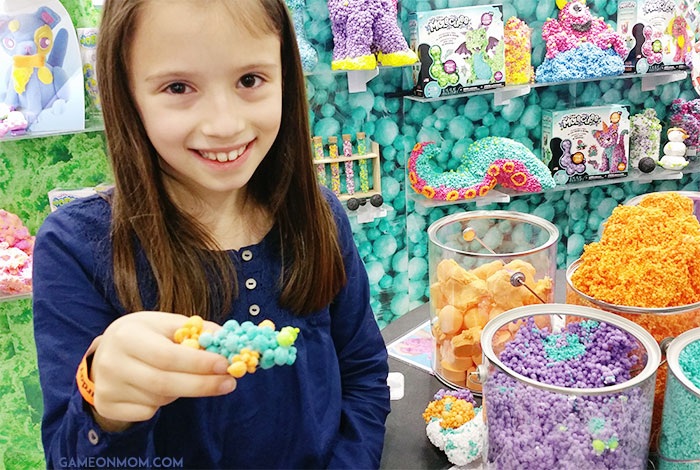 Alex brands made an impressive showing at Play Fair this year, and we might have spent a bit too much of our time with them.  We indulged our crafty and creative sides at their art area where you could paint a pet rock, make some gorgeous paper airplanes, and create colorful mosaics.  From there, it was just a hop over to the Alex Spa where you could get your hair chalked, get a temporary tattoo, or have your nails done.  My daughter did all three, but she was especially excited about the nails!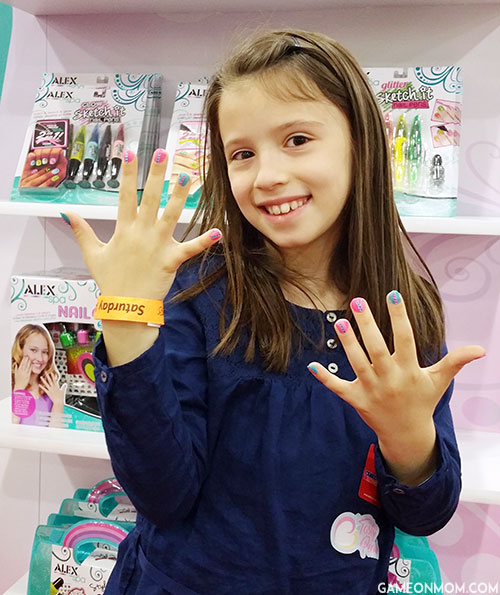 From their, we decided we were in the mood to get moving, so we joined a Nerf battle.  A variety of guns were available to play with, and my son initially chose one that was so big, he almost fell over when he tried to shoot it!  We all had a blast battling other families in the Nerf Arena, so this was another one that we thought was worth the line you had to wait in.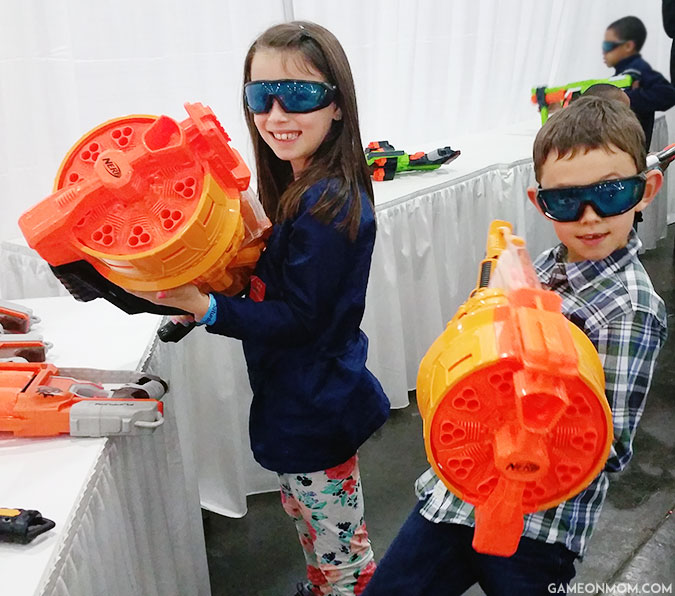 You'll see many of your favorite brands at Play Fair, but it's also a place to discover new or less familiar ones.  E-Blox, for example, was something we'd never heard of before, but we are so glad we found them.  My kids never get tired of building things, and they were fascinated with how E-Blox could bring projects to life with lights and sounds.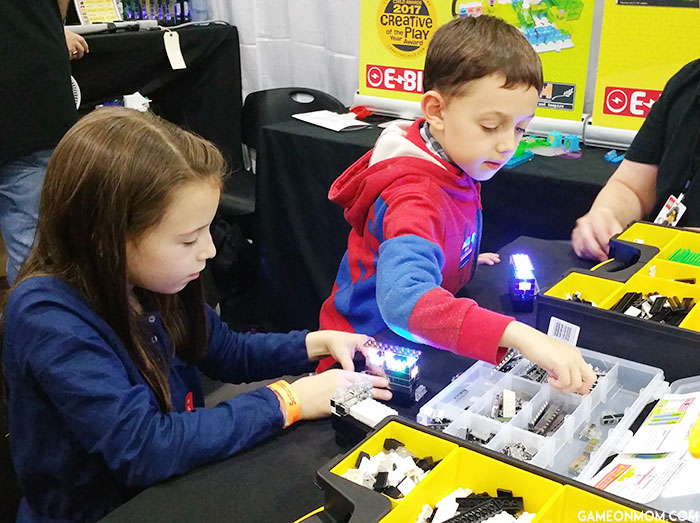 Also new to us was Stick Together.  At their booth, Play Fair attendees worked together, sticker by sticker, to create a a beautiful, mosaic puzzle.  This one was on its way to becoming a tiger: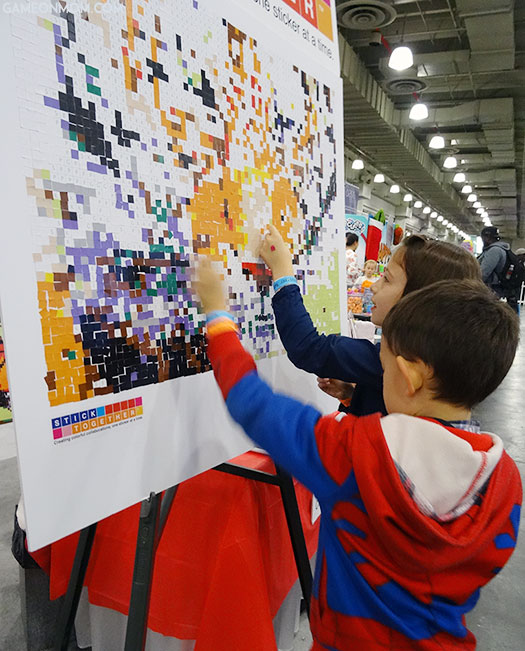 You know we LOVE board games, and we found one we've never played before that we're going to have to add to our collection.  The rules of Quoridor were easy to learn, but the kids were pleasantly surprised to find that there's a lot of strategy involved, and they wanted to play again and again.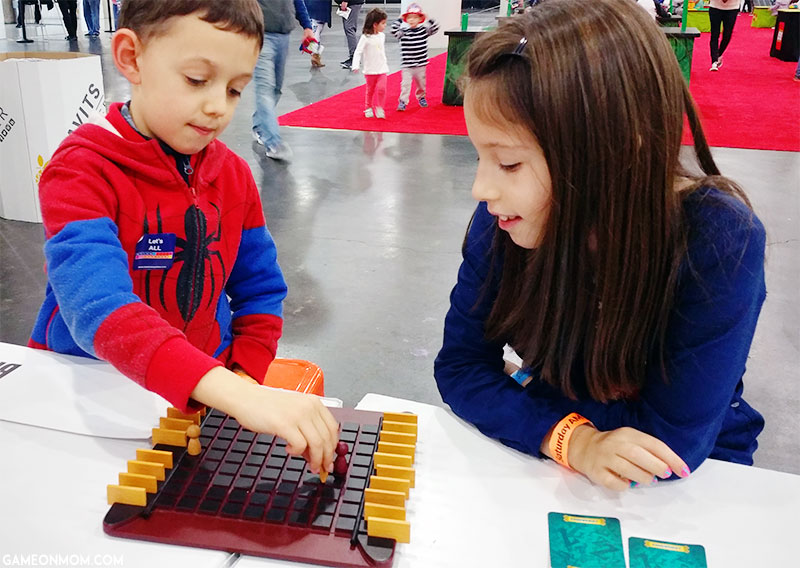 Toys and games aren't all you'll find at Play Fair.  There are meet and greets with your favorite characters, amazing displays and exhibits, and two stages with live events.  One of our favorites was the Magical Magnetic Madness with Magformers.  You wouldn't believe some of the things the Magformers builders can do.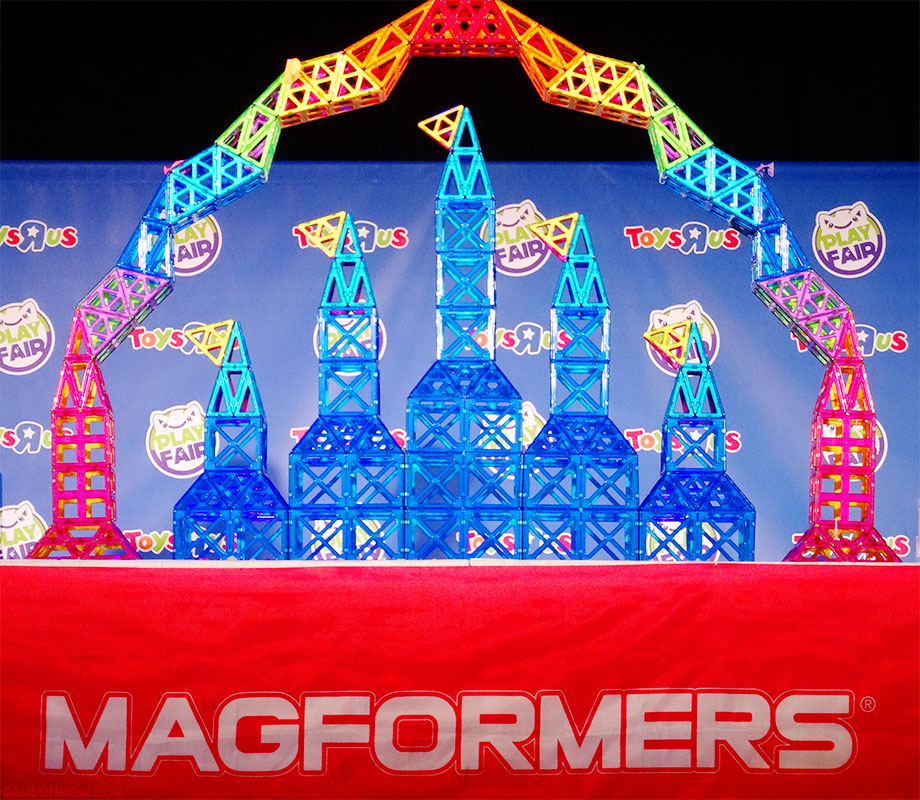 Our #1 FAVORITE Play Fair event was the Shopkins Fashion Show.  Look at my boy go!
There were so many things to do, I think we could have done both sessions on both days and still not seen it all.  You can't take two steps without wanting to stop and play with something or pose for a picture.  It's not just fun for kids either.  Toy lovers and fans young and old will find plenty of interactive experiences to keep them busy.  If you missed out on Play Fair this year, put in on your calendar for next year.  You will definitely see us there!