The Ultimate in Halloween Fun & a New VR Arena at iPlay America!
It's Halloween all month long at iPlay America in Freehold, NJ!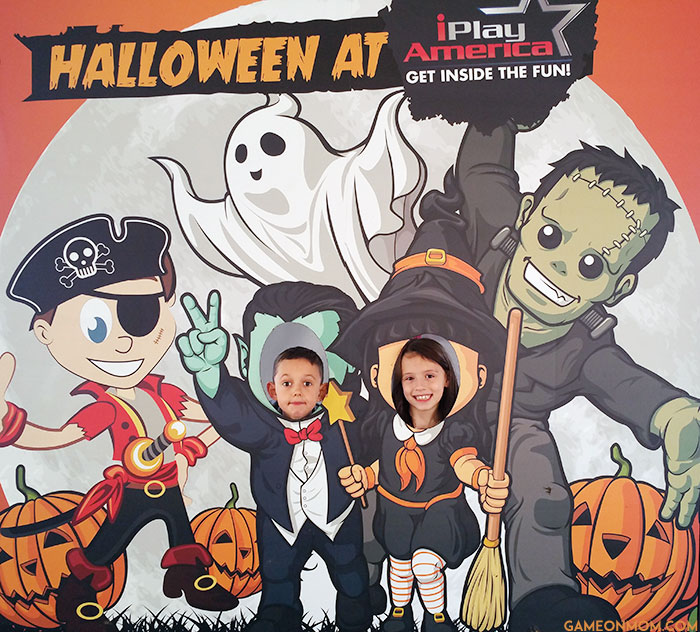 My kids always look forward to a trip to iPlay, but a visit in October is an extra treat.   All the normal rides and games are available for them to enjoy, but the whole park is trimmed in the most spooktacular Halloween decor, and a number of Halloween-themed activities await them.  You won't be surprised when I tell you which activity they wanted to do first.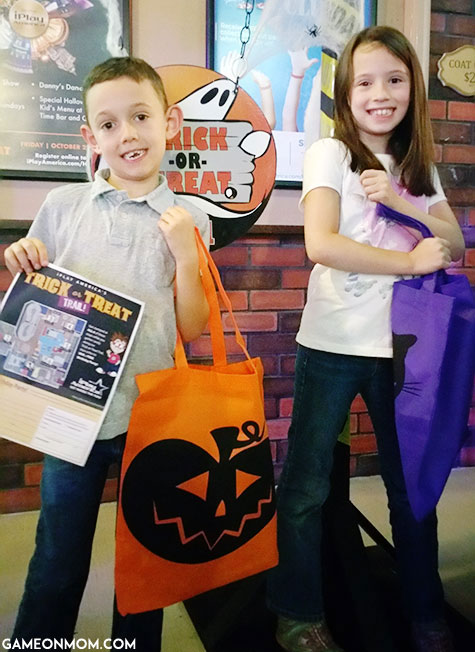 Did someone say candy?  My kids remembered the Trick or Treat Trail from last year, so upon entering the building, they made a mad dash for the first candy-filled cauldron they could find.  There are six stations located throughout the park, and each one has a cauldron loaded with Halloween candy–and it's the good stuff.  Complete the whole trail, and you can enter to win and iPlay America Birthday Party!  The Trick or Treat Trail is open on Sundays from 12-4.  Five dollars gets you a trick or treat bag, a map, plenty of candy, and whole lot of fun.
Next up was a visit to the iPlay Pumpkin Patch.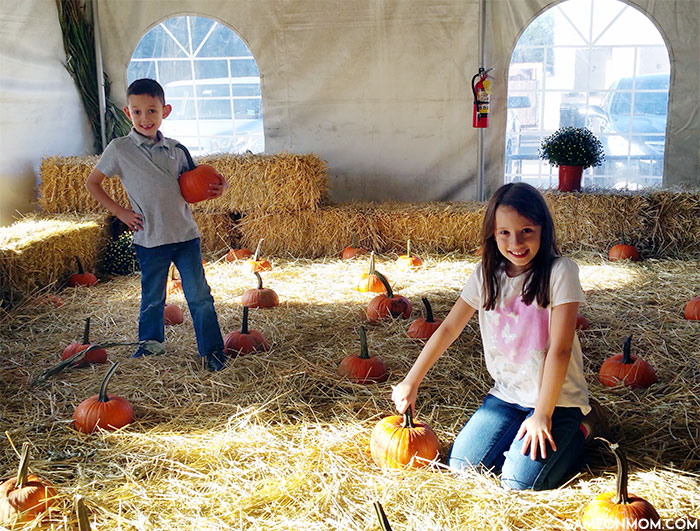 Every Saturday and Sunday from 12-4, you can sneak over to iPlay's outdoor Halloween Tent and pick your very own pumpkin from their patch.  Once you've made your choice, you must stop at their decorating station and give your pumpkin its own personality.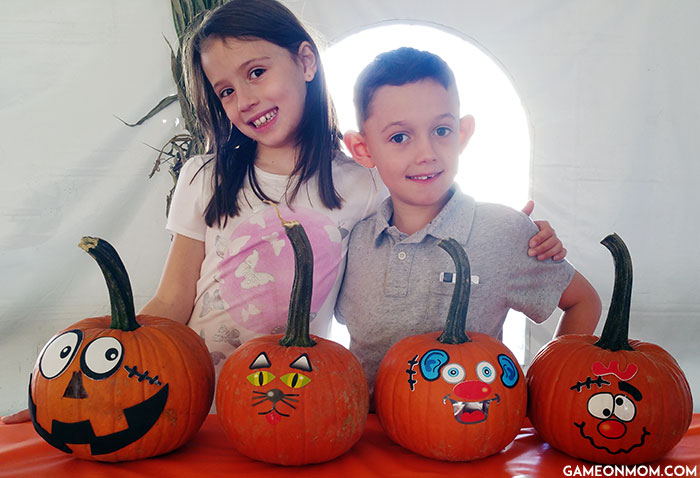 Each of us decorated a pumpkin, and it was a seriously silly good time.  (In case you're wondering, mine is the cute cat!)
What would Halloween be without a little hocus pocus?  Visit iPlay American on a Saturday, and you'll get to see one of their free magic shows.  Professional magicians will dazzle you twice each day in their City Square.  The first show is at 12:30 PM and the second is at 2 PM, so mark your calendars and make sure you're get there a few minutes early for a good seat!
My personal favorite thing to do is watch my kids join Danny's Dance Party.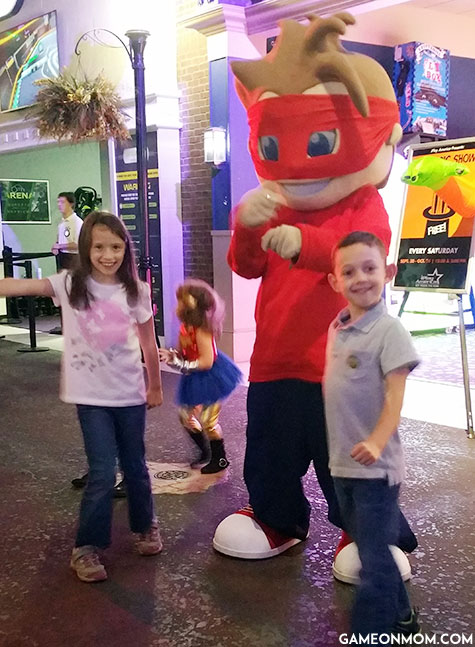 It's so much fun to watch the kids dance with Super Danny to Halloween songs like the Monster Mash.  They sing, they hop and twirl around, they really get into it, and they stay for every single song.  After a sneaking a few pieces of the candy we collected from the Trick or Treat Trail, I considered joining myself to dance off a few calories.
Of all the things we did that day, we each agreed that our favorite was trying out iPlay's VR Arena.  This one isn't Halloween specific, but it's a brand new attraction, and it's one you won't want to miss.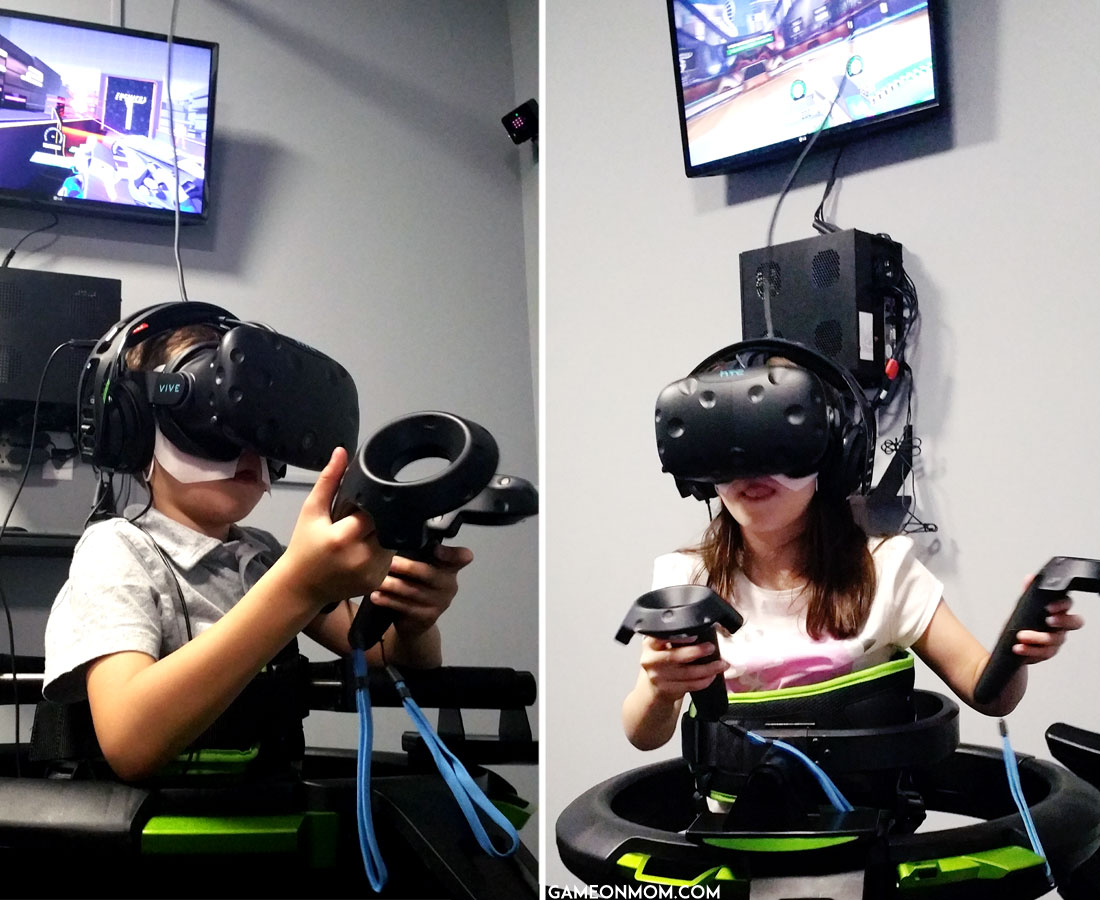 The first of its kind in New Jersey, this "Active VR" game allows you to walk and run inside the VR using omnidirectional treadmills, giving you full freedom of movement in the virtual world.   We played Shadow Ops, a fast-paced and intense first-person shooter game where you shoot at brain-hungry zombies as you make your way through a facility brimming with the undead.  They allow an instructional practice round before you face the real zombies, and I can honestly say that I needed it.  A lot.  It will definitely take me a few shots to master the game, but I'm looking forward to each and every experience.
Magic shows, dance parties, pumpkins, candy…there's a lot to do at iPlay America in October, so make sure you head over before it all wraps up on October 31st.  They call it the Ultimate in Halloween Fun, and I can't argue.  For more information, visit iPlayAmerica.com.