Our Favorite Non-GMO After-School Snacks
What does "back to school" mean to you? For me, it means less time with my precious kiddies, hectic mornings, and homework. It also means lots and lots of playdates.  Some days I come home from pickup with two kids, and other days I come home with as many as five.
I'll give you one guess what they all want as soon as we walk through the front door.  If you said food, you guessed correctly.  They eat lunch pretty early in the day, so you can't really blame them.  When it's just my own kids, I offer them fruit and/or nuts, but other people's kids aren't always satisfied with those options.  So for playdate days, I try to have something that better resembles the snacks they're used to having at home without serving them anything I wouldn't want my own kids to eat.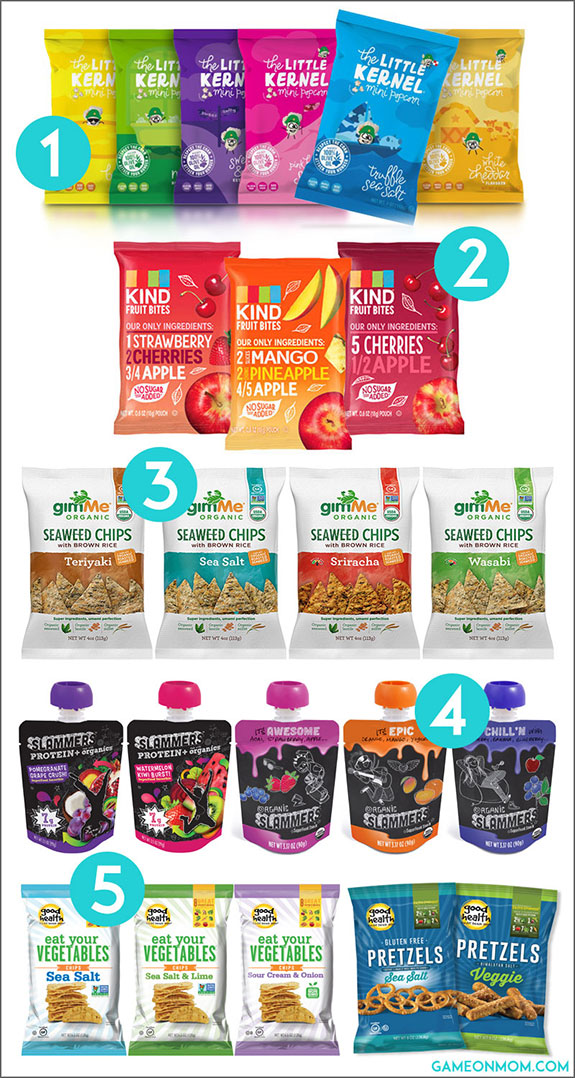 Here are some of my top gmo-free picks for this back-to-school season.  Reach for these when you're in the mood for something that's both yummy and nutritious.  Each one has proven to be a hit with my kids and their friends!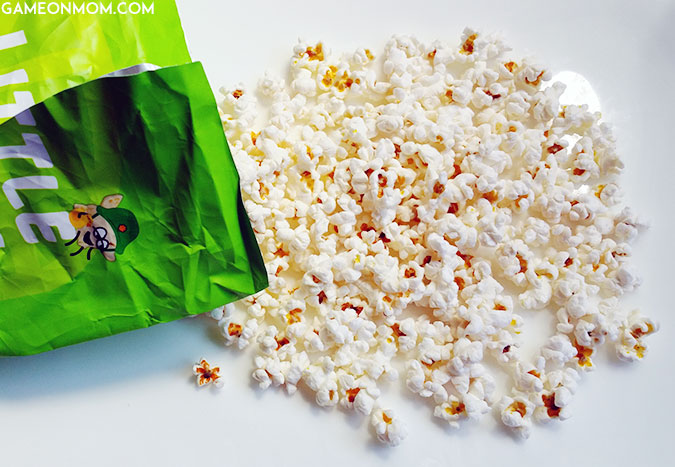 Popcorn is my go-to snack when I'm not in the mood for fruit or nuts.  It's a satisfying, whole grain treat that I feel good about eating.  Choose the wrong brand, however, and instead of a healthy snack, you end up with something that's chemical-filled and not so good for you.  The Little Kernel is one of the brands you can depend on to give you the delicious popcorn you're looking for but without any of the artificial ingredients.  It's popped in 100% pure olive oil, and in addition to being non-gmo, it's also dairy-free, gluten-free, and kosher.  The Little Kernel is described as featuring a hulless, miniature kernel, but I'd say it's more like mostly hulless.  A little hull is okay with me, as that's where most of the polyphenols are, but these are softer and easier on the gums while still retaining that popcorn crunch we all love.  My favorite Little Kernel variety is Naked–just popcorn and olive oil.  I like the taste of popcorn and don't feel the need to mask it, but if you're feeling more adventurous, it's available in other great flavors too, like Butter, White Cheddar, Sweet and Salty, Truffle Sea Salt, and Pink Himalayan Salt.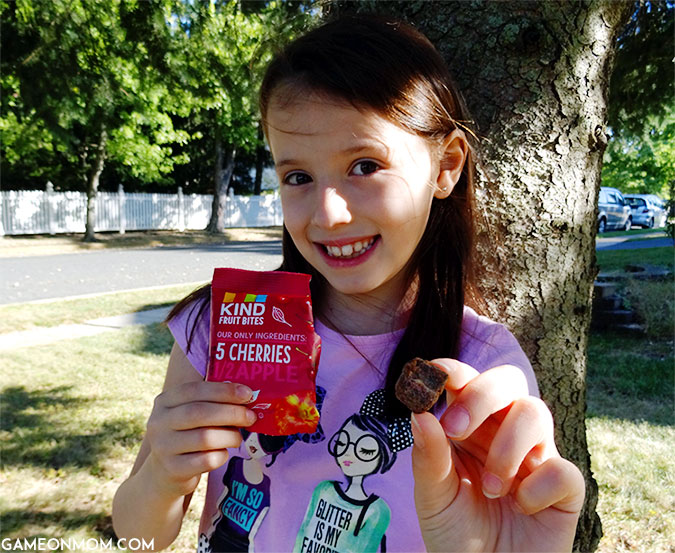 I can't say enough good things about KIND.  I've talked about how much I love their various bars, but they've really hit a home run with their new Fruit Bites.  The ingredients are super simple and written in large letters on the front of the package:  fruit.  Just fruit.  Seriously.  No juices, no purees, and definitely no extra sugar.  They're deliciously chewy and naturally sweet, and I can't stop eating them.  KIND Fruit bites are currently available in Mango Pineapple Apple, Strawberry Cherry Apple, and Cherry Apple flavors.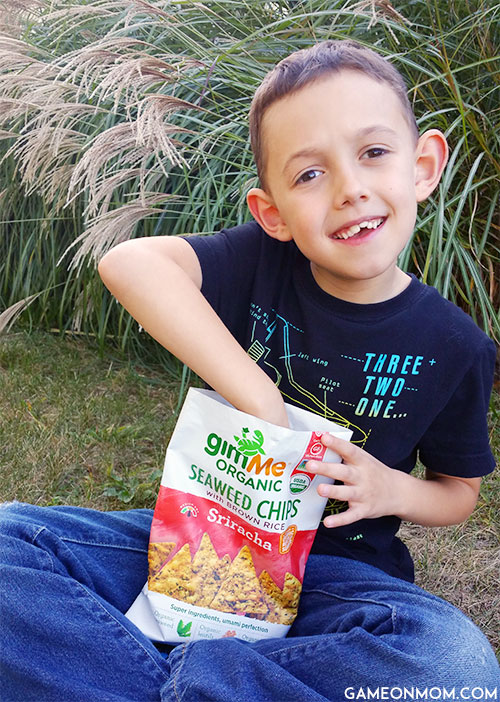 Did you know that seaweed is a vegetable?  It was news to me.  Seaweed is rich in vitamins, minerals, and antioxidants, and when you combine it with organic brown rice, organic lentils, organic sesame seeds, and organic millet, and you have what I call a "powerhouse snack".  In this case, it's a rather addictive one.  We've tried other seaweed-based snacks, but the gimME brand is our favorite, hands down.  Unlike others, these snacks aren't fishy or too salty–two things I find very unappealing.  My son and I are especially fond of the sriracha flavor, and it's also available in sea salt, teriyaki, and wasabi tamari.  gimME also offers Roasted Seaweed Snacks and Seaweed Thins.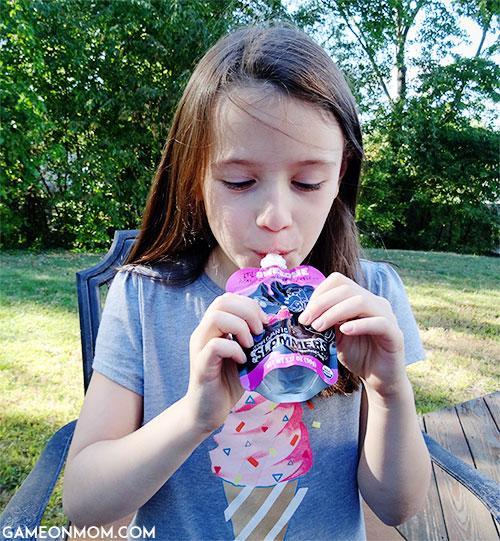 This might look like just another pouch to you, but I assure you, there's more to Slammers than that.  Slammers are superfood snacks made with organic fruits and vegetables, and some flavors have more protein than a tablespoon of peanut butter.  While my kids eat plenty of fruit, they're diet lacks certain "superfood" fruits like acai and pomegranate.  One of these pouches fills in the deficit, and they're a lot faster and less messy than trying to seed a pomegranate.  You already know we love fruit pouches for when were on-the-go, which is always, but I couldn't be more excited to have an option that also has protein.  With flavors like Epic, Awesome, Chill'n, and Amped, my kids think these are as fun as they are delicious.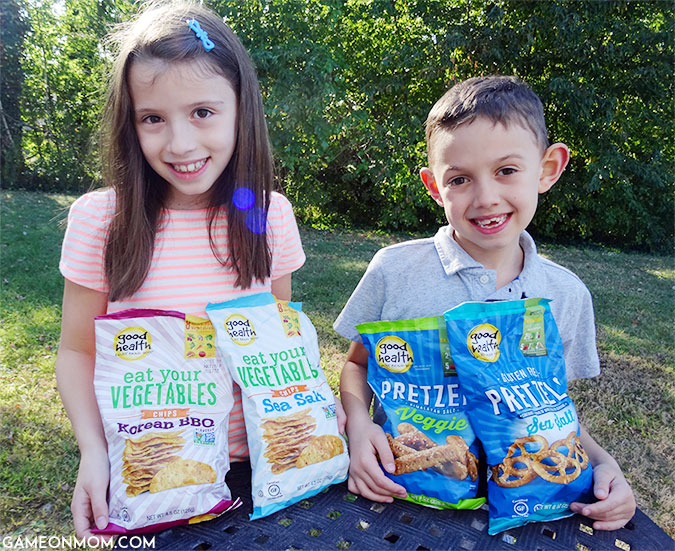 Take a look at my snack cabinet, and you'll almost always find a giant bag of Good Health Avocado Oil Kettle Chips and another of their Veggie Straws.  They're what I bring when we visit friends, because they're delicious and made of simple, non-gmo ingredients.  I recently discovered that Good Health has lots of other options, and believe it or not, they're even better.  Their Eat Your Vegetables Chips come in 5 different flavors, and each contains a blend of 8 amazing veggies, including carrots, sweet potatoes, kale, spinach, broccoli, tomatoes, beets, and shiitake mushrooms.  And there's more:  they've got pretzels and tortilla chips that are also full of vegetables!  Which ever option you pick, you'll be amazed by how delicious healthy can be–and they're all great for dipping too.  Unfortunately, my regular grocery store doesn't carry these new options, but I've been able to get them from Vitacost.
With options like these around, you'll never need to resort to giving the kids empty calories.  Our better-for-you snacks will keep their bellies full and give them that little boost of energy they need to get through an afternoon of playing and homework.