Chef Adrianne's Autumn-Inspired Acorn Squash Recipe
I find something so satisfying about eating seasonal, local foods.  They almost always taste better, and it doesn't hurt that prices are usually more reasonable.  When fall rolls around, I tend to let apples dominate my menu, but this year, I'm going outside my comfort zone and incorporating other fall treats, like pumpkin and squash.
Chefs also love to take advantage of the different produce options that come with the changing of seasons, and I'm always dazzled by the creative ways they incorporate them into a delicious meal.  Today, I'm pleased to share with you just such a culinary innovation from Miami Chef Adrianne Calvo, owner of the highly acclaimed Chef Adrianne's Vineyard Restaurant and Wine Bar and author of four cookbooks, including Maximum Flavor Social.  Inspired by ingredients and the seasons, she brings us a vibrant recipe highlighting a fall favorite:  Acorn Squash.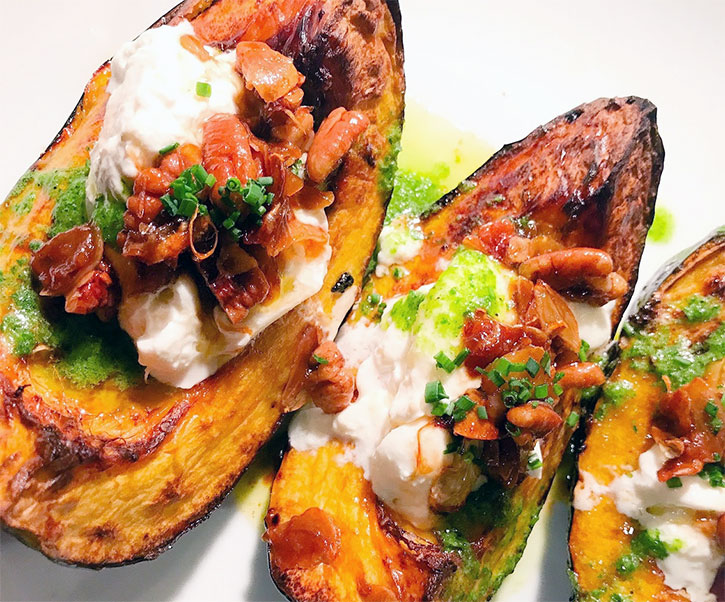 Roasted Acorn Squash + Burrata Mozzarella + Garlic Brown Butter Pecans + Salsa Verde
Author:
Chef Adrianne Calvo
Ingredients
1 acorn squash, cut into 4 pieces, remove seeds
1 tablespoon canola oil
1 tablespoon brown sugar
¼ teaspoon kosher salt
1 cup burrata mozzarella
¼ cup butter, unsalted
½ cup pecans, chopped
1 tablespoon garlic, slivers
1 teaspoon soy sauce
⅛ teaspoon crushed red pepper flakes
¼ cup parsley
¼ cup green onion
¼ cup cilantro
¼ cup lemon juice
¼ cup extra virgin olive oil
1 teaspoon honey
Pinch kosher salt
Instructions
Preheat the oven to 400 degrees F.
Place the cut squash onto a baking sheet. Drizzle with canola oil, and sprinkle with brown sugar and salt.
Bake for 20-30 minutes or until fork tender.
In a small sauté pan over medium heat, cook pecans in butter for 2 minutes.
Add the garlic and cook for another 2 minutes.
Add the soy sauce and crushed red pepper flakes. Set aside.
In a blender, add the parsley, green onion, cilantro, lemon juice, olive oil, honey, and salt. Blend until smooth.
To plate, add a spoonful of burrata on top of the squash, and drizzle with salsa verde. Then, top with the pecan garlic butter. Enjoy!