SLIMROCK Low Calorie Mixers Review & Giveaway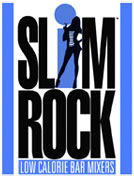 Who out there likes a good cocktail?  Who out there likes extra calories?  I bet I got a lot of raised hands for the first question and a lot of silence for the second.  Wouldn't you prefer to enjoy your favorite drinks without having to deal with all of those unfriendly calories?  Then let me introduce you to SLIMROCK…
SLIMROCK is a cocktail mixer from Pure California Beverages that replaces high calorie sugary ingredients with natural sweeteners and top quality fruit extracts.  SLIMROCK greatly reduces the amount of sugar you'd normally find in this type of drink by adding a combination of stevia and agave nectar for sweetness without the calories or nasty blood sugar spikes.  Yes, all of this means that now you can have all of the deliciousness without any of the guilt!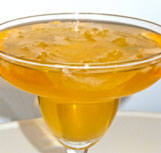 They're great for when you're looking for a low-cal drink option, and yes, they're quite yummy too.  I made myself a Mango Margarita, and it was so good!  It's possible that I "spilled" a little extra tequila into mine, but it would have been just as delicious without it.  You can really taste the fruit flavor in this, which is just how I like my margaritas.  In fact, the mix is so good that you can drink it all alone for a virgin version.  I won't be doing that, but you can.  😉
Oh, and the flavors!  SLIMROCK currently offers 15 fabulous ones.  They have a few traditional options like Mai Tai and Pina Colada, but you can also have some fun with the more exotic varieties like Prickly Pear Passion Fruit, Guavapolitan, or Pomegranate Cranberry. (That pomegranate keeps popping up around here.  Yay!)
SLIMROCK can definitely help you mix up some fun this Valentine's Day!  With just 1/5th the calories of traditional mixers, you could even have an extra drink or two.  Go ahead, I won't tell!
Visit the SLIMROCK web site to learn more and take a look at all 15 of their flavors, or head to Amazon to pick some up for yourself.  You can also find them on Facebook.
Get ready to win!  One of you will receive two bottles of delicious SLIMROCK Low-Calorie Mixers!  Giveaway is open to US residents who are 18 and older.  Ends 2/14/13 at 11:59 PM EST.  Good Luck!
Game On Mom received complimentary product in order to facilitate this review. No other compensation was received. All opinions are my own.