I received this product for free from Moms Meet to use and post my honest opinions. Compensation for this post was provided and this page may contain affiliate links.
If you came to my house on any given day, one thing you would be guaranteed to find in my kitchen pantry is EVOO.
What's EVOO? It's extra virgin olive oil, and if you really want the good stuff, you'll want European EVOO. Some people call EVOO "liquid gold," and I have to agree. I use it constantly as both an ingredient in cooked dishes, in salad dressings, and as a condiment for things like dipping breads. It's incredibly versatile. Because it has a high smoke point of 400° F, you can use it for anything from lightly sautéing to deep frying.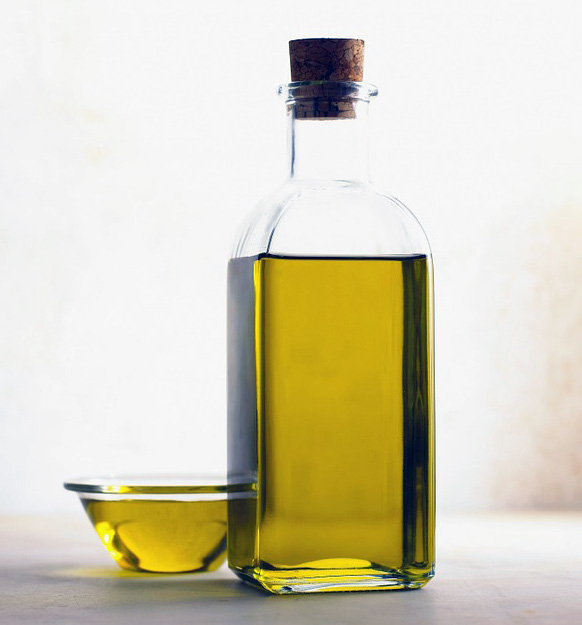 I could talk to you all day about why I love EVOO, but I still wouldn't be as informative as Flavor Your Life, an extra virgin olive oil campaign supported by the European Union and the Italian government. Their goal is to educate the world about authentic EVOO from Europe, where EVOO has long been considered the gold standard for cooking. Buying the right EVOO can be tricky, and Flavor Your Life wants to help make the decision easier.
So, let's talk a bit about extra virgin olive oil. Olive oil comes from the fruit (or "drupe") of the European olive. EVOO is made by pressing without any heat or chemicals, and it's the freshest and purest form of olive oil available. EVOO is almost free of acidity (it's less than 0.8%), which ensures quality. The best olive oils are low in peroxide values, which is required for the "extra virgin" rating. And that rating isn't just an arbitrary label on the bottle; each oil must be judged by expert tasters who decide if it meets the high standards of the extra virgin designation.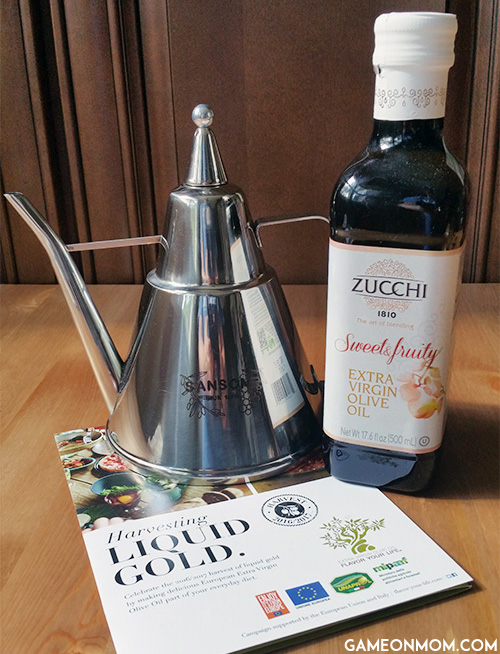 Now that we've nailed down what makes EVOO special, let's look at why the best is European. Olive trees have been cultivated by European farmers for thousands of years, so they have evolved to be perfectly suited for their varying environments. There are different olive tree regions and times of harvest, so European olive oil has many different flavor profiles. Early season oils tend to be greener and more bitter, while late season oils are mild and buttery. Italian oil is often dark and herbal, Greek oil has a strong aroma, and French oil is pale and mild. All of these different flavor profiles can mean different outcomes for recipes, so I love keeping a variety of oils on hand. When I first started buying EVOO, I wasn't familiar with the different options, so I just grabbed what looked good on the shelf. Now that I know more, I'm able to choose the right oil for a recipe and innovate as I go.
There are countless brands of EVOO available to buy, but one of my favorites is Zucchi, which has been run by seven generations of the Zucchi family. They source only from the top growers, and they offer a feature I love: traceability. This means you can use the QR codes found on every bottle of Zucchi oil to trace the origins of the raw materials used to make the final product. I'm a huge fan of transparency in the production of the foods my family eats, so this feature automatically pushes Zucchi to the top of my list.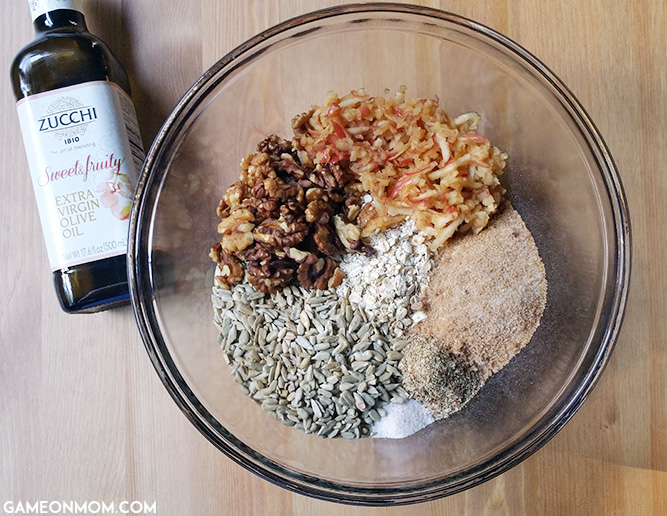 Since I love cooking with EVOO so much, I want to share a delicious recipe for Olive Oil, Apple, and Oat Granola.  We love this for breakfast because it's packed full of healthy ingredients like sunflower seeds and walnuts, and the kids will devour it without any arguments, but it's great as a snack any time of day.   Since it's so easy to make, I can prepare this with my daughter, and we enjoy both cooking and eating it together.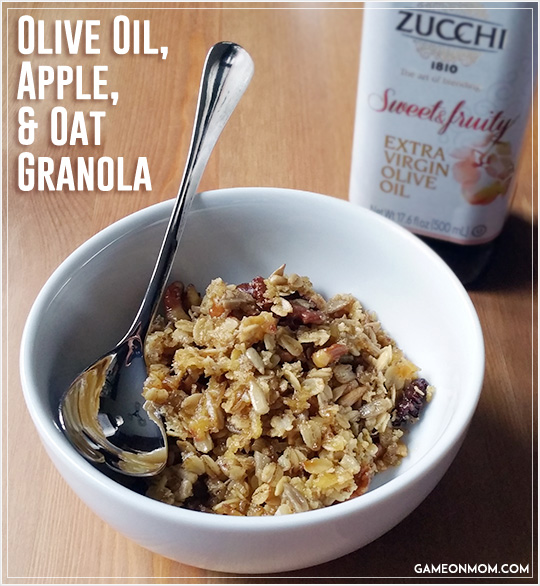 Olive Oil, Apple, & Oat Granola
Ingredients
2 cups extra virgin olive oil
Parchment paper
3 cups old-fashioned oats
1 cup walnuts, toasted
1 cup sunflower seeds
½ cup unsweetened shredded coconut
½ cup brown sugar
2 tablespoons flaxseed
1 small apple, cored and shredded
1 teaspoon salt
1 tablespoon honey
1 teaspoon vanilla extract
Instructions
Preheat oven to 300º F.
Line a 10 x 15 baking sheet with parchment paper. Brush with extra virgin olive oil.
In a large bowl, combine the oats, walnuts, sunflower seeds, shredded coconut, brown sugar, flaxseed, shredded apple, and salt. Mix well
In a small saucepan, gently heat the extra virgin olive oil, honey, and vanilla, stirring continuously until blended and warmed through.
Gently pour the extra virgin olive oil mixture over the oat mixture. Stir well.
Evenly spread the mixture out onto the baking sheet.
Bake in the 300º F oven for 35 minutes until browned and slightly crispy.
Take out of the oven and leave to cool on the baking sheet for 30 minutes.
Break into small clusters
Store in an airtight container. Can keep for up to 2 weeks.
I've given you some general information about European extra virgin olive oil, but Flavor Your Life offers a wealth of knowledge. Visit
Flavor-Your-Life.com
to learn more before your next trip to the olive oil shelves.