Are you melting? I'm melting. It's so very hot, and the humidity is just miserable. My kids love to play outside (and I love for them to enjoy the outdoors), but some days it's too hot for them to stay outside for long periods of time. On those days, we try to find some fun indoor activities to help them chill out and cool off. One of our favorite new ways to do that is a game called Ice Cool, featuring our favorite critters: penguins!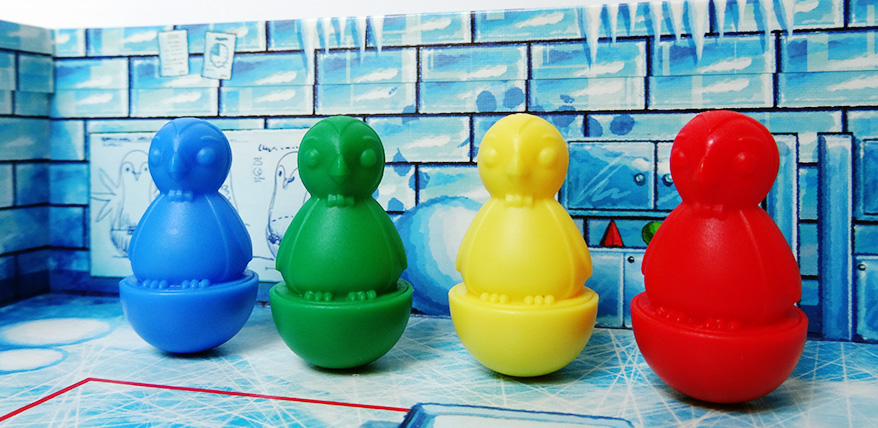 I know that so many of the games we play these days are played on consoles or computers, but this is an actual tabletop board game, which makes me happy from the start. Ice Cool is a flicking game – if you've never heard of a flicking game before, it will make sense in a moment, I promise.
A disclaimer from me to you: if you're anything like me, you best learn how to play a game by observing rather than reading instructions, so bear with me while I attempt to explain the gameplay here.
The main characters are, as I mentioned, penguins (this thrills me), and it takes place at their happy little penguin school. Just like little humans are known to get distracted in class, these penguins are bored and have decided they're more interested in catching some tasty fish instead of sitting at their desks. They're ready to go play and steal some snacks, but the hall monitor could be lurking around any corner, just waiting to take away their hall pass and send them scurrying back to their classroom.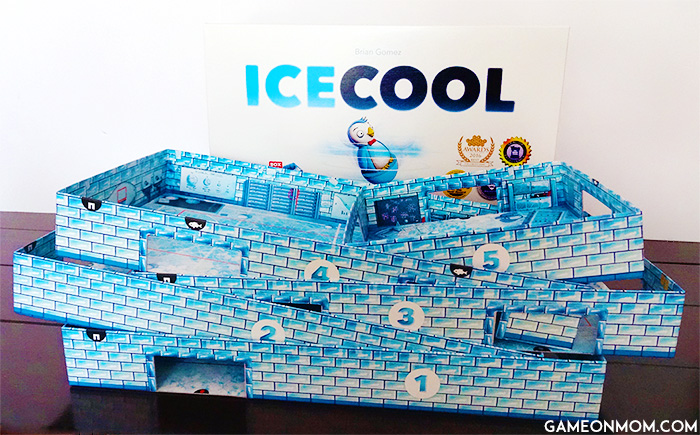 The actual construction of the game looks like a school and is created by connecting several low-profile boxes that feature door openings. (The box is the game and the game is the box!) Little fish hang above each door, just waiting to be snatched by a penguin on the run. Each box forms a "room," and there are 5 rooms in all. If you know there's a fish to be caught in the gym, for example, you'll need to move your penguin there.
This is where the flicking comes in. Rather than having a game piece that you move from square to square like many games, these little penguins have wobbly bottoms and can be flicked and spun around. You don't have to move a certain number of spots to get to your desired location. If you want to hit the gym and you have doors through which you can travel, you can flick your penguin in a way that spins it through the door(s) to get to your destination. Don't have a door, or you see the hall monitor is in your way? That's okay, too – you can just jump a wall! [Read more…]