How many of you made New Year's resolutions?
I've tried making big resolutions in the past, only to abandon them in short order.  Instead of making a bunch of plans and filling lists with goals, this year I decided to focus on just one thing: don't back down from challenges.  For most of the things I'd like to change or improve, it all comes back to the idea of staying strong and fighting through the hard times to overcome whatever challenge is in my way.  It's a catch-all resolution!
The first problem I'm going to tackle with this new resolution in mind is one of those things that no one likes to talk about, but plenty of people deal with: bladder leakage.
I know. If you have it, you probably feel like you can't talk about it, that it's too embarrassing.  In that case, maybe my New Year's resolution can benefit you, too!  I'm going to talk openly about this annoying problem in the hope that you'll feel more comfortable addressing it yourself.  In 2016, let's break the stigma.  It really doesn't have to be embarrassing!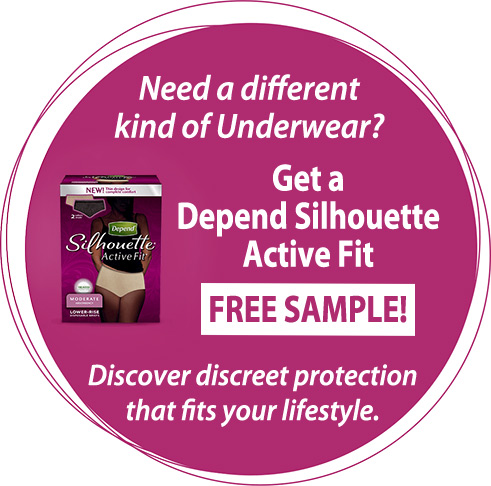 Why not?  Because it's a super common problem.  In fact, over 51 million American women experience bladder leakage.  That's 1 in 3 women!  If you have it, you can bet someone else you know does, too, even if they've never admitted it. Unfortunately, being embarrassed about a problem can prevent women from addressing it properly, which is why Depend created the #Underawareness campaign.  #Underawareness is a social movement and charitable cause that encourages people to show their support for women with bladder leakage.  For every photo or video shared on social media with the #Underawareness hashtag, Depend will donate $1 (up to $3 million) through 2016 to charities that advance research and education of bladder leakage.  Awesome!
To take part in Depend's Underawareness campaign, I thought I would tell you about my own bladder leakage issues.  Gather 'round for storytime!
I have children. Two of them. People told me all about the difficulties of childbirth and raising kids, but surprisingly no one ever bothered to tell me that bladder leakage as a result of childbirth was a thing I might encounter.  It's the kind of thing I never even considered, so it was totally unexpected and really upsetting.  I wish that people had been more vocal about the issue, because some of that initial distress could have been avoided.  This is why breaking the stigma around bladder leakage is so important. Women everywhere deal with this and keep it quiet; let's build a support system instead!  And just a note: you might also be surprised at the people you find in this support system.  More people in their 20s and 30s deal with bladder leakage than people in their 80s.  Bet you didn't see that one coming!
Back to my story.  Bladder leakage is so not fun.  Not only does it annoy me for the obvious reasons, but if affects my life in ways I never really thought it could.  I have to take time out of what I'm doing to make sure my plans cover leakage issues.  For instance, I have to make sure I have pads and protection on me all the time, just in case something happens.  Sometimes you can anticipate it, like when I'm exercising and exerting myself.  Other times, it comes out of nowhere and can really ruin my day.  If I break out into laughter, catch a whiff of too much pollen and start sneezing, or get sick and start coughing, there could be leakage.  It's a constant issue in the back of my mind, and if you experience bladder leakage, I bet you know exactly what that's like.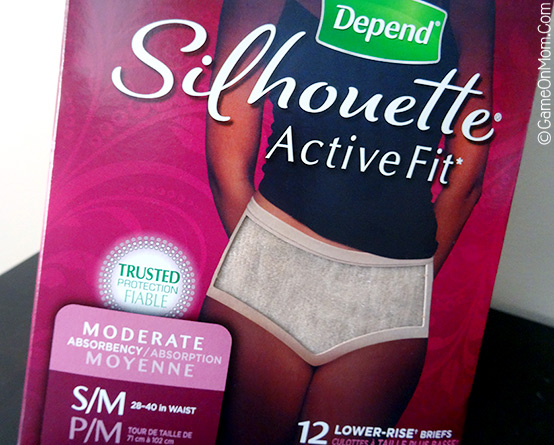 As for the aforementioned protection, there are a lot of items on the market designed to help, but some are definitely designed better than others.  You probably already recognize the Depend brand and have an idea of their basic product lines, but you might not know about one of their newest and truly great products:  the Depend Silhouette Active Fit briefs.
These are discreet, moderate-absorbency briefs featuring an incredibly thin design for comfort, without sacrificing all the trusted incontinence protection Depend is already known for.  They have a lower rise than standard briefs, so they have a more modern "underwear" look, and the best part is that they come in both black and beige colors.  That is definitely a first!  You can feel totally comfortable wearing these under your skinny jeans and feel confident that no one will notice a thing.  They really do fit like underwear!  They're made from a smooth, cloth-like material and won't bunch or wrinkle, so whether it's jeans or a cocktail dress you're wearing, you're covered.
If you like the sound of that, and I bet you do, guess what?  You can try them yourself, for free!  Hop over to get your Depend Silhouette Active Fit briefs free sample and choose which style and color you'd like.  If you try them, I think you'll like them as much as I do!
So, about that bladder leakage.  Are you ready to talk about it?  I hope so!  If you are, join the #Underawareness campaign with me and let's end the stigma.  Grab those free samples, take some fun pics and post them with the #Underawareness hashtag, and help women around the world as Depend donates $1 for every tagged picture or video.  Make sure to share some links of what you post, because I'd love to see them!