Diet-to-Go provided complimentary meals in exchange for review, and this post contains affiliate links that support this site.  All opinions contained in this post are my own.
Every January 1st, I make a resolution to lose weight and get healthier.  I stick to it a few weeks, then slack off.  The same thing happens around April, when the warm weather reminds me that we're approaching the season of shorts and swimsuits (no hiding extra pounds under winter coats!).  So I get back on track for a few weeks…and then slack off again.
Sound familiar?  It's my life every year, so I decided to analyze why I keep doing this over and over again.  The answer came to me one day at the grocery store:
There I was, wrangling two young children through the crowded organic produce section, using a phone app as a shopping list (and trying not to drop my phone), balking at the inflated lettuce and apple prices, all while trying to make sense of all the shelf labels that grocery stores make far more complicated than necessary.
I'm stressed out just remembering it.  But it was at that time I realized the problem:  making healthy choices can be way too overwhelming, sadly inconvenient, and ridiculously expensive.  The reason I slack off after a few weeks is that terrible stress.  Stress for me equals stress eating, which usually involves absolutely nothing healthy or smart.
So, I've decided that the best way for me and my family to get healthy without driving ourselves nuts is taking a Common Sense Approach.  (I'm capitalizing that because I think it's that important).  For exercise, we'll add in simple routines like parking further from the door when we go shopping, taking stairs instead of elevators, and going for family walks in this lovely warm weather.
As for meal time?  Diet-To-Go is keeping us on track!
Diet-To-Go is a healthy and delicious meal plan you can have delivered right to your front door.  My husband and I have been using them recently, and they have seriously won me over.
If you've ever tried other meal delivery plans, you might have a negative opinion of them.  Trust me, I did too.  Other plans had food that I found lacking in quality and flavor, and there weren't many options for customizing meals for very picky eaters like myself.  In other words…well…they kind of sucked.  But with Diet-To-Go, you'll be getting delicious portion-controlled meals with plenty of options to make sure everyone gets something they will love.
I'm not exaggerating when I say they're delicious.  In fact, I would consider these to be gourmet meals.  My husband actually called me from work while eating his first Diet-To-Go lunch and told me how much he was enjoying it, and dropped the word "gourmet" more than once.  These meals are great even when microwaved, and lose nothing in quality.  You can oven-heat them, but as I'm always in a rush, I wanted to make sure they would hold up against my microwave.  And they sure do!  Healthy and convenient?  Check.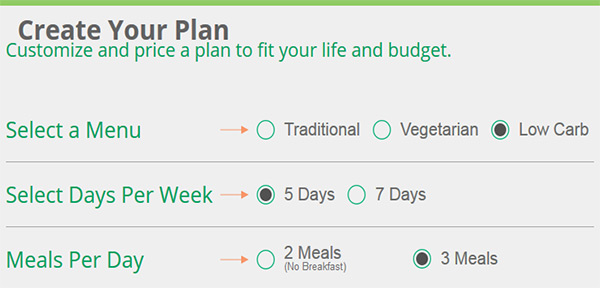 Earlier I mentioned customization:  Diet-To-Go is a picky eater's dream.  They have three base meal plans to choose from:  Traditional, Vegetarian, and Low Carb.  From there, you can further customize each plan by switching out foods and making sure every single meal will make you happy.  (Other meal delivery companies could really take notes on this.  Diet-To-Go's process is so easy!).  You'll also get to specify calorie requirements, how many days, and how many meals per day.  After that, just sit back and wait for your week's meals to arrive right at your front door!  You don't have to go grocery shopping, you don't have to mess around with complicated recipes.  Just open the magical box of food and congratulate yourself for being so clever and signing up for Diet-To-Go.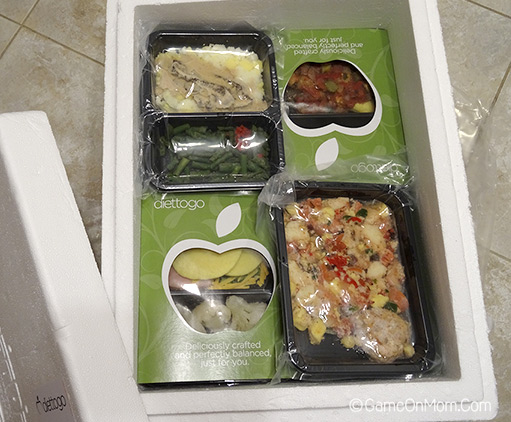 So what do you get?  Let me show you a typical meal day for me, using Diet-To-Go's Low Carb Menu.
For breakfast:  Cheese Omelette with bacon and spinach.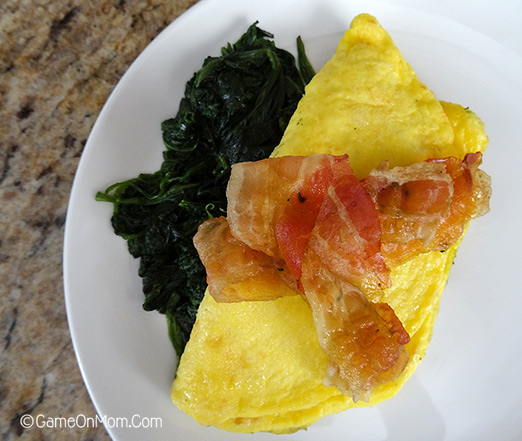 For lunch:  Fiesta Burger with guacamole and seasoned green beans, peppers, and onions.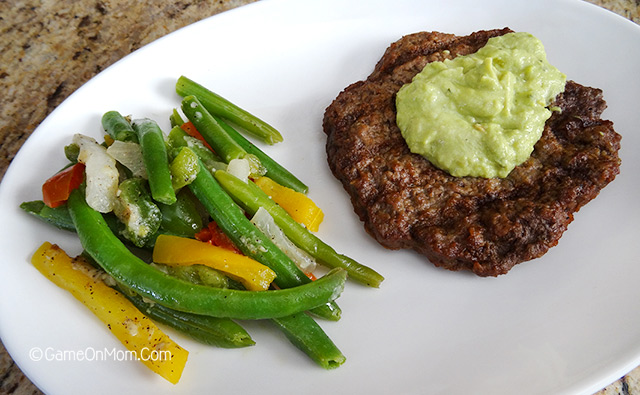 For dinner:  Pork Chop Pomodoro with Italian green beans and a sauce made from peppers and asparagus.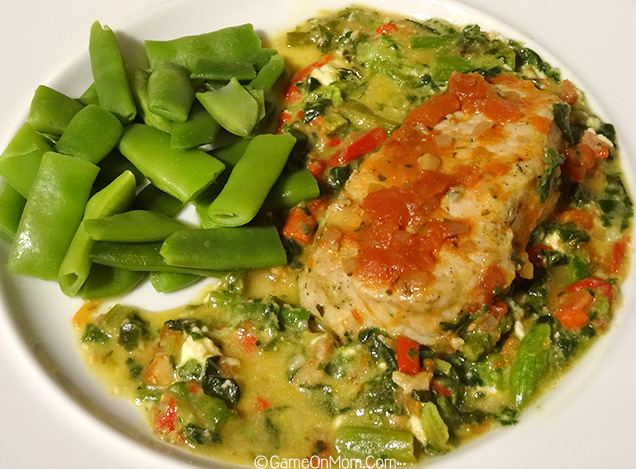 So delicious!  What else might you get from Diet-To-Go's meal plans?  Here are just a few examples:
Traditional Menu:  Apple Pancakes with Sausage, Turkey Swiss Sandwich, and Curry Shrimp
Vegetarian Menu:  Asparagus Frittata, Black Bean and Feta Wrap, and Fettucini in White Sauce
Low Carb Menu:  Western Omelette, Beef Short Ribs, and Chicken Tenders with Pepper Sauce
As you can see, the plans are truly versatile and easily customized for your preferences and needs.
I am so happy we had the chance to try Diet-To-Go.  It makes life so much easier; I just pick and choose an entire week's meals from my computer chair and wait for them to arrive at my house.  All the planning and cooking is done for me.  I also think the price is very fair.  Buying healthy food at the store, especially when recipes call for ingredients that just aren't pantry staples, can quickly deplete your food budget, just like eating out at restaurants several times a week.  Diet-To-Go has been great for me as I navigate busy days with the kids, and my husband can easily take his lunch to work with him and have the same high-quality meal his coworkers might grab at an expensive restaurant.  And dinner?  So simple.  We can dine together while eating our own choices from the meal plans.  I don't have to look for recipes we'll both love, and neither of us has to deal with leftovers we might not even want.
If you want to give Diet-To-Go a try, I have good news!  Game on Mom readers can save 25% off your first order using promo code DTGA115.  
Also, if you live in any of the following areas, you can actually pick up your Diet-To-Go weekly meals and avoid shipping costs:  Washington DC metro (including northern Virginia and suburban Maryland), Baltimore area, greater Philadelphia area (including south New Jersey), San Francisco Bay area (including East Bay), and the greater Los Angeles area.
Make sure to visit Diet-To-Go.com to learn more about how the service works, see the differences in meal plans and pricing options, and find great information on taking a Common Sense Approach to healthy eating and weight loss.