Snoopy Pop Game Launches Today + Samsung Galaxy Tablet Giveaway!
I'm writing this post on the heels of a very stressful day. You know those days where it feels like you're herding cats and putting out fires all over the place? It's been one of those. It all started the moment I woke up (late) and the day isn't over yet. Yikes!
Ironically, my stressful day is actually a perfect backdrop for this post, because I get to share one of my favorite ways to relieve stress and chill out:  fun little game apps I can play on my phone. I have always enjoyed the occasional video game, and since smartphones and tablets have become a daily staple, I love having a variety of games at my fingertips. I'll be honest with you: if the going gets tough, I've been known to escape to the bathroom to play a few rounds of some game or other on my phone, and I bet I'm not the only one. Game apps are also a great way to kill time while you're doing boring things like waiting at the doctor's office.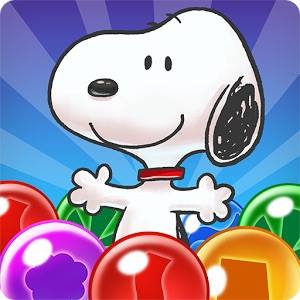 When you combine the fun of a game app with the national treasure known as Peanuts, you should already know I'm 100% ready to play, which is why I am so excited about Snoopy Pop!
Snoopy Pop is a brand new game created by Jam City, the company behind games you or your kids may already play, like Panda Pop and Marvel Avengers Academy. Snoopy Pop is officially launching today, July 12, but my family was thrilled to have a chance to try out the game in advance on a Samsung Galaxy tablet. We all love it!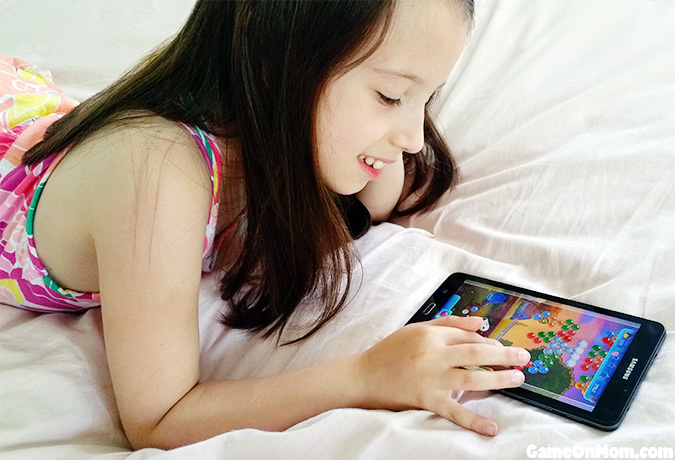 Like Panda Pop, this is a bubble shooter game. I personally love bubble shooters because they're challenging enough to be fun, but not too difficult for kids. In fact, Snoopy Pop appeals to my entire family, and we've all taken turns enjoying some time with the game. Have a look at the game trailer to get a sneak peek at the gameplay:


When playing Snoopy Pop, your goal is to help Woodstock and his flock of friendly bird friends–including the bird scouts!  They've become trapped inside bubbles, and it's Snoopy (and you) to the rescue! By shooting bubbles on a variety of fun levels, you can free Woodstock and collect characters, game pieces, boosters, and more. Along the way, Snoopy gets help from friends you'll recognize (Charlie Brown, Lucy, Linus, and Sally), and there's even a chance for Snoopy to fight the Red Baron to rescue Woodstock. We all know he's a top WWI flying ace, and you can help him prove it!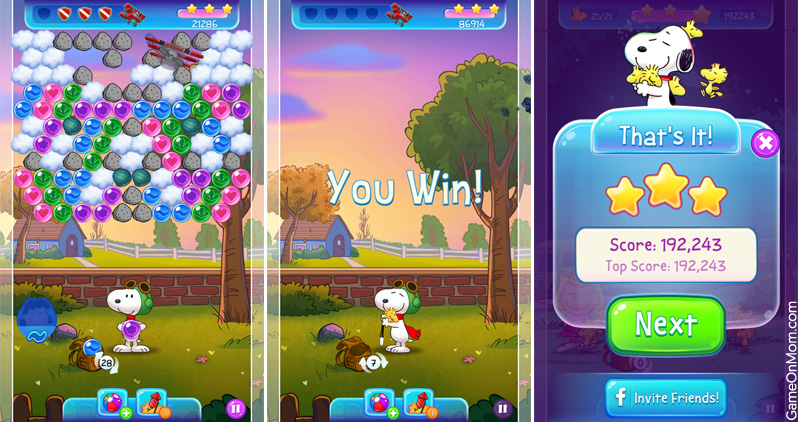 The graphics of the game are bright and colorful, and exactly what you would expect from a quality Peanuts game. It features familiar music licensed from the Peanuts series, which automatically makes me smile. My kids really love the sound effects and the challenges, and they enjoy playing so much I've had to force them to take turns. And I want a turn now and then, too, obviously.
The game will also update regularly: you'll get brand new levels, characters, and worlds weekly, and there will also be events based on classic Peanuts stories and holiday specials. I'm pretty excited to play this during Halloween!
The game launches today, so download Snoopy Pop and save the birds!
Giveaway
Jam City is giving one lucky Game On Mom reader a Samsung Galaxy tablet preloaded with the Snoopy Pop game!  It's the perfect way to play, so enter now via the Giveaway Tools form below.  Giveaway is open to US residents who are 18 and older.  Ends 7/26/17 at 11:59 PM ET.  Good luck!