How Samsung is Making Family Life Easier & More Connected in the Kitchen
Since I know none of you have been living under rocks, I know you're all familiar with the Samsung name. Like me, you may have had numerous Samsung phones over the years, and you may have a Samsung television or tablet streaming your favorite show as we speak.
When you read "Samsung" above your first thoughts may have automatically jumped to "entertainment" – I'd be lying if I said mine didn't. But Samsung is far more than entertainment and communication; did you know they also make home appliances? I was recently introduced to their Family Hub Refrigerators at the Samsung Connected Kitchen event, and they're probably the coolest kitchen appliances I have ever seen.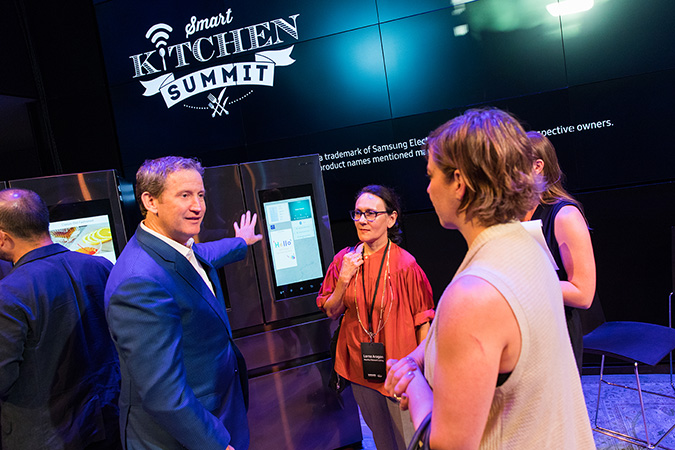 To call it a refrigerator doesn't do it justice. Just like a cell phone is so much more than a telephone, the Family Hub Refrigerator does far more than chill your food. As the name implies, it's a family hub – a place to connect, share, and even entertain.
The Family Hub Refrigerator features a giant digital touchscreen display (seriously, it's almost as big as one of the fridge's French doors), and it's essentially like having a computer built right in.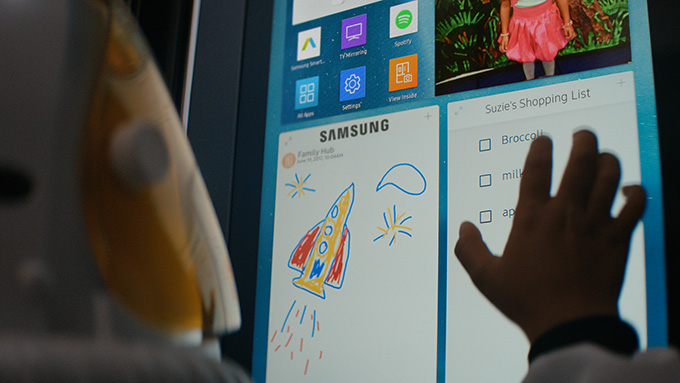 The tech side of this fridge is unmatched. Because it's connected to the internet (and thus the entire world), you can use it to build shopping lists and place orders for food and grocery delivery. You can also browse for recipes using a built-in AllRecipes app. Oh, did I mention that the AllRecipes app is voice-enabled, so you can just talk to your fridge and get the perfect risotto recipe? Yeah. You can do that. You can also set up profiles for every member of the family, and they can use those profiles to share pictures, handwrite memos and notes in real-time. You can even share those pictures or write those memos from a totally separate location by using a smartphone app.
The Family Hub is also a great source of entertainment. I know many of you enjoy listening to music while you cook or do chores, and so do I. With this refrigerator, you can stream music or videos from partners like Pandora, Spotify, and TuneIn. I've also been known to set up my smartphone or tablet in the kitchen to stream my favorite shows while I cook, and the Family Hub can accommodate that, too. By streaming directly from a Samsung TV, you can watch anything you want while you whip up a tasty dinner.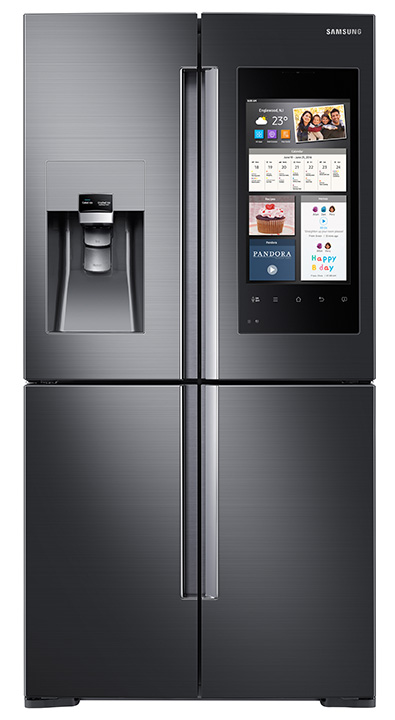 As for the refrigerator's design, you have choices. It comes in sizes ranging from 22-28 cubic feet in capacity, and there are three door choices available: 4-Door Flex, 4-Door French Door, and 3-Door French Door. The 4-Door Flex is by far my favorite, as it features a triple cooling system. It has your standard French door refrigerator design on top, but the bottom is really something special with its own set of 2 doors. The left one is your freezer, and the right one is a brilliant Flex Zone that features a whine rack and an optimal beer and white wine temperature setting and allows you to convert your freezer to the fridge and back again. The Family Hub also has high-efficiency LED lighting and 3 built-in cameras that let you peek inside your fridge via your smartphone while you're standing in the milk aisle wondering if you need to buy more. I can't even tell you how much that idea excites me!
I feel like we've finally entered the age of the flying car, guys. This has to be the most awesome refrigerator I've ever seen, and I'm seriously in awe. There's much more to learn beyond what I've shared today, so make sure to visit Samsung.com to watch videos and get an in-depth look at the Family Hub.