5 Reasons Big Kids Love Dutch Wonderland Too
My kids and I truly have a lot in common. We share the same silly sense of humor, a mutual love for musicals, and we all love a good amusement park more than just about anything!
Some of my happiest childhood memories take place in amusement parks. From the rides to the snacks to the smiles on everyone's faces, they're just an incredibly enjoyable place for me and my family. We've been to pretty much all of them, large and small, and we all get giddy at the thought of a day at a theme park.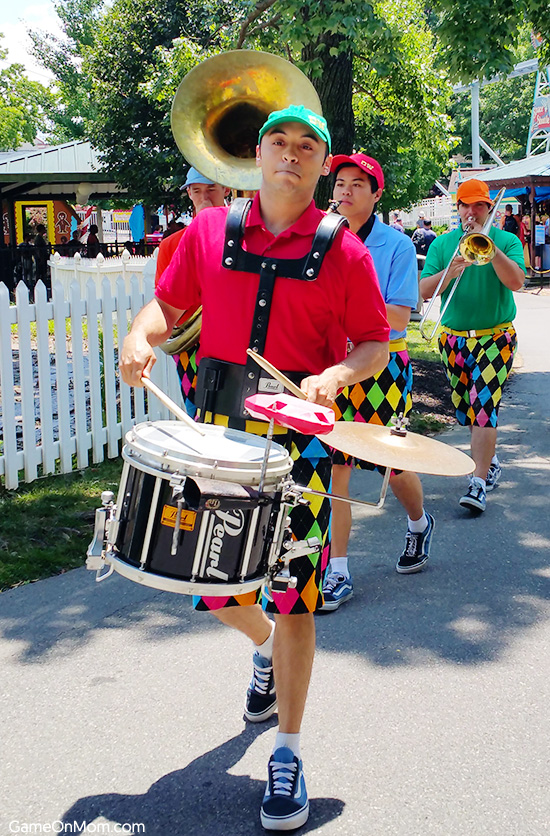 Dutch Wonderland is an amusement park somewhat near us, right in the heart of Pennsylvania Dutch country in Lancaster, PA. We recently visited, and we all had an absolute blast! I feel like Dutch Wonderland has a reputation as being geared toward only very young children, so I'm excited to share some of my family's favorite attractions – I want to prove that older kids (and adults, too) can have a great time and a full day of fun! My kids have visited some of the largest theme parks in the country, and have ridden every exciting attraction they're tall enough to ride, so they're not strangers to the exhilaration of crazy roller coasters or drop rides. That said, even though you won't find things like inverted coasters here, my kids still love every minute of their day at Dutch Wonderland.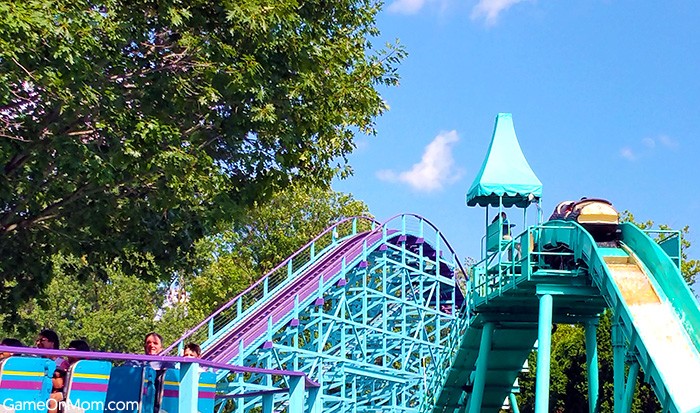 1. Rides
My favorite things at any theme park are the rides. You show me one, and I'll do it – I love them! Some of the rides at Dutch Wonderland are indeed very gentle and fun for even the youngest kids at the park, but there are also rides the whole family can enjoy. Older kids and adults will love our favorite rides, including the Kingdom Coaster, the Sunoco Turnpike, the Wonder House, and the Double Splash Log Flume. They're all fun and exciting without being over-the-top crazy, so even hesitant riders can enjoy many of them. I especially love any log flume ride, and the Double Splash is at the top of my list. There are plenty of other rides I haven't listed, so check out the full lineup here. There's even a new roller coaster under construction, and we're looking forward to revisiting Dutch Wonderland to check it out!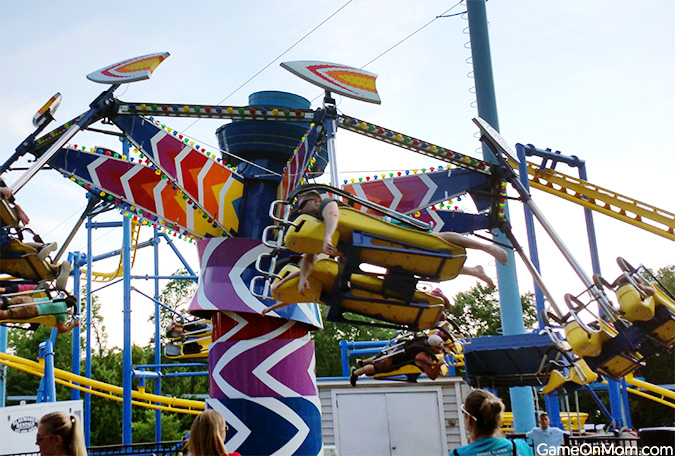 2. Special Features
One of the things that makes Dutch Wonderland so special is all the fun attractions and events you can take in as you stroll through the park. At any given moment, you may run into Princess Brooke or Duke the Dragon, so there's a potential photo op around every corner. You can also do unique things that I guarantee you won't find at other theme parks; for example, you can milk a cow!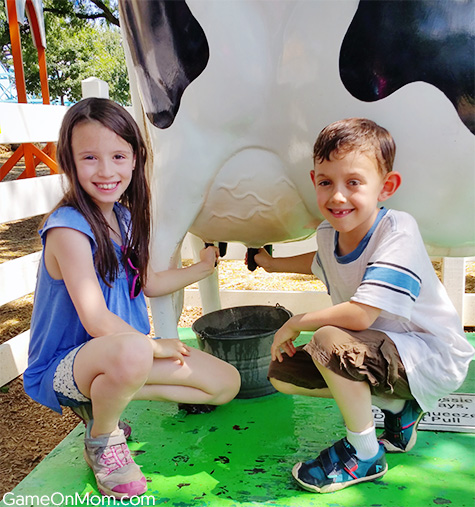 Remember, you're in the heart of Pennsylvania Dutch country, and the park reflects that. You can also take a horse and buggy ride, hang out with the park band, pose with The Pretzel, and more. These little things really make Dutch Wonderland stand out as something culturally unique.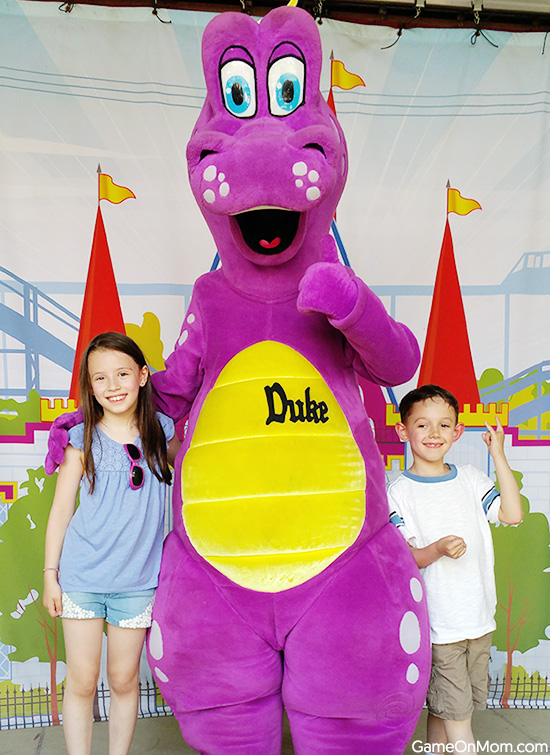 3. Duke's Lagoon
If it's a hot day and you're ready for some fun in the water, you'll want to head straight to Duke's Lagoon.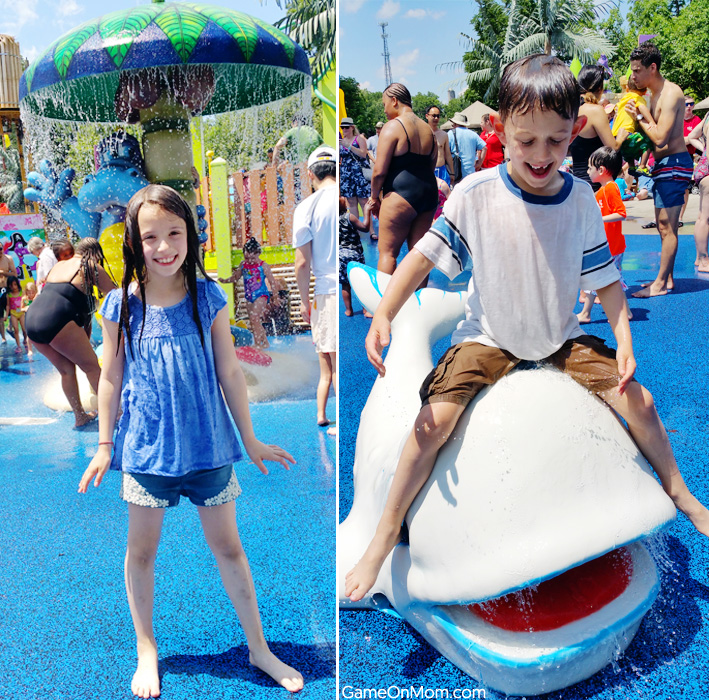 It's like a tropical oasis for kids of any age. When we start getting a little too warm in summer months, my kids love to hit this themed water play area because they can get wet and have a lot of fun doing it! They can play on a multi-level waterplay platform with kid-sized slides, and enjoy things like tipping buckets and cone, and bubblers. There's also a lounge with palm trees and umbrella shaded areas with plenty of places for mom or dad to chill out while the kids run wild.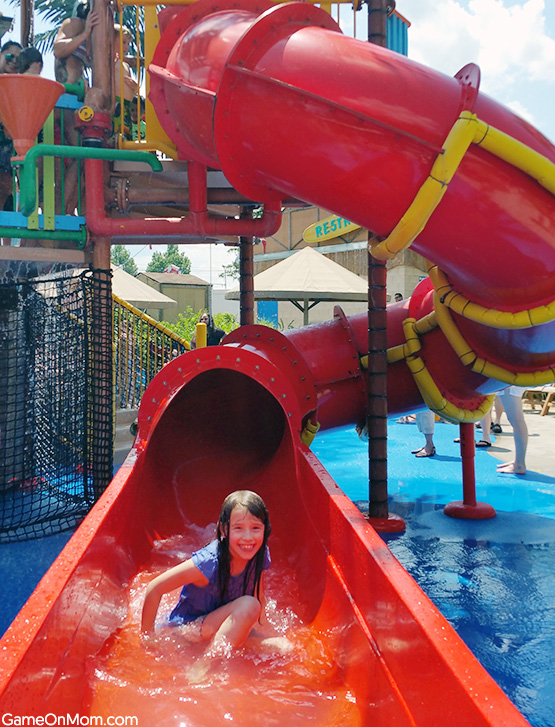 This area of the park is included in the regular admission, and if you forget your bathing suits like we did, that doesn't have to stop you from enjoying Duke's Lagoon.  It certainly didn't stop my kids!
4. Feeding the Ducks
Sometimes you need a little rest or quiet moment between exciting attractions, and our favorite thing to do is head straight for the ducks.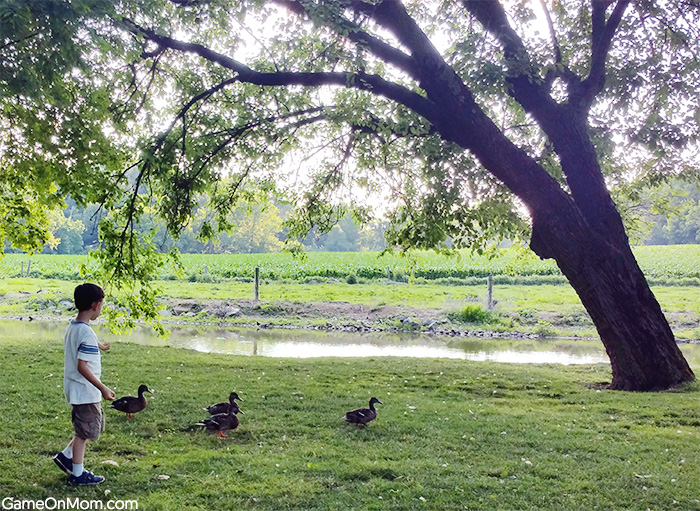 There are coin-operated duck food dispensers, and so you can grab a handful of food, find a shady spot to sit, and enjoy a rest while you feed the cute ducks. My kids honestly have as much fun doing this as anything else in the park, and I love to watch them run and play with the ducks while I catch my breath. It's just one more special thing that sets Dutch Wonderland apart from the rest.
5. Exploration Island
This is a relatively new addition to Dutch Wonderland, and it provides kids an opportunity to play and get a little glance into the past.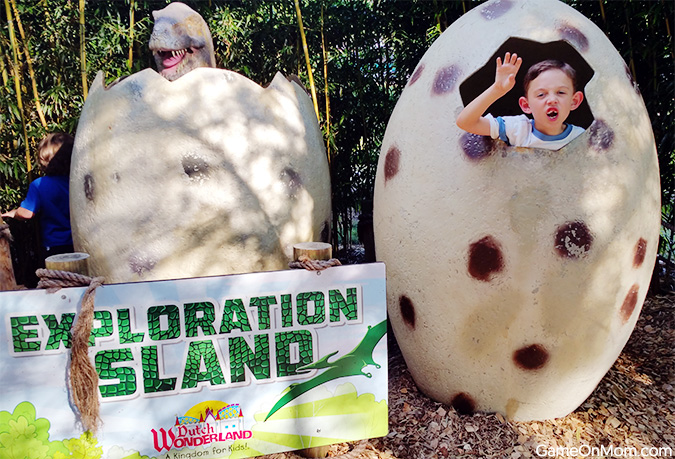 Exploration Island features Dino Dig, where your little explorers can "dig" at an open air site for, you guessed it – dinosaurs. They'll find T-Rex footprints, and Triceratops and Stegosaurus fossils buried in the sand. They can also follow the Prehistoric Path, where they'll see lush pathways and animatronic dinosaur families, each with a story, facts, and trivia to share.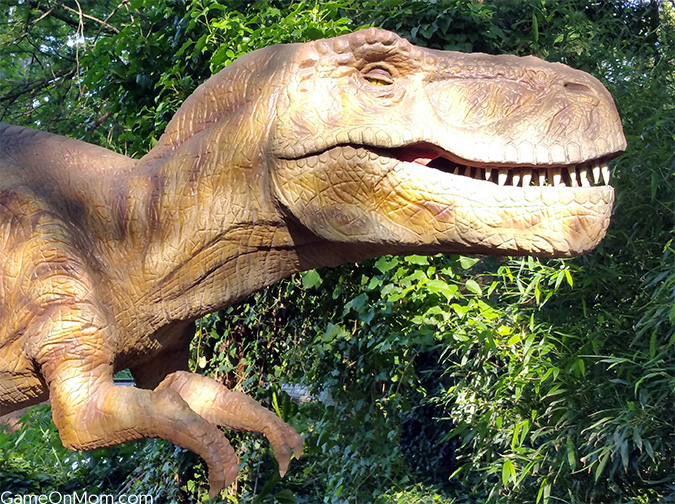 Our entire family enjoyed Dutch Wonderland, and there are plenty of attractions to keep kids of any age entertained and excited. There are far more activities that just the ones I've listed, so make sure to visit DutchWonderland.com to learn more!
Game On Mom readers can save $4 on a one-day Dutch Wonderland admission!  Use promo code GameOnMomSBlog17 to get your discount Dutch Wonderland tickets this season.