Save the Planet with Dad's Pants + Haggar Giveaway
Growing up, I lived with my grandfather. He was an amazing man, and I have more fond memories of him than I can begin to count. One of my favorites is of when I would sit on the bathroom counter and watch him get ready for his day. He'd sing Frank Sinatra or Tony Bennett to me while splashing his face with Aqua Velva and combing some sort of oily substance through his hair.  His uniform for this daily routine was an undershirt (do men still wear those?) and a pair of Haggar pants.  But my grandpa called them slacks.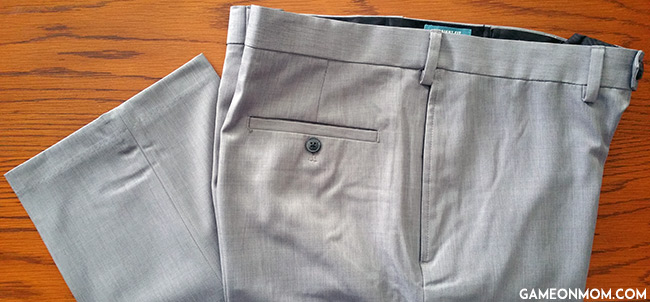 He had a closet full of Haggar "slacks", and I can't remember him wearing anything else (except maybe a bathing suit in the summer). He liked to look nice at all times, but he also insisted on being comfortable. This is what Haggar has been doing best since 1926, so it's no surprise it was his favorite brand. That was way back in the 80s, and in my opinion, Haggar has only gotten better since then. They're still making stylish, quality apparel that's comfortable to wear, but now they are also one of the first men's pant brands to offer eco-friendly and sustainable options.

Yes, my friends.  Earth-friendly pants are a thing, and I'd say it's about time.  Haggar's E-CLO Stria Dress Pant and their Life Khaki Sustainable Chino are both made with REPREVE, a fiber made of recycled materials.  Six water bottles are used in the production of each pant, enabling Haggar to save more than 125 million water bottles from entering landfills.  It sounds like magic, but it's really quite simple.  Plastic bottles labeled with #1 on the bottom are made of a polyester called PET.  These PET bottles are ground into flakes and transformed into REPREVE threads that are woven into fabric.
That's a pretty special pair of pants, and the bonus is that you're not sacrificing style or comfort for sustainability.  Whether you wear the dressier E-CLO Strias or the more casual Life Khaki Chinos, you're going to look good.
You'll feel good too.  The REPREVE fabric stretches for comfort and wicks away moisture to keep you cool.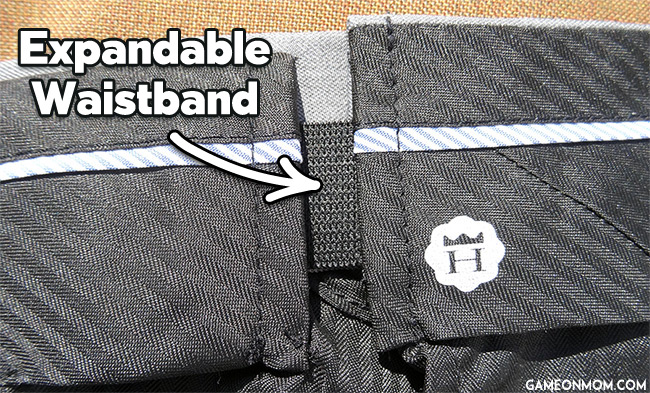 The E-CLO pants even have a hidden expandable waistband that stretches up to 3 inches and they're no-iron.  Both pairs are machine-washable, and since I'm in charge of laundry, that's my favorite feature.
My husband is very happy with the E-CLO Stria pants that Haggar sent us to try.  Comfort is a priority for him, and these fit the bill.  They're super soft, and don't tell him I told you, but he appreciates that hidden waistband.
What's better than looking good and feeling good in your clothes?  Looking and feeling good in them and about them.  That's what you get with Haggar, and with prices of $65 and $70 that are frequently discounted to just between $30 and $35, you can't beat the value.  You can get both pants at Haggar.com and Amazon.com as well as major retailers like Kohl's, JCPenney, and Macy's.
The value is about to get even better.  My readers can get $10 Off When You Spend $60 or More with Code 10AFF17
or $15 Off $100 or More + Free Shipping with Code 15AFF17
.  These aren't specifically for Father's Day, but it's the perfect time to take advantage of these deals.
Haggar is also giving Game On Mom readers a chance to win a pair of E-CLO Stria Dress Pants!  Enter via the Giveaway Tools form below.  Giveaway is open to US residents who are 18 and older.  Ends 6/19/17.  Good luck!