The New VIZIO SmartCast Sound Bar System Has Chromecast Built Right In!
I remember the days when televisions were televisions, radios were radios, and we had cassette players in cars like it was yesterday.  Ah, the simplicity of a small selection of channels to choose from, and the satisfaction of popping in that brand new mixtape your crush made you…
Things are all-in-one these days, and as much as I miss the simplicity of days gone by, I really do love the convenience of having plenty of tech options around my home–especially when it comes to audio.  Two of my favorite things to do are listen to music and watch movies, so good speakers are kind of a priority for me.  The sound that comes through a television's built-in speakers, however, is often underwhelming. I'm the kind of person who loves good, strong, rich audio whether it's movies or music–a good sound system is a must when buying a new car, so of course I want that kind of premium sound in my home too. Sadly, TV speakers just don't really do it for me.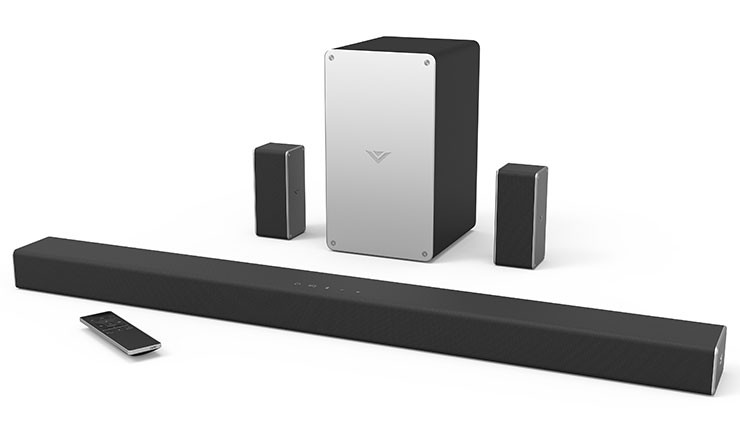 In addition to wanting good sound, I also want something low profile that won't stick out like a sore thumb, as well as something cost-efficient. I know, I'm picky. But these are my requirements, and they're happily met by the VIZIO SmartCast Wireless Sound Bar System, which we received in exchange for review.
We've been using this sound bar system in our home for the past month, and we've been really pleased with its performance!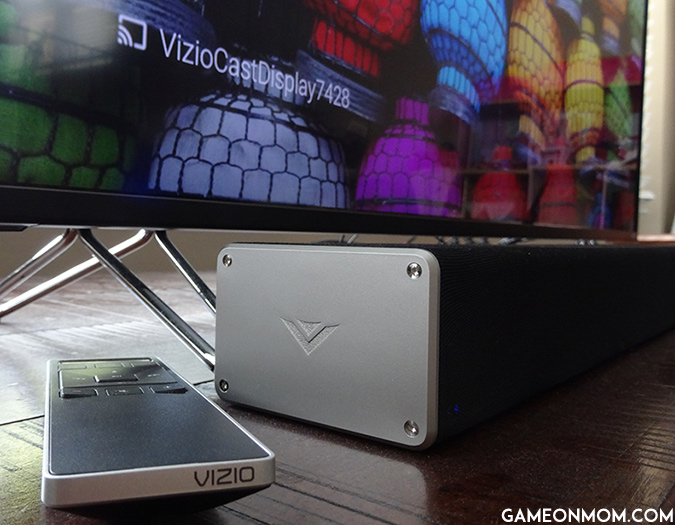 The setup was incredibly easy and only took a few minutes. For once, the included instructions were clear, well-written, and featured lots of helpful illustrations. I really wish more companies would use VIZIO as an example here, because they honestly made installation a breeze.  You can wall mount your speakers or go with a simple table top like we did–what ever fits your space best.
As for the sound quality, we've been impressed. The last time we went shopping for a sound bar, we tested and returned three of them before we found one that actually seemed to make a difference. Since we've used so many of them, I feel confident that this one is awesome – it definitely beats the competition. The dialogue is really clear, which is important when you're watching movies with kids who won't sit still or keep quiet.  Have you ever discovered new dialogue in a movie you seen millions of times before?  I'm always fascinated when that happens, and this system will do that for you.   The bass sound is great too, and while it won't disturb your neighbors, it will add an extra level of depth that will make you feel like you're watching in a real movie theater or listening at a live concert.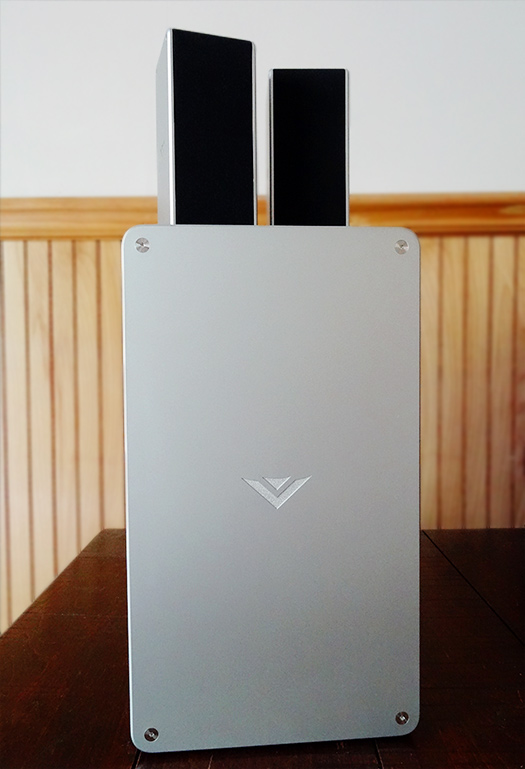 And now we come to what I love best about this sound bar system.  As a family, we have just loved what the VIZIO Sound Bar has done for our weekend movie night experiences, but I'm the one who really gives it a workout.  In the past, I've mentioned how I almost always have music playing in the house, and during the workday, you can bet either Pandora or Spotify is on in the background.  Since Chromecast is built right in, you can play audio from any Chromecast-enabled app, and that's just what I've been doing.  With a simple tap, I cast my music directly to the sound bar–no TV power required.  I wasn't unhappy with the single speaker I was using previously, but a nice 5.1 system is definitely a big sound upgrade.  With the satellite speakers and subwoofer, it provides a much richer surround sound that really does fill the whole room.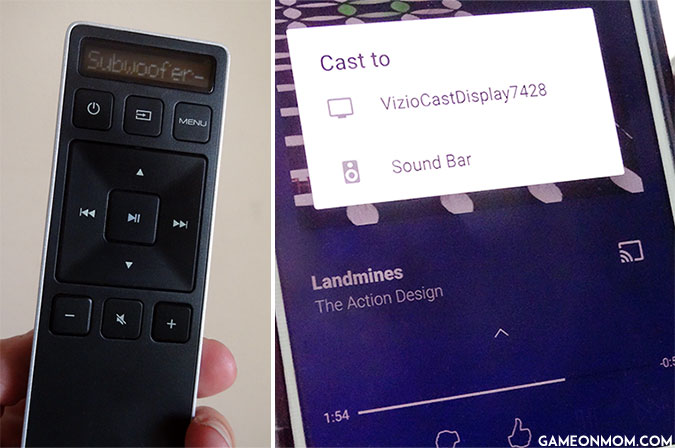 The sound bar system comes with a remote control for basic functions like subwoofer settings and volume, but you can also control it with your mobile device through the VIZIO SmartCast app.   Again, you can cast directly from within a Chromecast-enable app, but if you have multiple SmartCast devices, the app is an easy way to control them all from one place.  It's also Bluetooth-enabled, and if you're a Google Home user, you can even control the sound bar with your voice.  There are a lot of options here, but don't be overwhelmed.  There are real, printed instructions for setting up everything.
If you're looking for new speakers for your home entertainment system, I think you'll really like the VIZIO SmartCast Wireless Sound Bar System.  With tons of great features and superb sound quality for just $249.99, it has to be one of the very best values out there for sound bars.  Check it out at Vizio.com.