Natural Bug Repellents that Work + Bug Band Prize Pack Giveaway
As you know, we at Game On Mom think that natural is best, whether it's the food we eat or products we use on our bodies.  We hope you've found our recent posts on safe sunscreens and lip balms with SPF helpful, and we're continuing the natural summer theme with some recommendations for insect repellents.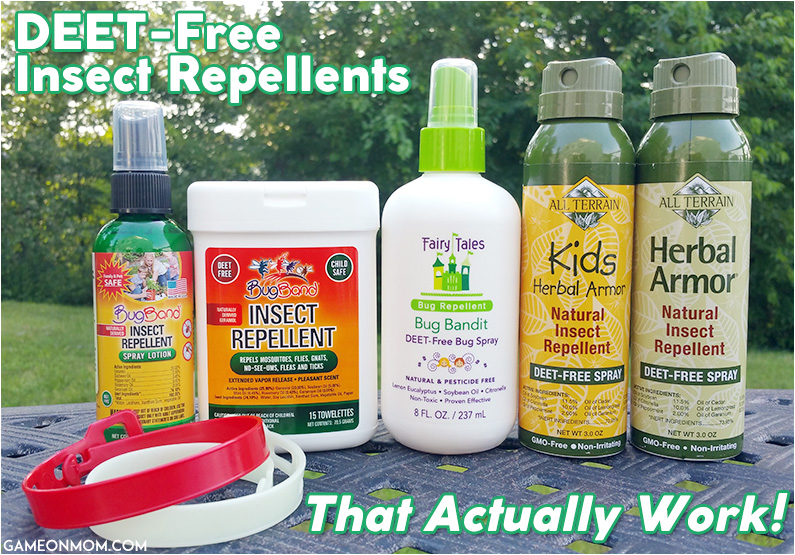 Have you ever read the label on a can of insect repellent?  When a product starts off with a warning about it being hazardous to humans, I'm inclined to leave it on the shelf.  You can argue all day long that chemicals like DEET are safe to use, but you will never convince me that chemicals in general are a good thing.  When those chemicals can also be used to melt plastic and rubber, then I'm going to have an especially difficult time applying them to my skin.
Honestly, I'd rather not be spraying my kids or myself with anything at all.  Were it simply a matter of being bumpy and itchy, we could deal with that and go spray free.  Sadly, I've seen too many people get Lyme Disease in my time, and with the possibility of contracting that and so many other infections and diseases from pests like mosquitoes and ticks, it's just too risky to go out unprotected.  Rather than avoid outdoor summertime fun, we have a few natural alternatives that we've come to rely on.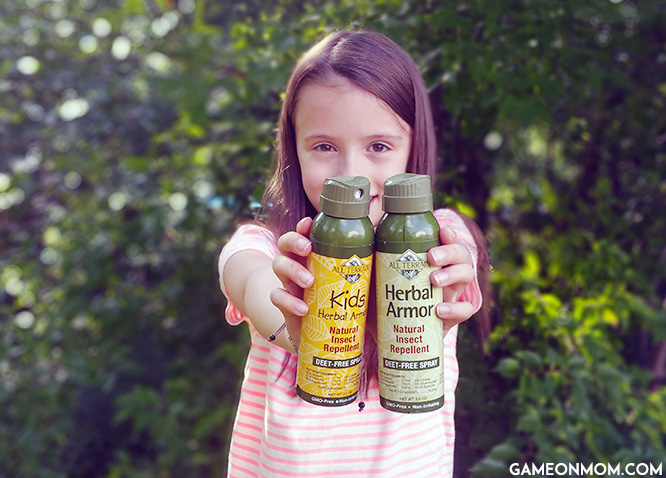 All Terrain
This is a brand I only discovered this year, and I'm so happy I did.  I've been loving their sunscreens, and their insect repellents work just as well.  All Terrain has repellent sticks that you can use in your yard, as well as Herbal Armor and Kids Herbal Armor sprays for your skin.  Their new continuous sprays have become a summer staple around here, as they're environmentally-friendly and deliver complete coverage at any direction or angle.  They're DEET-free, of course, but they're also GMO-free, and that's not a feature I've seen in many bug sprays.  I haven't really been able to detect a difference between the regular and kids versions, so I've been using them interchangeably and with great results.  They both have a strong herbal/floral scent that lasts longer than the scents of other brands I've tried, but I've also found that I don't need to reapply this one as often, which makes it more than worth it for me.  Its 3 oz. size makes it ideal for travel too.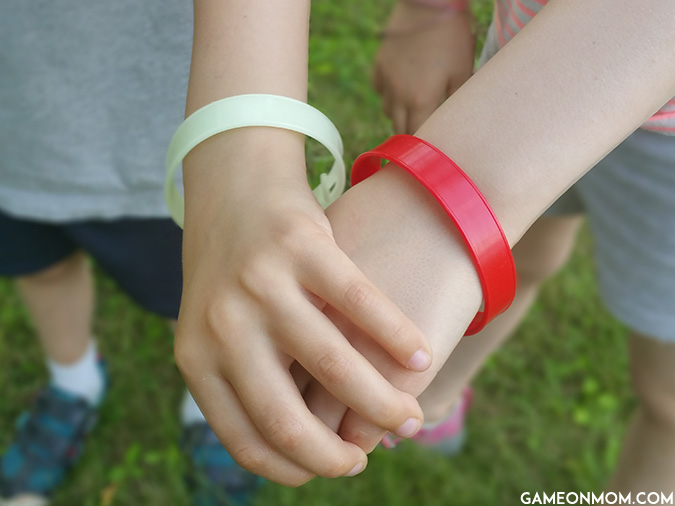 The BugBand brand offers a wide variety of bug repellent options, such as sprays, towelettes, diffusers, and, of course, bug bands.  Naturally derived Geraniol accounts for 20% of the active ingredients in their products, and it's proven to be quite effective against pests like mosquitoes, ticks, fleas, flies, fire ants, and more.  Everything is DEET-free and safe for the whole family.  Their CFC-free spray lotion comes in three sizes, including a 3 oz. bottle that is air travel safe. The reusable towelettes are available in mulitiple sizes and are perfect for using on your face and neck.  I also like them for applying to the ankle area when I'm wearing pants and don't want to spray my legs.  My kids love the adjustable BugBand Wristbands because they can use them while they're swimming, and one version even glows in the dark.  (That makes chasing fireflies at night even more fun for them!)  I like that the bands last for up to 120 hours and come with a reusable storage pod.
Fairy Tales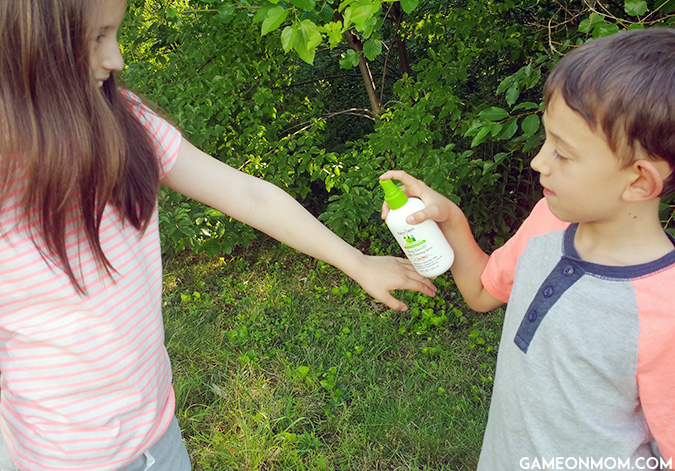 We've been using their Bug Bandit Bug Spray for at least a few summers now, and its efficacy seems to have actually improved over the years.  It has an herbal scent that's strong but fades after a couple of minutes.  Ingredients include citronella oil, soybean oil, rosemary leaf oil, and lemon eucalyptus oil.  You will not find DEET, pesticides, parabens, pthalates, or alcohol, and it's gluten, dairy, and nut free.  When I accidentally spray too much, it can feel a little sticky, but this only happens when I'm in a rush, and it absorbs pretty quickly anyway.
I think the key to using natural insect repellents is to remember to reapply.  Just like sunscreen, reapply frequently for the best protection.  That might make them a little less convenient than sprays with DEET, but in my opinion, it's well worth the effort.
Giveaway
Our friends at Bug Band are generously offering Game On Mom readers a chance to win an amazing prize pack valued at $65.  The lucky winner will receive a family pack of wristbands, a diffuser, a box of diffuser refills, a 6 oz. spray, and towelettes!  Giveaway is open to US residents who are 18 and older.  Ends 7/16/17 at 11:59 PM ET.  Good luck!