A Motorized Umbrella that Opens AND Closes with the Touch of a Button + Giveaway
How's the weather where you are?  The sun is trying to come out here, but lately, it's been rainy more often than not.  Don't tell my husband, but I have a Father's Day gift that will help him keep dry and looking pretty snazzy during his daily commute in less than perfect weather:  the ShedRain e-Motion™ Motorized Open & Close Compact Umbrella.
Note the "Open & Close" in the name.  With the push of one button, the ShedRain e-Motion can be both opened and closed, and the canopy doesn't just close, it also slides all the way down to the handle.  That means you only need one hand to operate this, so you can go ahead and do what you like with the other hand.  I suggest using it as a bagel holder, but if you'd rather carry a briefcase or a coffee, I'll understand.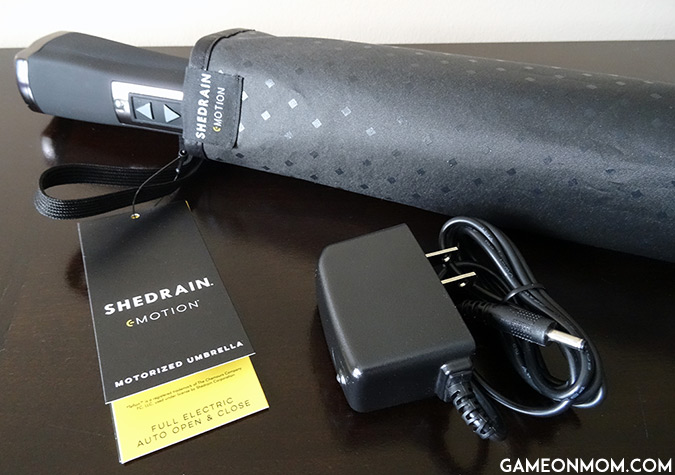 I can honestly say this is my first experience with a battery-powered umbrella, and it's just as cool as it sounds.  The built-in, rechargeable battery is responsible for the motorized magic of the e-Motion.  The package includes an international voltage charger (100-240V), and you get between 120-150 open/close cycles per charge.  That's a lot of rain between charges.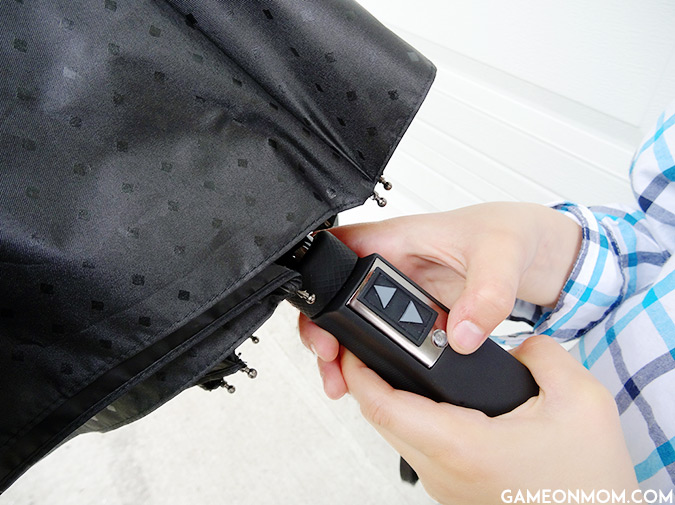 Press and hold the Up Arrow to open. Press and hold the Down Arrow to close.  Easy peasy.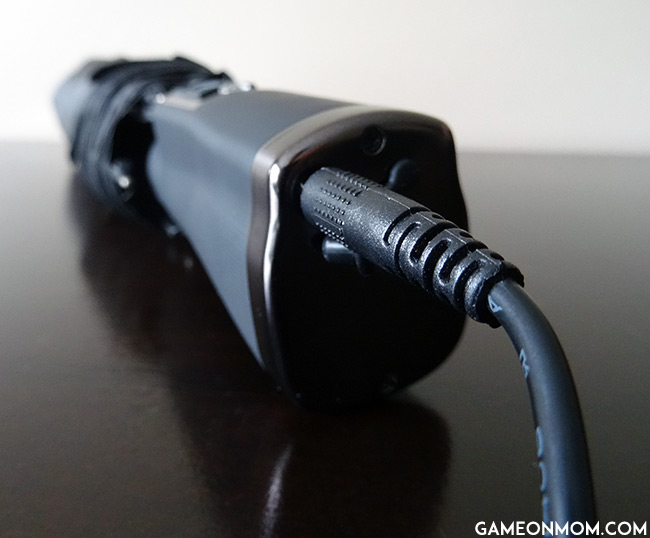 The LED light on the handle will turn red to let you know it's time to charge.  (Another sign is if the umbrella opens and closes slowly.)  Once it's fully charged, the light turns green.  Don't worry if you forget to charge it; the ShedRain e-Motion will also operate as a manual umbrella.
This is a nifty gadget, and it's made me think of an umbrella as a tech item for the first time ever.  It's more than just a gadget though–it's a really nice umbrella with or without the motorization.  As you might expect, there's a little more heaviness in the handle than you find in your average compact umbrella, but overall it's fairly lightweight.  The frame is made of fiberglass and aluminum, and the fabric is coated with Teflon.  It's a very sturdy umbrella, and I can see this being just what my husband needs on those rainy and windy days in NYC.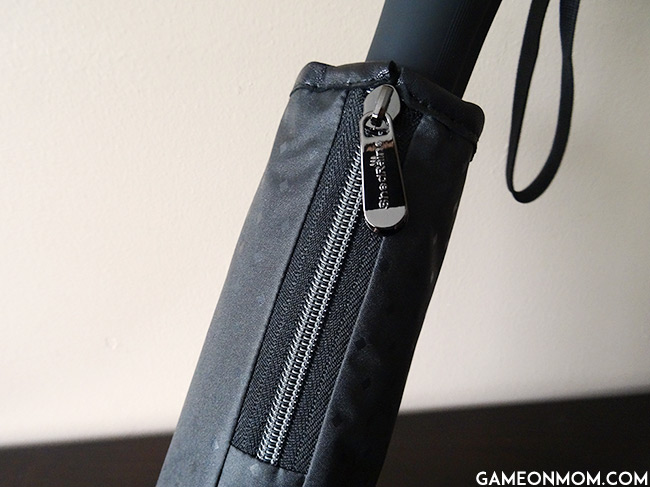 Another feature worth mentioning is the case.  Getting a case back onto an umbrella can be like trying to refold a map.  This case that comes with the ShedRain e-Motion is roomy AND it has a zipper.  You will not have any problems getting this cover on over a sloppily closed umbrella, and despite it's roominess, the cover stays put.  The fabric is nice and thick too.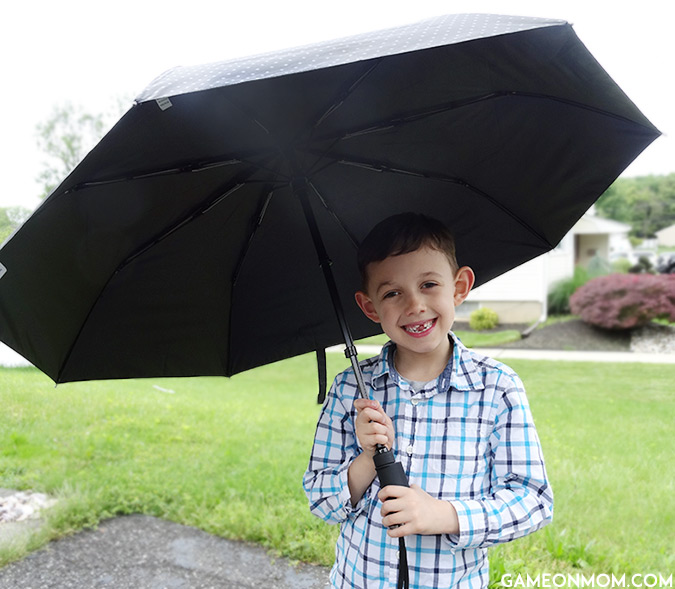 The ShedRain e-Motion can be purchased at ShedRain.com for $99.00.  You might be thinking that's a heavy price tag, but let me assure you, this is a very high quality umbrella.  Once you get your hands on one, you will be able to feel the difference.  ShedRain offers a limited Lifetime Warranty, and every umbrella they make is designed to hold up in adverse weather conditions and withstand the stresses of use over time.  I'd say this one umbrella is worth about a billion of the ones my husband buys in the city.   Okay, that's an exaggeration, but seriously, this is the real deal.
ShedRain is generously offering Game On Mom readers a chance to win an e-Motion Motorized Umbrella!  Giveaway is open to US residents who are 18 and older.  Ends 6/23/17 at 11:59 ET.  Good luck!