Lightning Strikes this Friday when Cars 3 Comes to Theaters + $25 Fandango Gift Card Giveaway with THREE Winners!
My son's bedroom has been decorated with a Cars theme since he first saw the movie back when he as just two years old.  Lightning McQueen has been one of his very favorite characters ever since, and as you can imagine, we've seen Cars more times than I can count.  Needless to say, he was VERY excited when he learned that Cars 3 was coming out, and he'd been waiting rather anxiously to see it.  The big moment finally happened for us last night.
Over the past couple of months, I've heard people expressing concerns over the new addition to the Cars franchise.  Some didn't like what they saw in the trailer–no one wants to see our beloved #95 hurt, right?  Others were disappointed in Cars 2, and I have to admit, I happened to be one of those.  Still, I had hope, and after seeing the extended sneak peek of the film at the Cars 3:  Road to the Races Tour, I was pretty confident I was going to like this one.  I was right.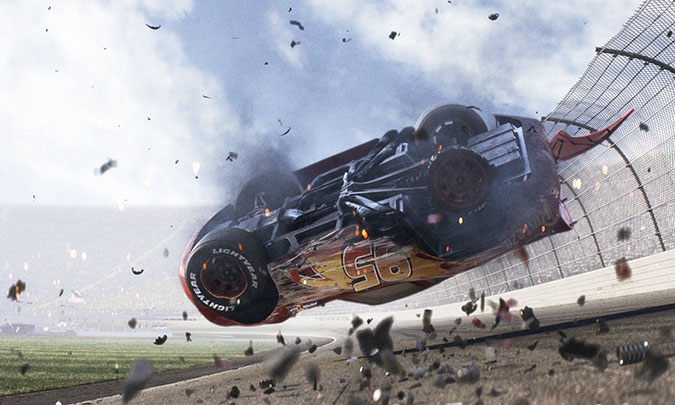 After more than a decade of racing, Lightning McQueen finds himself surrounded by younger, faster cars.  A devastating loss to his main rival, Jackson Storm, prompts him to team up with  high-spirited, high-tech trainer Cruz Ramirez, with the hope that she can keep him from having to retire and become just another brand promoting merchandise to his fans.  Lightning only has one chance to get himself back on top, but he finds that the latest technology isn't what's going to get him there.  With Cruz by his side, he goes back to his roots and they both get a little dirty.  Okay, maybe more than a little.
Lightning's return to his roots allows some screen time for the original characters we loved from Radiator Springs, including a few heartfelt flashbacks featuring the late Doc Hudson. Surprisingly, it's also an effective way to introduce a few interesting, new characters, like the formidable Miss Fritter pictured above.  There's plenty of action in that scene, and it really throws Cruz into the middle of things.
We also meet a group of veterans whom Pixar based on real life racing legends.  They're a great bunch of characters who provide an important link to the Fabulous Hudson Hornet and to the roots of car racing.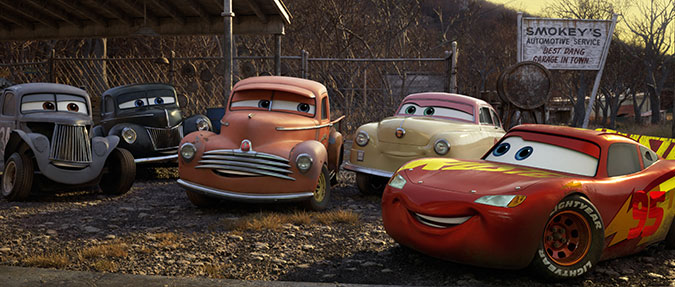 Lightning and Cruz both learn a lot about racing and about themselves, and they come out winners in their own ways.  As for the ending, I can't say I'm totally on board with it, but I would say that I'm about 95% there.  (See what I just did?)  While it wasn't exactly what I wanted to see happen, you have to love where they went with the story.  That's about as much as I can tell you without giving too much away, but I think you'll like it too.  Cars 3 is a story about relationships, and it really brings back the warmth and emotion of the first movie.  If you were a fan of that one, you won't want to miss Cars 3.
Cars 3 opens this Friday, June 16th, so you won't have to wait long to find out exactly what happens.  Grab your Cars 3 tickets from Fandango now to make sure you get a seat at your preferred showing!  If you want to get really fancy, you can also pick up some Cars 3 themed gift cards:



Fandango is also giving you guys a chance to win one of three $25 gift cards! (These are good for use on Fandango.com and not restricted to Cars 3.)  Open to US residents who are 18 and older.  Ends 6/29/17 at 11:59 PM ET.  Good luck!