Grilled Cheese & Beer: Recipes for the Finer Things in Life + Giveaway
Does the idea of a sandwich dripping with ooey, gooey, cheese make your tummy grumble?  Me too.  If, like me, you are also of the opinion that such a sandwich can be improved by the addition of the perfect beer, then this is definitely the post for you, because today, I am sharing with you a wonderful new book:  GRILLED CHEESE & BEER from authors Kevin VanBlarcum and Eddie Davis.
VanBlarcum, a brewer at Keegan Ales in Kingston, NY, and Davis, a skilled chef, have collaborated to bring their experience and good taste together in one clever and mouthwatering volume.  GRILLED CHEESE & BEER has more than 50 sandwich recipes, and each comes with suggestions for craft beers that will draw out the flavor of each ingredient.  These guys know their beer and food, and we are the lucky beneficiaries of their wisdom.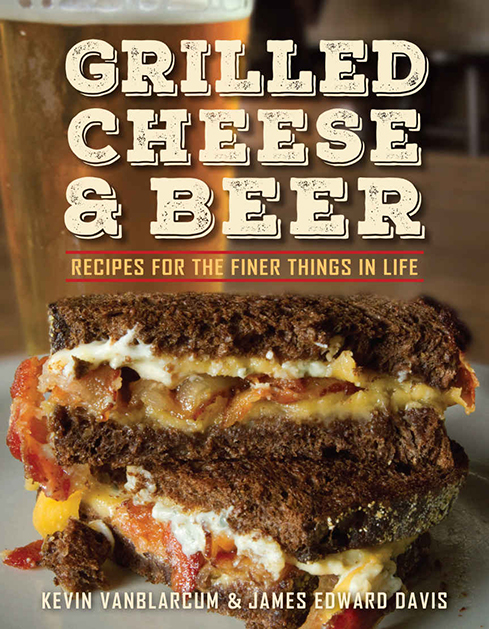 It begins with a brief beer overview; it's not anything overwhelming, just some beer terms and types to help the unfamiliar make better use of the book.  Next, you'll find the cheese guide.  Here you're given some basic info on the texture and flavor of various cheeses–you might find it helpful for understanding how the ingredients work together.  If you're already an expert on either topic, these sections can be easily skipped over.
Once you've completed your mini-course on two of my favorite things ever, the real fun begins.
The recipes are broken down into sections based on the level of difficulty.  You start with "The Basics", e.g., The Usual Suspects and Never Been Cheddar, and go all the way through to "Let's Get Crazy", e.g., Rocky Horror Cheese Show and Big Breakfast in Little Sandwich.  Yeah, these guys have a sense of humor, and I love it as much as the food.
At all levels, the recipes are easy-to-follow, and as I mentioned, they come with perfect beer pairings.  The guys feature all kinds of beer, from the popular Sam Adams Oktoberfest to one of my favorites, Left Hand's Milk Stout.  There are a lot of interesting combinations in GRILLED CHEESE & BEER and no shortage of entertaining puns to keep you amused while you're learning, prepping, eating, and drinking.
Grilled cheese is one of those things I can't really ever have enough of, and I'm definitely someone who appreciates good beer, so I love what VanBlarcum and Davis have done here. It will take me a while to get through all of the recipes, but you can bet I'm going to try.  Until then, I'll be crossing my fingers that there will be a second installment.
Grab your copy of the GRILLED CHEESE & BEER cookbook on Amazon in either the Kindle version or Paperback.
Anyone who appreciates amazing grilled cheese, beer, and fun will enjoy this book.  If you're one of those people, and I hope you are, then I have good news for you.  Game On Mom readers have a chance to win a copy of Grilled Cheese & Beer!  Giveaway is open to US residents who are 18 and older.  Ends 6/20/17.  Good luck!