Our Favorite EWG Top-Rated Lip Balms with SPF
I recently talked to you a bit about sun safety and sunscreens, and I want to follow up on that with a chat about an area of our body that's often left neglected when it comes to protection:
Lips.
For a long time, I ignored my lips. Not on purpose; they just didn't automatically register when people talked about sun damage or aging. I thought about my skin in general, the developing wrinkles around my eyes, and even constant eye protection in the form of sunglasses, but for some reason, my lips held a low priority. It's ironic, really, considering how much complaining I've done over the years about chapped lips. Go figure.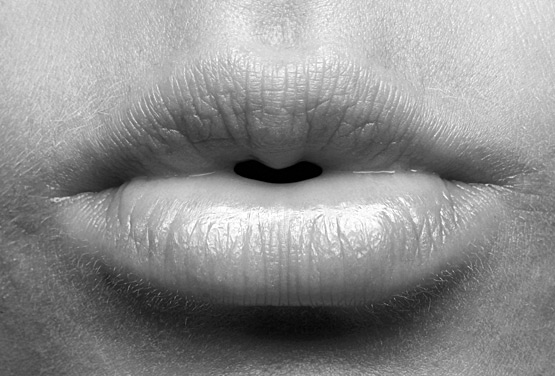 Anyway, the older (and hopefully wiser) I get, it's finally starting to sink in that lips need just as much care and attention as any other body part, and I'm trying my best to make up for lost time.
Like many beauty and personal care products, lip balm can be good and bad (very, very bad). It's one of those things that often comes loaded with terrible ingredients and fragrances that can cause anything from mild irritation to a worst case scenario I don't even want to think about. The bottom line is this: if it's going onto your lips, then it's going into your mouth, which means it's going into your body. So when I choose a lip product, I'm very picky.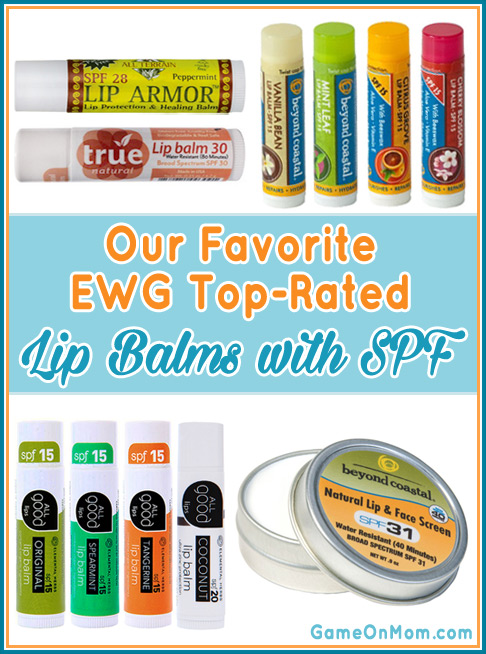 In my sunscreen post, I mentioned that the Environmental Working Group (EWG)'s Skin Deep research webpage offers ratings on health and beauty products, and I've been searching their databases to track down the best and safest lip balms on the market. Products are rated on a scale of 1 (best) to 10 (worst). To save you some time, I thought I would share some of my favorite finds; because I value safe products above all, I'm sticking solely with those balms that have a 1 or 2 rating. I know lip balm preferences can vary greatly, so I'm including those that come in tubes and stick form, as well as those that come in tins and are applied with your finger.
All Good
Coconut Lip Balm. This has SPF 20 with 8% Zinc Oxide for a little more sun protection. The Coconut feels so amazing when you apply it, almost like it's caressing your lips. There's no sticky reside, and it keeps your lips soft, but it does seem to leave a faint white sheen to your lips. It's hardly noticeable, and I honestly think that once you feel this on your lips, you'll be hooked. The coconut fragrance is just right too–subtle but delicious. EWG rating:  2.
Original Lip Balm. It's a modest SPF 15 with 3.5% Zinc Oxide and contains organic ingredients such as organic calendula, lavendar, and beeswax. This balm gives your lips a nice coating that's slightly thick and slightly waxy, yet it doesn't feel heavy. I find I don't have to reapply this as often as other lip balms, which is great because I'm terrible at remembering to reapply. This one is my favorite for offering protection from the sun and also from the wind, and I can see it being my go-to for those occasional winter moments when I feel like my lips need a little something extra.  Their SPF 15 is also available in other flavors, including Tangerine, Spearmint and Chai.  I didn't see any of these on EWG's site, but based on the ingredients listings, I feel good about them.
All Terrain Lip Armor. 

This lip protector and healing balm has 22.5% Zinc Oxide and weighs in at an impressive SPF 28.  The texture is slightly gritty in comparison to the others, but it feels very light and comfortable on the lips.  It contains jojoba oil, which I personally believe is a magical miracle oil that has the power to do amazing things for your skin, including making it feel hydrated even though it feels like you're wearing nothing.  Peppermint oil gives it a pleasant tingly feeling and very subtle scent.  EWG rating:  1.
True Natural Lip Balm.

Like applying butter to your lips…if butter had SPF 30 from a combination of 8% Titanium Dioxide and 5% Zinc Oxide. And it's not greasy either, it just applies so smoothly. Provides broad spectrum protection that's water resistant for up to 80 minutes, so it's perfect for throwing in your beach bag. Goes on clear, and shea butter leaves lips feeling moisturized.  EWG rating: 1.
Beyond Coastal.
Active Lip Balm.This is the EWG's top-rated non-mineral lip balm.  It has SPF 15, and its active ingredients are 3% Avobenzone, 7.5% Octinoxate, and 10% Octocrylene.   Aloe vera, shea butter, and vitamin E keep your lips feeling soft and soothed.  Easily glides onto the lips, and it looks totally clear.  Available in four flavors, including Mint Leaf, Vanilla Bean, Citrus Grove, and Cherry Blossom.  EWG rating:  1, except for Cherry Blossom, which gets a 2.
Natural Lip & Face Screen.  As the name indicates, you can use this on both the lips and face.  It's an SPF 31 with Titanium Dioxide 5% and Zinc Oxide 2.5%  as the active ingredients.  With water resistance for up to 40 minutes, it's another great option for those with a more active lifestyle.  Its creaminess makes it easy to apply, and it doesn't feel sticky or waxy.  I like to use a thick layer, so it does appear white at first, but that fades as it absorbs.  EWG rating:  1.
None of the products in this list are petroleum-based, nor do they contain ingredients you want to avoid in sunscreens, like oxybenzone, vitamin A, or parabens.  Aside from just knowing that they're better for you, what I love about these is that when you wear them, it never tastes like you're eating sunscreen.
Remember, your lips are thinner than most of the skin on your body, and protecting them is important.  According to SkinCancer.org, cumulative UV exposure is associated with up to 90% of all non-melanoma skin cancers.  Everyone in my family has his/her own lip balm with SPF, and I keep extras in my purse and tote bags so we're always ready for where ever our summer adventures take us!