Reclaim Your Backyard with the Stinger 3-in-1 Insect Zapper
One of the things I love most about my home is that we have a backyard. I wanted a backyard and outdoor living space for as long as I can remember, so that was a major selling point when we chose our house. There's nothing quite like lounging outside with your family on those warm, summer evenings when the daylight stretches on for hours.
Until the mosquitoes start having you for dinner.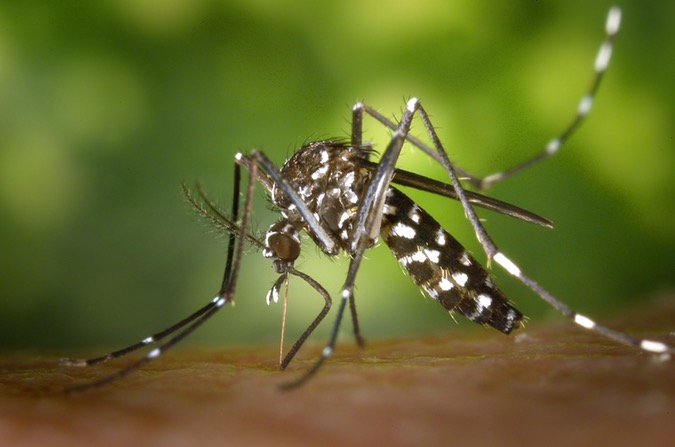 Honestly, I don't know what chemical in my body attracts mosquitoes like crazy, but it's bad. Mosquitoes are troublesome to everyone, but they're like a plague to me. I can sit down outside and within five minutes I've sustained multiple bites and I'm already too miserable to stick around. It makes me angry, because I finally have the outdoor space I want, but I can't comfortably use it. There are a multitude of ugly mosquito facts, many of which you already know, and it's especially disconcerting to know that there are 176 mosquito species in the United States. If you're a frequent mosquito victim like me, you probably feel like all 176 are in your yard and you're wearing a bullseye.
I've tried to repel them, but it's been a losing battle. Using killer chemicals on myself and my family is not an option, and while we've had luck with natural sprays, I'll be honest:  during a group gathering in the backyard, I'd really prefer to have the whole area taken care of.  What are we supposed to do?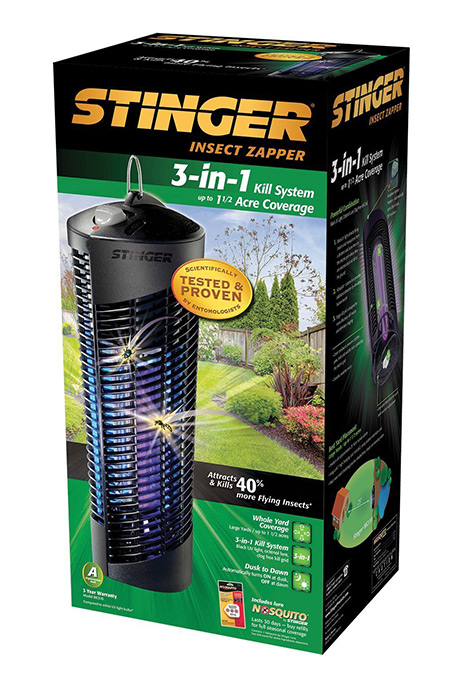 I, for one, refuse to lie down and give up my backyard, so I'm bringing out the muscle: the Stinger 3-in-1 Insect Zapper.
The 3-in1 is a powerful bug zapper that does more than the basic models you may have used before. This one features a combination of a black UV light, octanol lure, and a clog-free kill grid that provides coverage for the whole yard.
I've never used a zapper with black UV light technology, but it attracts and kills 40% more insects than white UV lights used on many zappers. This is bad news for mosquitoes, moths, and biting flies. Insects are also attracted to the zapper by NOsquito® Octenol lure, which is five times stronger than competitors and EPA-proven to attract mosquitoes that transmit West Nile Virus and other illnesses. The 3-in-1 covers up to 1.5 acres, so even large backyards are can be protected from winged pests, and no matter how many you zap, the grid will stay clear for more zapping.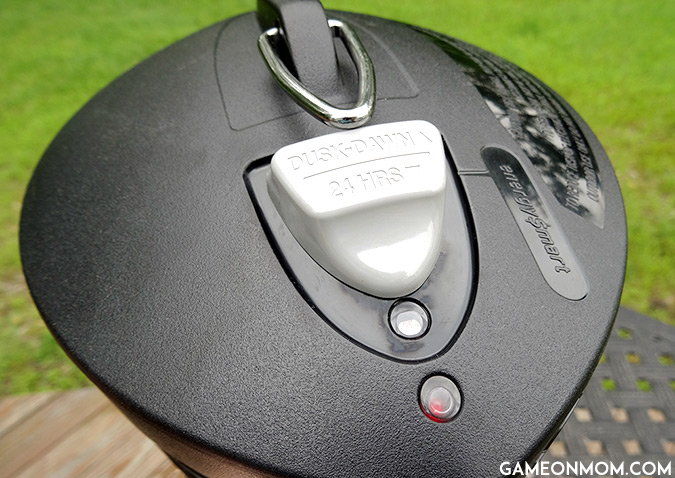 The 3-in-1 is simple to install (just plug it in and go), and the bulb and lure are easily replaced when necessary. It's also energy-efficient, and features a Sundown Sensor that automatically turns the zapper on at dusk and off at dawn.  You can also put it in 24-hour mode, but my personal favorite is the Mosquito Kill Mode.  When that's selected, the black UV light changes the light patterns at predetermined and proven effective intervals to specifically attract biting mosquitoes.  Take that, you dirty little buggers!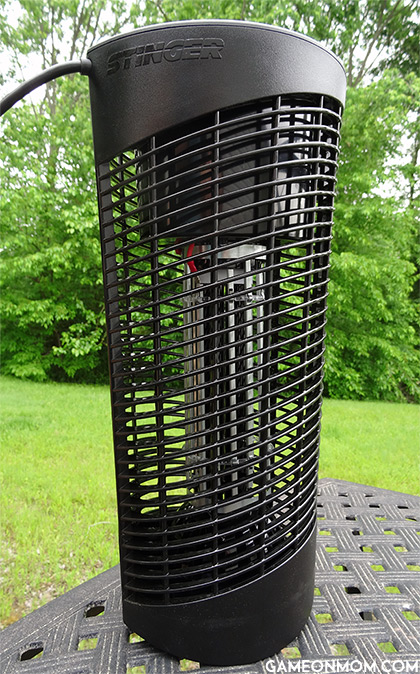 I'm so looking forward to plenty of happy, mosquito-free evenings outside this summer, courtesy of the Stinger 3-in-1 Insect Zapper. This Memorial Day Weekend is going to be much more pleasant than it was last year!  To learn more about the 3-in-1 zapper, check out Stinger's other high-quality products, or to order your own and reclaim your backyard, visit StingerProducts.com. You can also find Stinger gear at stores like Walmart, Home Depot, Amazon, Ace Hardware, and more.