It's Springtime at Bonefish Grill Again, and They've Got Chocolate!
Thank you to Bonefish Grill for providing gift cards to allow us to share our experience with our followers.
It's been a while since we've talked about Bonefish Grill, so we thought we'd give you an update on some specials they have for the spring season!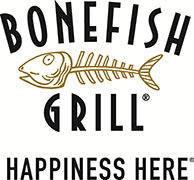 Their regular menu is always a safe bet, but Bonefish is so good at coming up with interesting and delicious seasonal items, and we never miss a chance to try them out.  (If that happens to afford me an opportunity to have my favorite bread and pesto dipping oil, so be it.)
First up for this trip were the Georges Bank Scallops: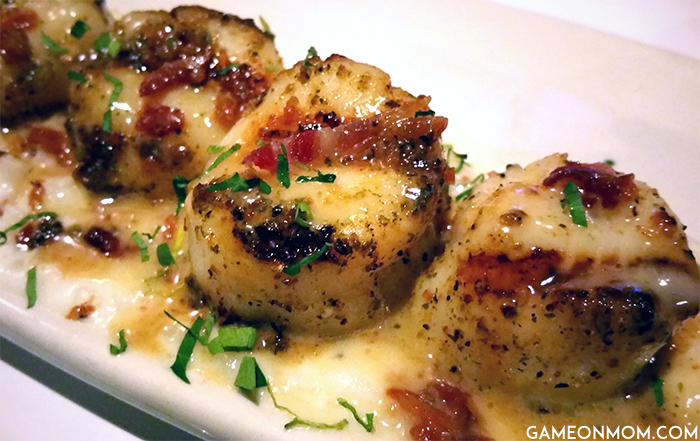 Bonefish Grill gets these beauties off the coast of New England–apparently, that's considered "scallop paradise".  These scallops are grilled, served over a creamy parmesan risotto, and topped with Applewood bacon.  A side of their fresh green beans completes this delectable meal.
Also featured on their new seasonal menu is the Cedar Plank Norwegian Salmon: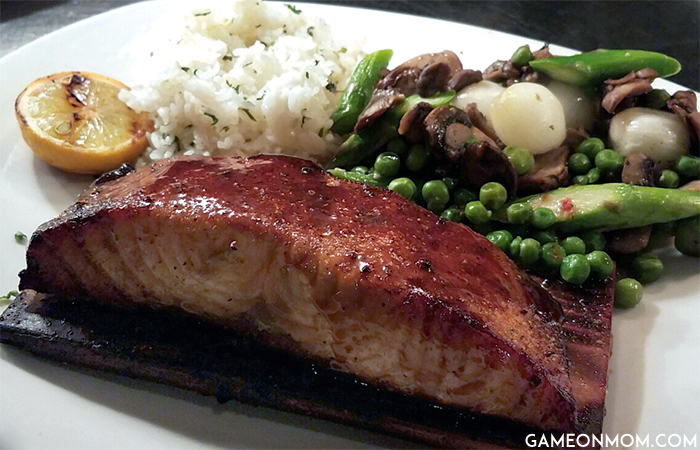 As the name indicates, the salmon is roasted on a cedar plank.  For an amazing sweet and savory flavor, they top this with a honey and Dijon glaze.  Jasmin rice is served on the side along with a vegetable medley of fresh asparagus, button mushrooms, pearl onions, and peas.
This one is part of their standard menu, but I always try to show something for those who aren't into seafood: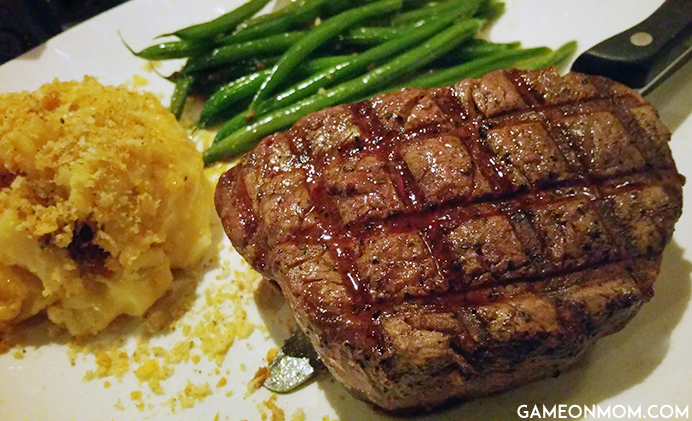 You can't go wrong with a Filet Mignon–tender, perfectly seasoned, and delicious.  My mouth is watering right now just remembering it.  Forgive me for not being more experimental with my choice of sides, but I find it impossible to not order their au gratin potatoes.  They're just too good to pass up.
We don't always get dessert, but when I saw the Chocolate Creme Brulee on the menu, I didn't hesitate to order it: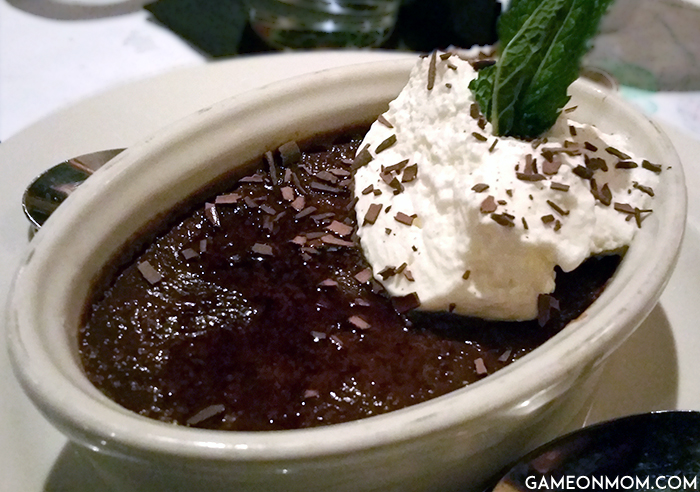 I was not disappointed.  A twist on the traditional dessert, this version is infused with Grand Marnier and topped with house-made whipped cream.  If chocolate decadence is your thing (and why wouldn't it be?), you'll want to get this one before it's gone on 3/27.
We were advised not to share that with the kids, so they opted for the Doughnuts instead: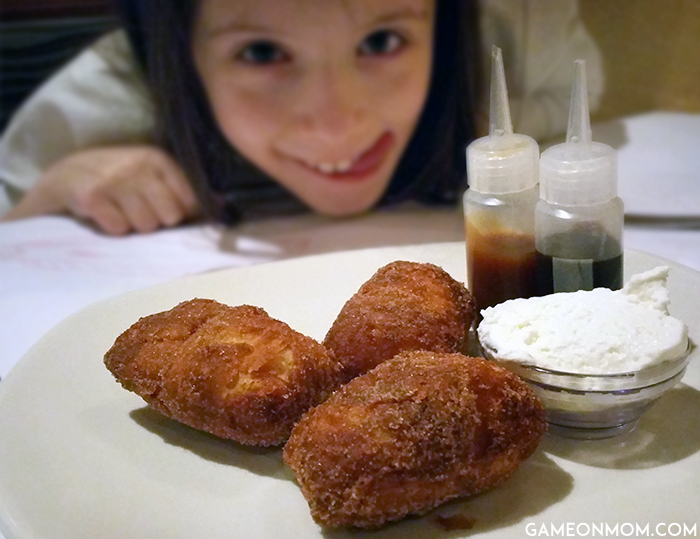 These Bonefish Grill donuts are coated in cinnamon sugar and served with little squeeze bottles of chocolate and caramel and more of their fresh cream.  Use the bottles to create your own fillings and/or dip, and this dessert will be as fun as it is yummy.  The donuts are always a hit with the young ones.  Mommy likes them too.
In addition to what we sampled, you can also find these goodies at Bonefish this season:
Applewood Bacon Wrapped Scallops starter.  Features four tender scallops wrapped in Applewood bacon and topped with mango salsa.
Rockefeller Atlantic Cobia.  Wood-grilled Atlantic Cobia—a moist, firm fish with a sweet yet distinct rich flavor—topped with creamy spinach and lump crab, served with choice of two fresh sides.
Kate's Wild North Atlantic Haddock.  Mildly sweet fish, garlic crumb-dusted, wood-grilled, topped with feta, artichokes, lemon basil butter sauce, served with mashed potatoes and green beans.
New Irish Organic Salmon.  Caught in the pristine waters along Ireland's coastline and prepared market-fresh.
Bonefish has done it again.  You can always count on them to offer a great family meal experience, and with their seasonal offerings, you'll never run out of different, fresh options to choose from.  I look forward to our next visit–maybe we'll try one of their martinis.
My only complaint is that they haven't seen fit to bring back the Tomato Red Pepper Soup.  I really miss it.
Visit Bonefish.com to view their regular menu and their specials and to find a location near you!