Sing Auditions, Special Features, & a Chance to Win the Musical Comedy of the Year
My family and I saw Sing just before it left the theaters.  My kids had been begging me to take them to see it, and even though I wasn't sure it was the kind of movie I wanted to spend crazy ticket prices for, I eventually gave in.  To be honest, it reminded me of those ridiculous reality shows that I could never stand to watch, and I was sure I'd be sitting through 2 hours of terrible, recent top 40 nonsense.  Well, let me tell you how very mistaken I was.  I came out of that movie singing as loudly as the kids did.  (Maybe more.)  We received a complimentary copy of Sing for our family movie night on Sunday, and it was even more fun the second time around.
For those who haven't yet seen it yet, a quick recap:
The Sing movie is the work of Illumination Entertainment, the studio that brought us Despicable Me, Minions, and The Secret Life of Pets.  In it, we follow koala Buster Moon as he attempts to save his crumbling theater by putting on the world's greatest singing competition.  There are some ups and downs throughout the contest, but the characters overcome every obstacle and come out stronger in the end.  You're afforded plenty of opportunities to laugh and sing, and I especially love that the movie features songs from a wide variety of genres.  It's full of big names, but don't buy it because of that.  Buy Sing because it's great family fun and the kind of movie that gets better every time you watch it.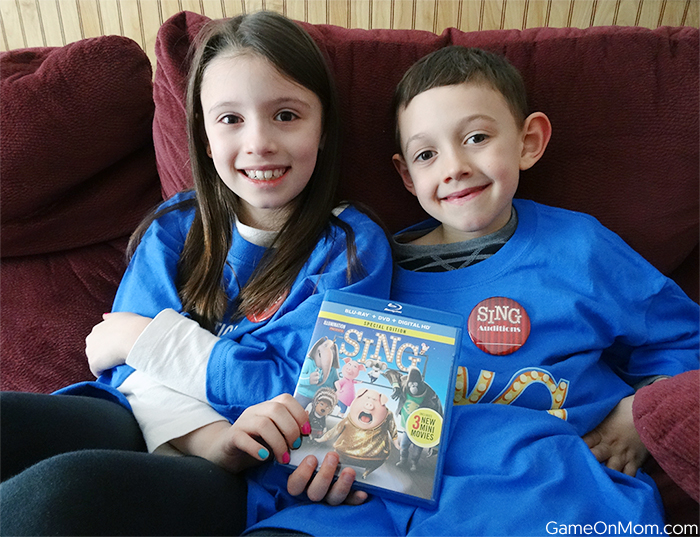 And you can grab your own copy starting now!  The Sing Special Edition on Blu-ray, DVD, and Digital HD was released on March 21st, and it's packed full of extra features.  In preparation for her very own Sing audition, my daughter has watched the included lyric video for the original song "Set It All Free" about a thousand times.  She's sure that she wants to be a singer when she grows up and is so very excited (and a little nervous) about sharing her performance with you:
That's my baby!  I'm pretty proud of that cutie pie, but back to business…
There are tons of other interesting bonuses like character profiles and more music videos, but we've been getting the most use out of the 3 mini movies.  Whether you're watching Eddie's experience with his life coach, Gunter babysitting, or Miss Crawly's adventures in online dating, you will be rolling with laughter.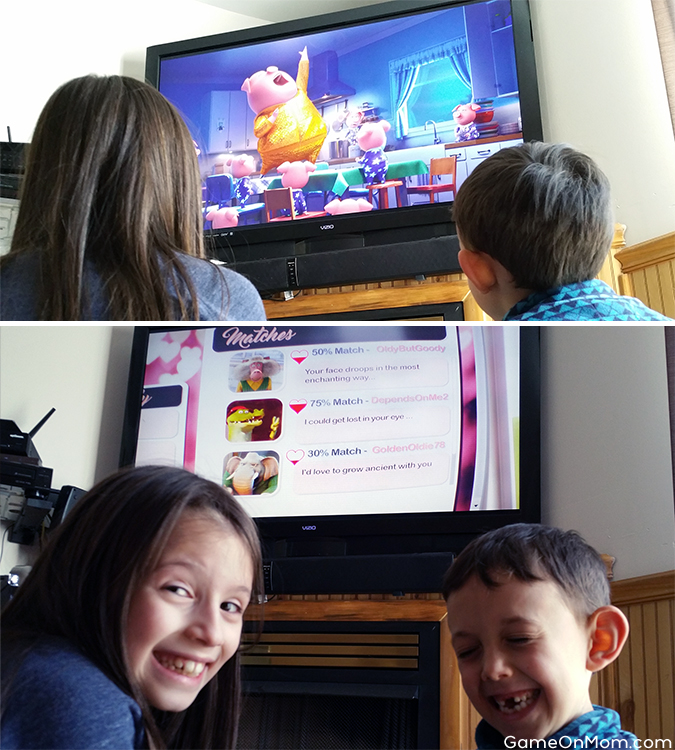 The fun didn't end there for us.  We were sent a Sing backdrop, and the kids have been having the best time posing with it.  It's been kind of like a real life bonus feature.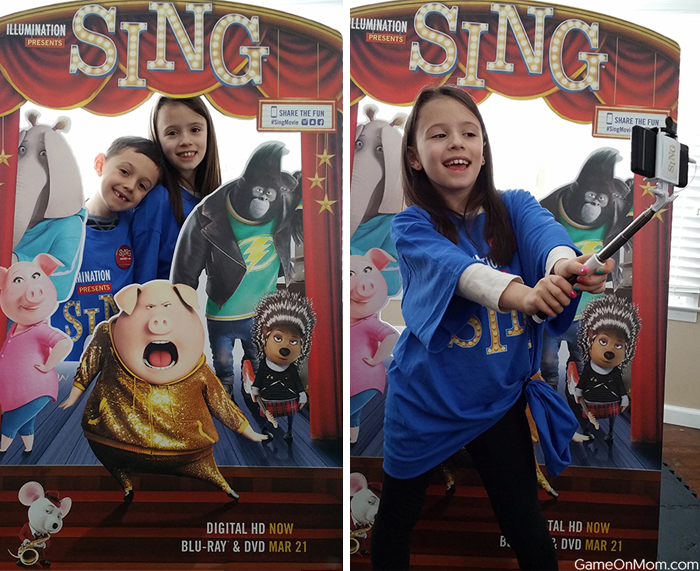 Sing really is the musical comedy of the year!  We've had the DVD for a few days now, and the kids having been watching nothing but the whole movie or one of the extras.  My personal favorite is "The Best of Gunter", and I think it's worth owning the DVD just for that.  Piggy Power!
To learn more about Sing, visit the official website at http://www.SingMovie.com and be sure to check out their Facebook, Twitter, and Instagram pages.
We've also got a chance for you to win your own copy of Sing on Blu-ray!  Just enter via the Giveaway Tools form below.  Open to US residents who are 18 and older.  Ends 4/6/17 at 11:59 PM ET.   Good luck!