It's a Pillow, It's a Pet, and Now It's Got a Scent! + Giveaway
Remember Pillow Pets?  They're those super cute stuffed animals that double as a pillow.  They were a big deal when my daughter was first born, and eight years later, she still keeps her Magical Unicorn on her bed.  It's easy to see why they're so popular with the kids:  they're soft, squishy, and always ready to comfort you whether you need a hug or a nap.

Over the years, My Pillow Pets has expanded to include all kinds of fun items, from body pillows to Dream Lites.  (My son can't go to sleep without his penguin night light!)  While attending Toy Fair last month, I stumbled across a My Pillow Pets product that was new to me:  Sweet Scented Pets.  Maybe you've already heard of them, but I was pretty excited about my discovery.
Like regular Pillow Pets, Sweet Scented Pets stuffed animals can be instantly transformed into a pillow with the simple release of a velcro strap.  They make great playtime pals and travel companions, and they're so soft and cuddly, you're little one won't want to let go.  There's one feature that makes these different though, and I bet you can guess what it is.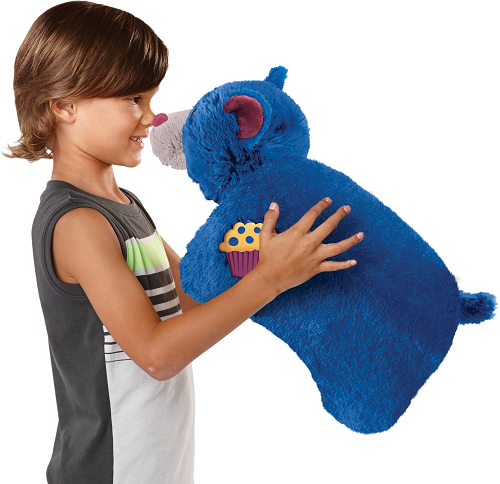 They smell amazing!  Each Sweet Scented Pet has what I've been calling a flavor patch, which is a small addition that adds big fun in the form of a subtle but very yummy fragrance.  Their currently available scents include Icepop Penguin, Blueberry Muffin Bear, Cookie Pup, Cotton Candy Unicorn, and more.  Who wouldn't love a cuddly plush that smells like chocolate chip cookies?
Wondering which of the new scents we decided to try out?  I won't keep you in suspense any longer.  It was a tough decision, but we went with Popcorn Panda and Milkshake Cow.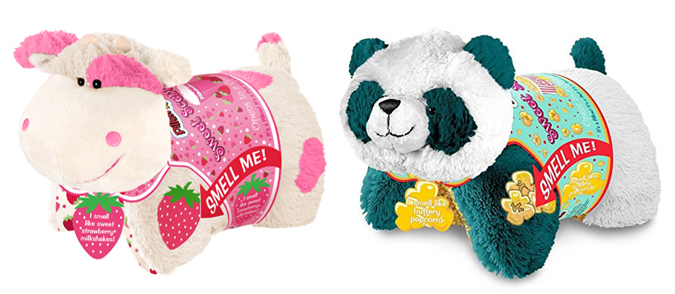 Okay, these guys are a problem for me.  They smell so good…I can't stop sniffing…and then I get hungry.  Buttery popcorn?  Yum.  Strawberry milkshakes?  Yum.  We've got sweet and savory covered with these, and I'm kind of in heaven. But oh yeah–these aren't for me, are they?  As you can imagine, the kids are in love with their Sweet Scented Pets too.  They've been carrying their pets all around the house with them, and they insist on taking them with us whenever we go for a car ride.  They never get tired of squeezing and smelling their new stuffed animals.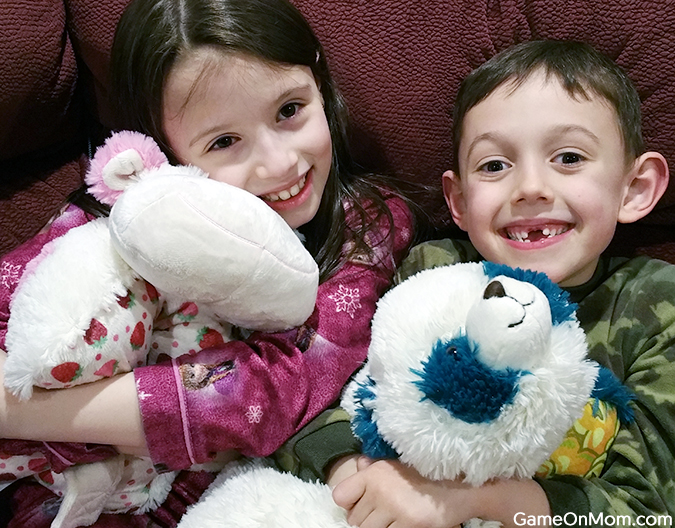 My daughter Renee would like to tell you all about Milkshake Cow herself.  (Pay attention and you'll notice a cameo from her little brother too.)
She gives her smile of approval!
Some good-to-know info about the fragrances used on Sweet Scented Pets:
Scents are made in the US
Scents are made from earth friendly materials using sustainably harvested trees/cotton
Scents are BPA-free and phalate-free
Scents are certified by the International Fragrance Association
Scents are compliant with USA & EU toy regulations
Sweet Scented Pets are every bit as huggable as you'd expect them to be, and they add a little something extra delicious to play time and cuddle time.  Head over to SweetScentedPets.com to grab one for yourself.  Shipping is free from now until Easter, so it's the perfect time to buy.
My Pillow Pets is generously offering Game On Mom readers a chance to win a Popcorn Panda and Milkshake Cow!  Giveaway is open to US residents who are 18 and over.  Ends 4/16/17 at 11:59 PM ET.  Good luck!