Diono Radian rXT: A Safe and Comfortable Car Seat that Grows with Your Child
This might be an unpopular opinion, but I'm not the biggest fan of the new car seat laws in New Jersey that require children under two years old to be seated rear-facing. With babies the choice is clear, but it can be difficult to get a larger toddler (which all of my children are) strapped in a rear-facing seat. It seems they never have enough room to truly be comfortable. They usually can't straighten out their legs and the side panels make them feel isolated from the rest of the passengers in the vehicle. I always looked forward to the time when I could use a front-facing car seat and enjoy rides with my children.

I wasn't so sure the Diono Radian rXT would be different from the other rear-facing car seats that I've used, but I was ready to give it a try. I'll admit that when I first picked up the Diono, I was surprised that it was very heavy, and because of its weight I naturally assumed it would be a large bulky seat; most of the convertible seats on the market are, in fact, bulky in the rear-facing position. In the past, I've actually needed to keep the front seat as close to the dashboard as possible so a bulky car seat could fit, which made long trips in the car uncomfortable for my family. Let me tell you: I was so pleasantly surprised that the Diono wasn't bulky at all! It fit well in my small SUV and left ample room for my two other children and an adult passenger in the front seat. I especially love the feature that allows the base to fold up when other children need to climb in the car. When in the forward-facing position, I can lift the base and my passengers can easily get to their seat. (Note:  The weight is due to the steel frame, which makes it much sturdier than the mostly plastic frames you find on a lot of other brands.)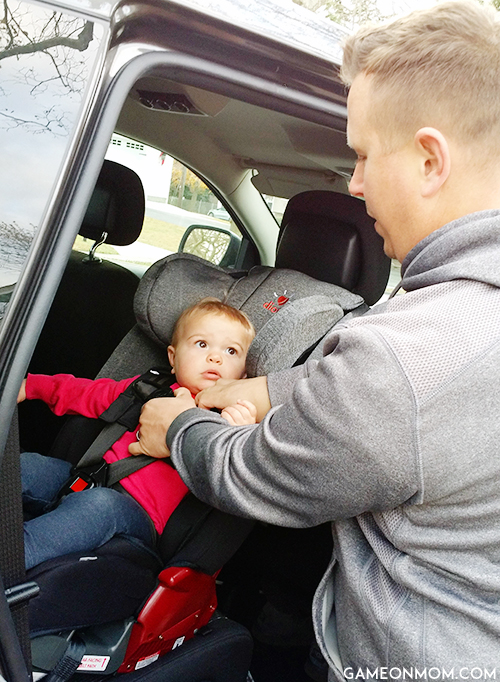 My big, strong husband was kind enough to assist me with the installation, and he thought it was relatively quick and simple.  We asked a NJ Child Passenger Safety-Certified police officer to inspect the set up and the fit of the harness around my thirteen-month old daughter.  Once he assured us that the seat positioned my daughter properly and the harness was very secure, we were ready to let the little lady take it to the road.  This face says it all, don't you think?
The additional base component for rear-facing installation added room for my daughter's legs to extend completely. She wasn't confined at all, as you can see in the photos. She was cradled well in the seat but her vision was not blocked by excessively large side panels or the headrest. The seat is sized perfectly to allow for two additional child seats or boosters in the second row. I never imagined that three car seats could fit and allow all of the children to be comfortable!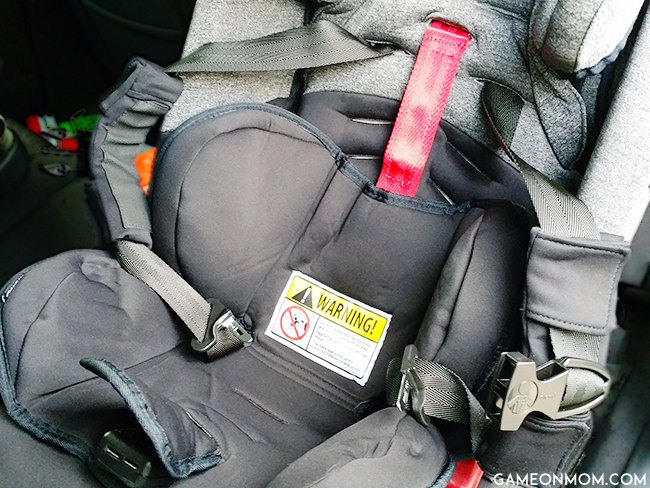 This seat came with a removable cushion that adds support and comfort around the thighs, waist area, and lower back. This is important to me, because not only does the Diono lack bulk, but it's also very cushy and comfortable. This seat's cushions are by far the best I've seen in a car seat. As you know, car seats are a haven for crumbs and other unsavory spills, so having the option to easily remove the cushions for frequent washing was an important feature for me.
My daughter was pleased with the seat, and so far she's been happy to get in and out of the Diono Radian rXT without any tears. She doesn't like to wrestle with hard-to-manage straps and clips, and thankfully these straps don't seem to tangle or flip and are easily adjustable. The padding on the straps is also an excellent feature; even when tightened, the straps do not press uncomfortably against her chest. This will be great for the summer months when my daughter often wears thin dresses, because the padding will protect her from the rough edges of the straps and keep her comfortable.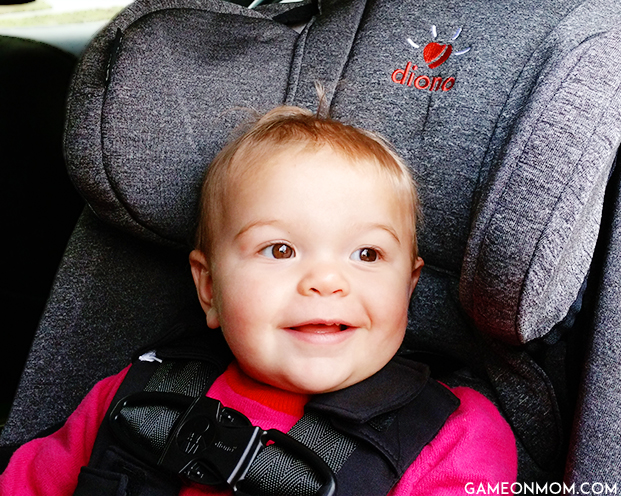 Overall, I am very pleased with my new Diono car seat, and my daughter seems to agree! I still look forward to the day when she will be forward-facing, but until then, she is extremely comfortable and safe, and that's what really matters.  Once we do get there, we'll still be relying on our Radian rXT–it will accommodate kids in the forward-facing position up to 80 lbs. and also converts to a booster for kids 50-120 lbs.  This is a car seat that's going to be with us for a long time!
Connect with Diono!
Facebook  |  Twitter  | Pinterest  |  Instagram  | YouTube