15 Easy DIY Valentine's Day Cards
Nothing says you care like a homemade card does.  They have significantly more sentimental value than anything store-bought, and they can be so much fun to make too.  We've put together a list of some of our favorite easy DIY Valentine's Day cards to help you get started.  Whether you're looking for a card for the one you love most or Valentine's Day cards for the kids to hand out in school, we're sure you'll find the perfect solution!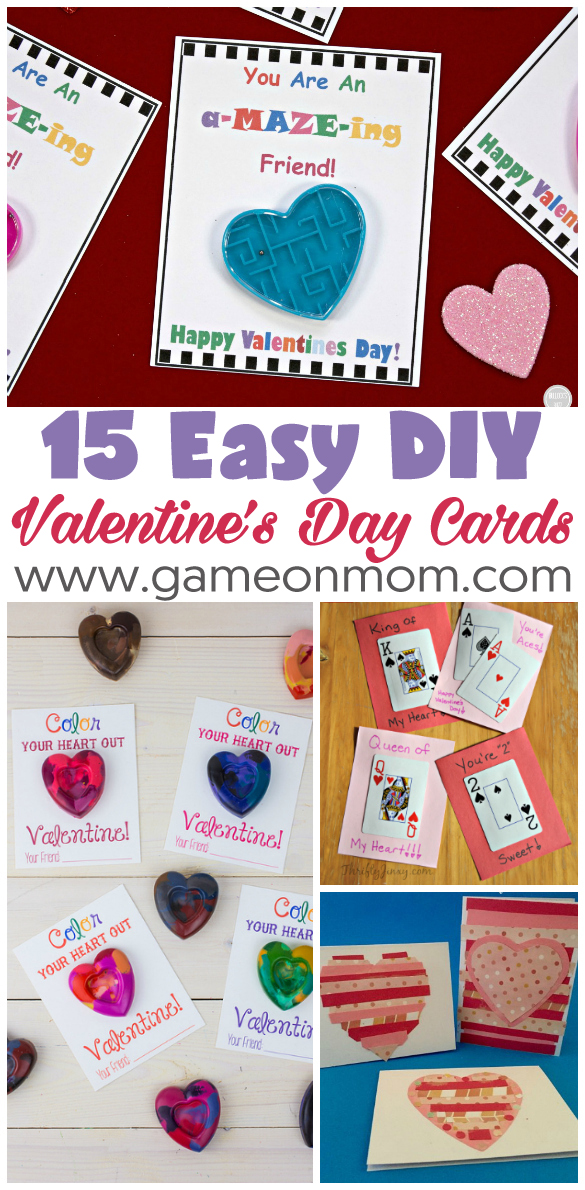 1. DIY Recycled Seed Paper Heart Valentines
2. A Goldfish Valentine's Day Greeting
3. Heart Shaped Crayons with Printable Valentines
4. Rainbow Loom Valentine's Day Cards
5. DIY Mustache Valentines Cards For Kids
6. East DIY Valentine Cards for Kids
7. Valentine's Day Pencil Toppers
8. Valentine's Day Treat without the Sweet
9. DIY Valentine's Day Cards for Kids with Free Printable
10. Valentine Play Doh Cards
11. You Color My World Valentine
12. Playing Card Valentine
13. Easy DIY Valentine's Day Surprise Card
14. Love is Owl You Need Valentine
15. DIY Lego Valentine's Day Cards
If your kids do hand out cards at school, trust me when I tell you they get so much more out of the experience when they make the cards themselves.  Turn it into an entertaining craft project for the family, and see how proud your kids are of their work.  They'll have a blast sharing their homemade cards with all of their friends.
They're easy to give and such a joy to receive, so go ahead and show someone you're thinking of them with a card made by you!  If you have any ideas for homemade Valentine's Day cards, we'd love to hear them!